Well, it worked.
I've always had lots of hair. Lots of shiny, long, thick, black hair.
But I noticed after breast-feeding two babies, a bunch of my hair fell out. It sort of grew back…but it just wasn't the same. Flash forward six years since my last baby, and I decided to do something about it. I searched on Amazon for a good vitamin or supplement for hair, compared some of the top-ranked choices, and came up with this.
 It's called Hair Anew and you can buy it on Amazon.
 Not a very sexy name…would it deliver sexy hair?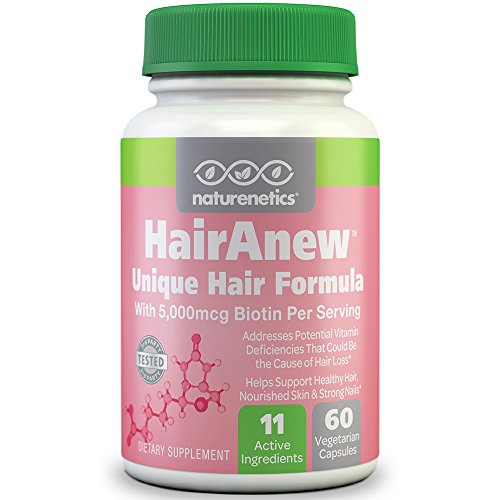 Supposedly this vitamin gives you better hair, but it doesn't have the yucky nausea-inducing side effects of a prenatal vitamin. Would could it hurt to try? (If you're going to spew, spew into this…)
The results? After a month of taking this bad boy in the morning along with my vitamin C, adult ladies vitamin and my Milk Thistle (hello, wine!) my hair was acting a lot…better. Seemed to fill out in some areas, and just seemed to behave more like my pre-parenthood hair. More like my 20s bar hair. (Except, brushed and not matted in the back from sleeping drunk in wacky positions.)
Full disclosure–turns out you are actually supposed to take TWO capsules with a meal, I've only been doing one! Apparently I can't read a label.
The reviewers on Amazon agree, and it gets awesome ratings. It's also vegan, gluten-free and never tested on animals. (Meow.)
I made my husband try it too. He wasn't sure about the effects on his already-full lion's mane of hair.
Ian says, "I don't know. I guess it helps. But wait…I've noticed my nails are feeling stronger."
So anyway, worth a try! If you get it, please let me know if it works for you.
P.S. The girl that does my makeup said that my skin was looking better and asked if I had just gotten a facial. I HAVEN'T! But I've been taking these vitamins! Coincidence?
Here's how my hair is looking a few weeks after taking Hair Anew. (Please disregard the dour, half-smile on my resting-bitch face.)