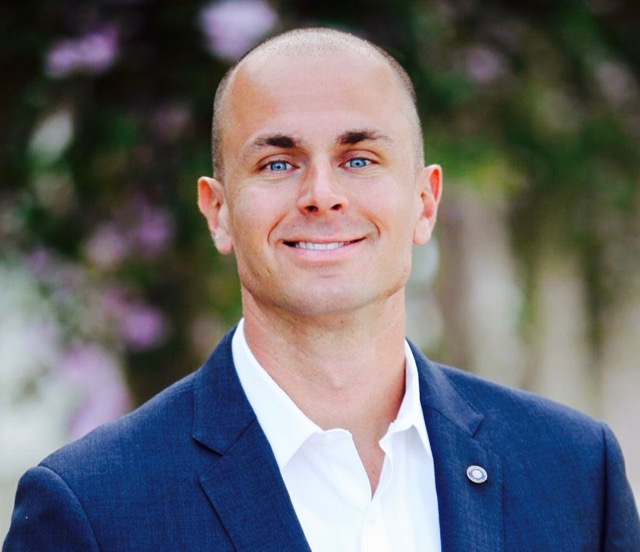 You've seen the official side of Mayor Richard Bailey. You've seen him address bridge safety issues at political meetings, and snip away at ribbon cutting ceremonies. Maybe you've even spotted him helping out at Beer by the Bay, or attending a school fundraiser party.
But what does the mayor like to do around town when he's NOT working? (Wait, does that ever happen? He is mayor, after all.)
We caught up with Richard to ask. Here's what he had to say! (Turns out, mayors like to have fun, too.)
ISLAND GIRL: It's Friday and it's 5pm. That means it's Happy Hour! Where do you go to unwind and meet up with friends?
RICHARD BAILEY: Let's see…you can definitely catch me at McPs. Shout out to Tom and Ted! I'm a sucker for the fries and gravy there. I also like Stake's happy hour; great ambiance and view.
ISLAND GIRL: If you had to pick ONE menu item to eat right now from any restaurant in town, what would it be? Why are you craving it?
RICHARD BAILEY: Hmm, at this very moment at 1:30pm, I would go with an "Earthquake Cookie" from Tartine. I just finished lunch so I am craving something sweet and those cookies are delicious! If you ever need a meeting with me, I can't say no to an Earthquake cookie or two!
ISLAND GIRL: It's Saturday and it's a beautiful day! If you want to spend some time outside on the island, where do you go?
RICHARD BAILEY: Hands down my favorite activity when the week is finished and I have nothing to do, I hop on a beach cruiser and ride aimlessly. There is something about going for a ride with nowhere to go that is incredibly relaxing.
ISLAND GIRL: You're taking a break and enjoying a cup of coffee. Where are you?
RICHARD BAILEY: I am actually not a coffee drinker, but I do love a good hot chocolate, especially in the fall and winter.  My favorite hot chocolate spot is 1134 because they add extra-thick whip cream.
ISLAND GIRL: There are so many fun events happening around Coronado these days. Do you have a favorite event you look forward to each every year? 
RICHARD BAILEY: It is hard to pick just one, but my favorite event of the year is the July 4th celebration.  Between circumnavigation, the parade, dozens of BBQs throughout the day, and of course the fireworks, it doesn't get better than that.  Seeing our community celebrate our love of country and the men and women that keep it safe, is a reminder of everything that is "right" with the world.
ISLAND GIRL: It's date night, and you're pulling out all the stops. Where do you go, and why?
RICHARD BAILEY: Date night…what's that?
(Shut down! Sorry, we tried.)
ISLAND GIRL: In your mind, what is Coronado's best-kept secret?
RICHARD BAILEY: A place I like to take guests is to the pocket park where I Avenue meets 1st Street. It's quiet, with lots of shade, and a great view of downtown San Diego. I've even taken some locals there who had no idea the park existed.
ISLAND GIRL: What would you like to see on the island, that isn't already here?
RICHARD BAILEY: I think we could use an off-leash dog park that is in the Village area. We have so many dog lovers in town that it would be great if there were additional locations for them (other) than Dog Beach to run around. Of course, the challenge is where to put one!
ISLAND GIRL: In your mind, what is the biggest cliché about living in Coronado? Why is it not true?
RICHARD BAILEY: Coronado is obviously a very expensive place to live and the high prices of real estate can give some people a false impression of the type of people that live in Coronado.  I have to say, the generosity shared by people in town that support causes here at home and across the bridge never ceases to amaze me.  The people of Coronado through and through, have big and altruistic hearts for serving others, whether that be contributing financial resources or their military service. I am very proud to be a Coronadian.
ISLAND GIRL: You're Mayor. (Duh.) Do you find it hard to go out in Coronado and have a good time? Do you feel like you need to leave the island to be anonymous?  Or do you truly enjoy being in the public eye, even when you are relaxing and doing your day-to-day activities? 
RICHARD BAILEY: I smile while answering this question because the Mayor is never "off the clock." The way I see it, is that I work for 26,000 "bosses" and it is my pleasure to serve – whether that is addressing a permitting question at 2 a.m. at McP's or talking traffic while on a morning run, I love it all.
Well put, Mayor Bailey! And now we know how to score a meeting with you…two Earthquake cookies, please!
Do you have a fun, non-political question for the Mayor? Feel free to comment below, and we'll see if we can get it answered!