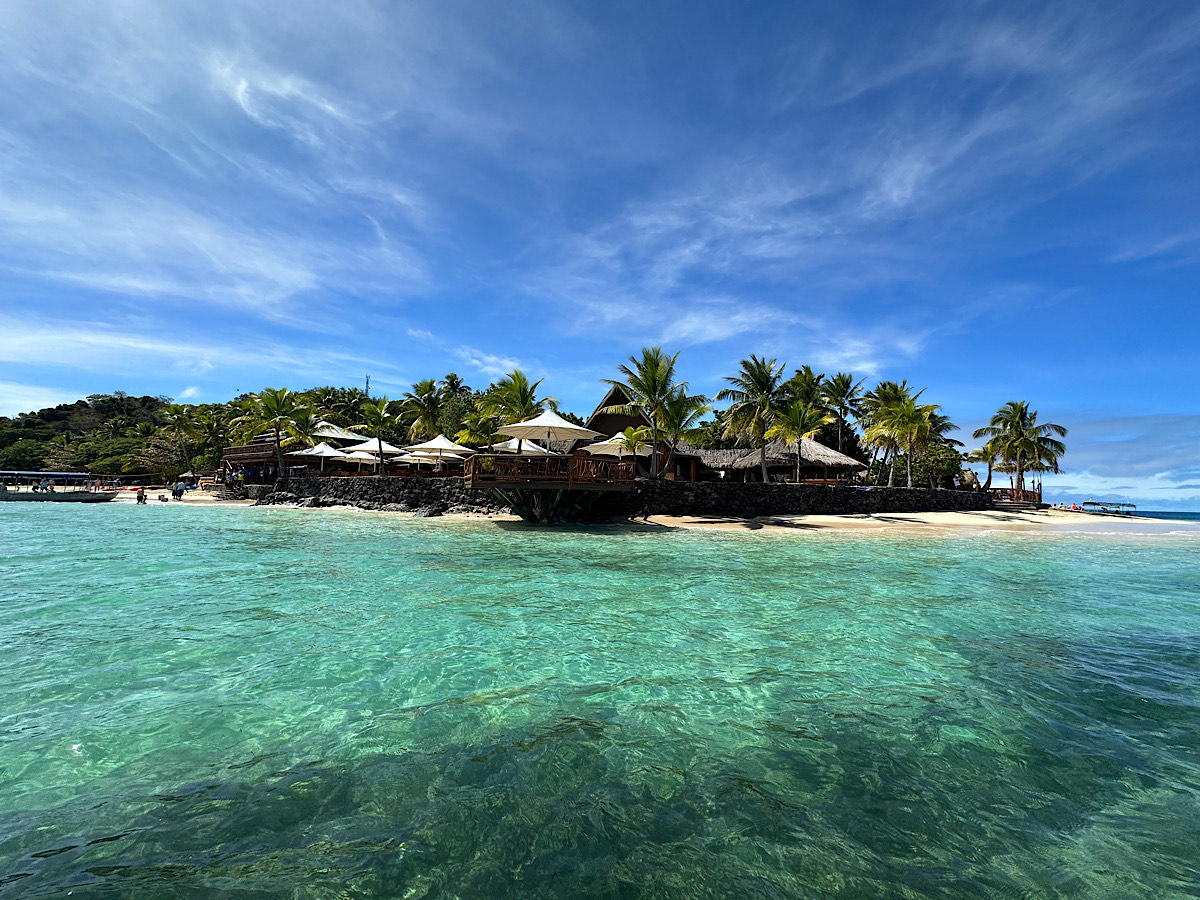 Think Fiji is too far to travel with kids? Guess what, it's not. (Especially if you live on the West Coast.)
It was Thanksgiving 2022 and I was cleaning up the kitchen with family and friends after a bustling holiday dinner. I took a break to check Facebook, and saw two friends and their families on a pristine beach with their young children. They were waist-deep in clear blue water, wishing everyone a Happy Thanksgiving!
This place looked like paradise. I was buried in dishes. Where were they?
Fiji. They were in Fiji. In a magical place called Castaway Island!
I looked back at my messy kitchen, and thought: that's where I'm going next year. We're going to Fiji for Thanksgiving! If they could do it with their little kids, I could do it with my two girls!
Fast forward a couple of weeks, and I'd booked the trip. Except they were already full for Thanksgiving, so I booked August, which was supposed to be a great time to visit…warm and sunny, clear blue skies!
Getting There
Flying Air Fiji.
There's basically one option (that I could find) from Southern California without flying for 36 hours and stopping three times: Fiji Airways.
Fiji Airways flies direct from Los Angeles to Nadi, which is on the island of Vita Levu. The flight from LAX to Nadi is just under eleven hours. I researched the plane, and it looked newer and nice. (I don't like flying on janky planes.) So, it would be a long trip, but just manageable.
We live in San Diego, and my husband had to work in L.A. the day of our trip, so we met him in L.A. via train. (The train, by the way, is an excellent way to cruise up the coast stress-free. Business class seats give you a free snack pack–kids love it– and free bevies, including a glass of wine!)
When we got to the airport, we had to exchange our boarding passes for the REAL Fiji Airways boarding passes. Apparently, the ones you get when you check in online at home aren't the real deal. So, make sure you do this.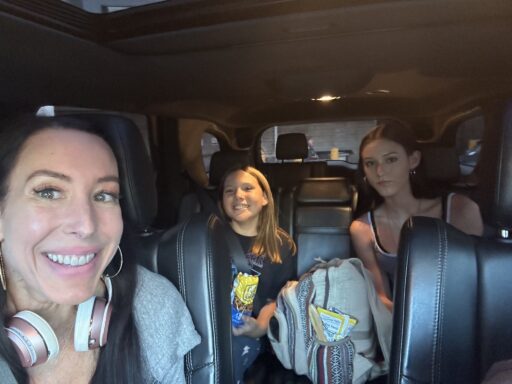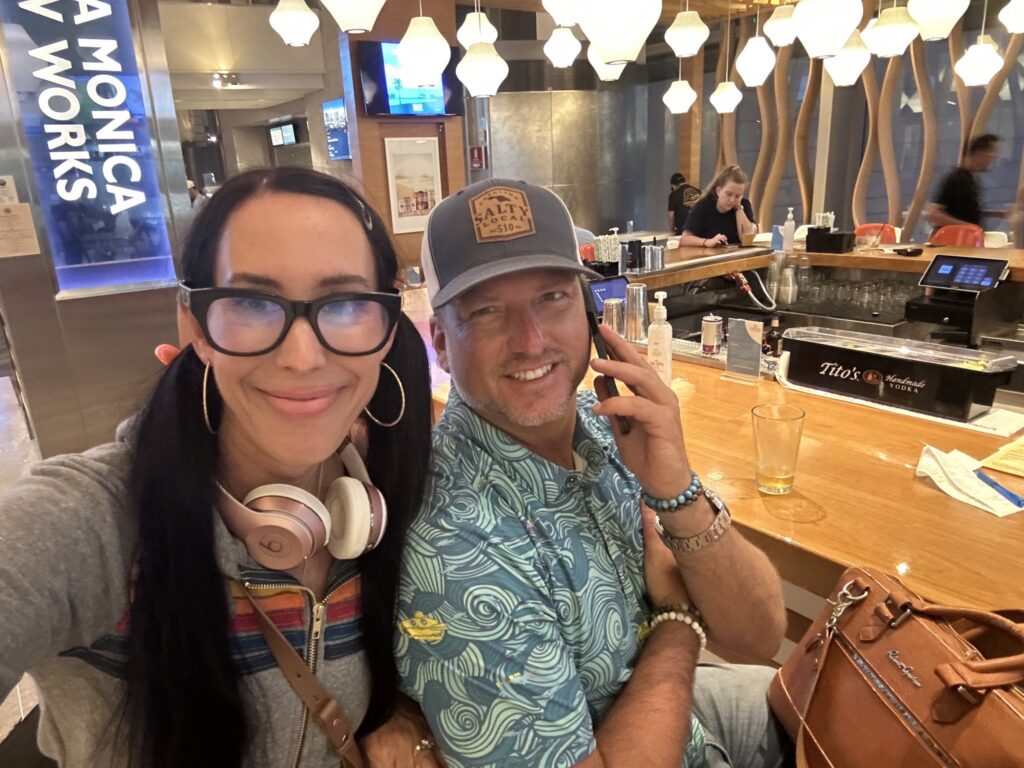 I insisted that we travel with only carry-on bags because I have an intense fear that our luggage will be lost. And my kids (12 and 15) are big enough to wear their own backpacks and roll their own luggage behind them. Also, it's a beach vacation so we didn't need to pack much besides bathing suits and flip flops. It worked out great. For the most part, everyone managed their own stuff. (Well, 50% of the time, they managed their own bags, every time.)
Right before the trip, I decided to buy a new carry on. I found the top-ranked choices, and was delighted to find that Amazon offered up a cheaper version of the high-end bags. I got this Amazon rolling bag and love it. It actually fits a ton of stuff. It also rolls really well. My girls were jealous and I promised to buy them each one for our next trip.
We booked economy tickets, because I wanted to save money and I'm no travel snob. (Guess what…turns out, I am. See the end of this post for more.) When we boarded the plane, my kids turned left into business class (which looks amazing!) but sadly, we had to tell them to turn right for economy.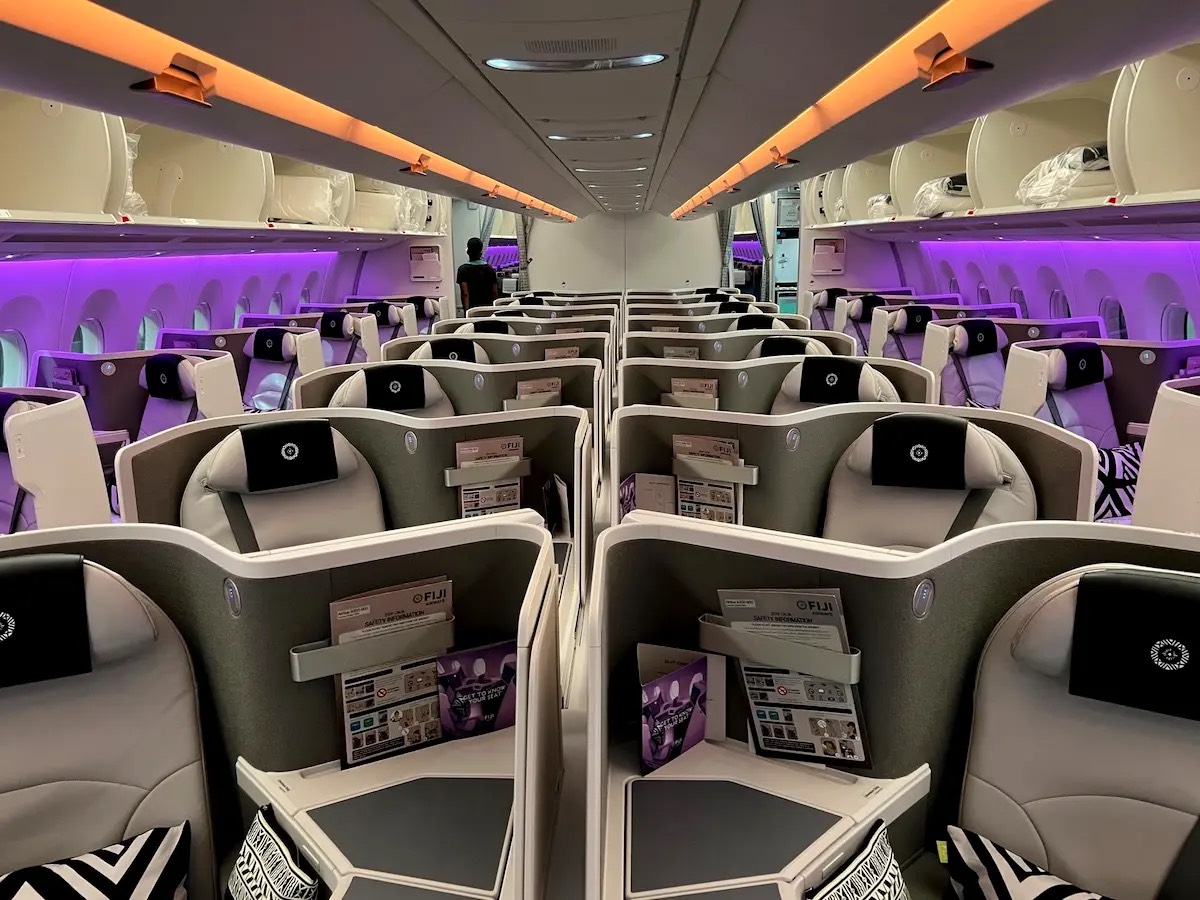 The flight was 10 hours and 50 minutes. I'll let that sink in: 10 hours and 50 minutes.
It was a red-eye, which in theory should be great, because you sleep most of the way. HA! We boarded at 9:55pm. They brought out a dinner shortly after takeoff (so-so) and then I passed out the melatonin. My oldest, Marley fell asleep. My husband fell asleep. Holland, not so much. Which means it was a grueling trip with Holland elbowing me every five minutes to tell me something exciting until she finally passed out three hours until arrival. By then I was so delirious I just sat up with my eyes glazed over. A couple of hours before we landed, the crew turned up the lighting and served a breakfast.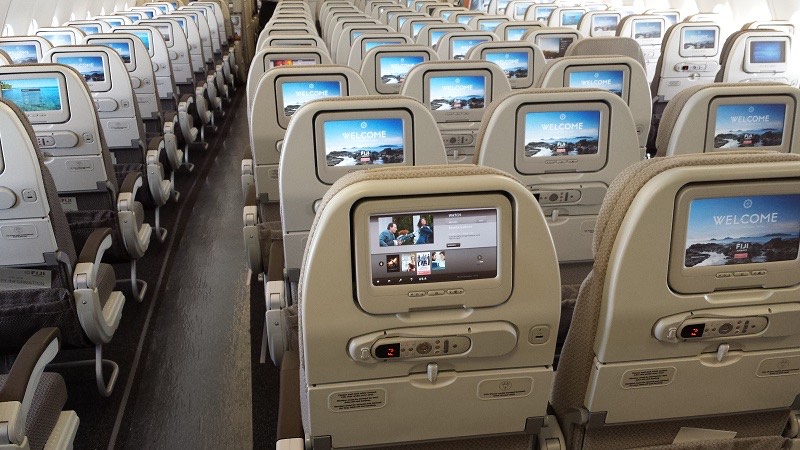 When we arrived in Fiji, it was 5:45am in the morning. Still dark. As soon as we got out of the plane, I could feel the fresh Fijian air…slightly cool and damp and wonderful and green and fresh. The way you think it should smell.
Customs didn't take more than 30 minutes, and then we were in the very small lobby of the airport in Nadi.
Ferry to Castaway Island
It's a twenty-minute transfer drive and a two-hour ferry ride from Port Denarau, the main port on the island. We booked our ferry tickets and transfers ahead of time through South Sea Cruises. The biggest hiccup in our trip was waiting for the van arranged by South Sea Cruises to take us to Port Denarau, where we would board our ferry. Like I said, the airport at Nadi is tiny, and we were told to wait in a small (air-conditioned) room, dedicated to South Seas, for 1.5 hours while we waited for our pre-arranged transfer. The van was late so we sat around without much to do (and very tired) for two hours.
The saving grace: the coffee at the airport is amazing! But next time, I would just take a cab.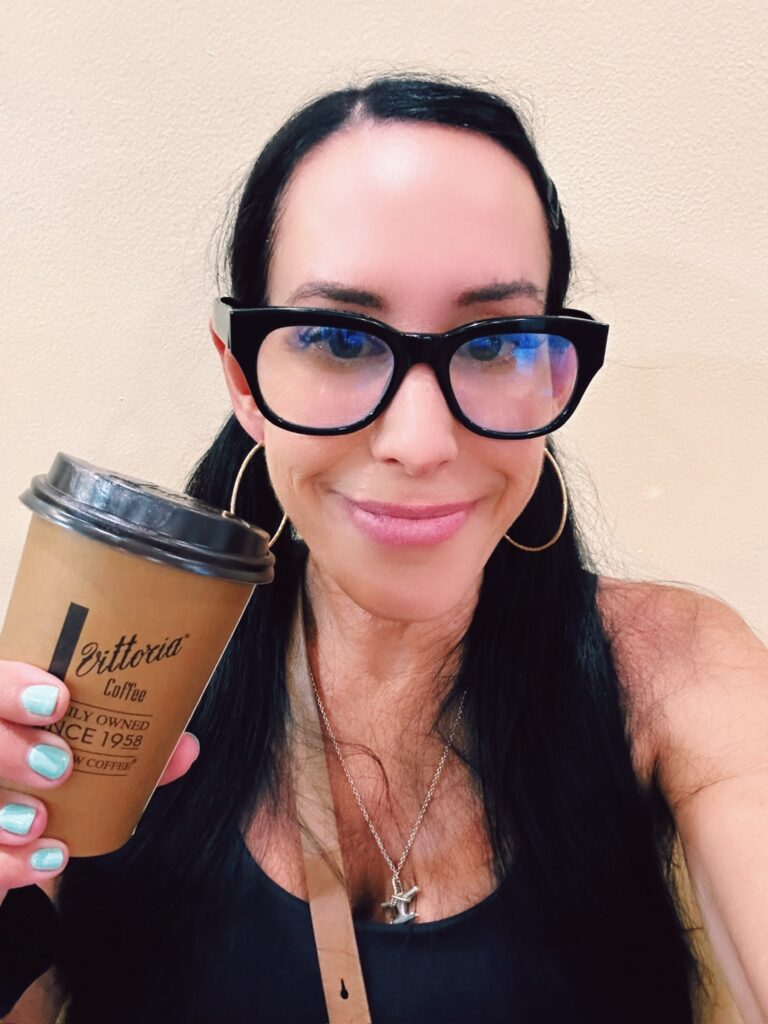 When we finally boarded the van, there was lots of traffic, so by the time we arrived and checked in, it was time to board the ferry. The boat staff told us that we could sit inside in the "Captains Quarters" which was very nice, comfy, and air-conditioned. Because I get deathly sea-sick, I had my Relief Band geared up to the highest level, and I'm happy to report that I did not hurl, despite some bumpy conditions. Hooray!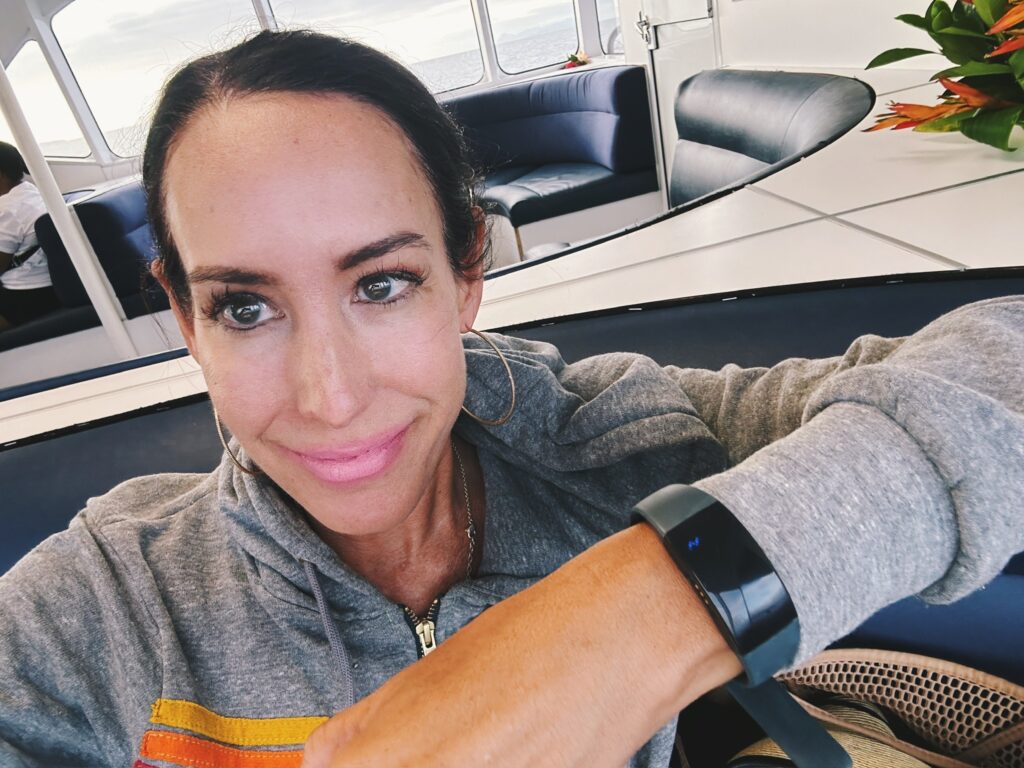 About 90 minutes later, the clouds in the skies parted, and the approach to our island commenced. We could see Castaway Island in the distance, beautiful in the morning light, surrounded by beautiful aquamarine water, protected by the reef. We were giddy! (I patted myself on the back for excellence in vacation planning.) Two smaller boats pulled up alongside our boat, one for humans, and one for the luggage, and before we knew it, we were making our way to the island.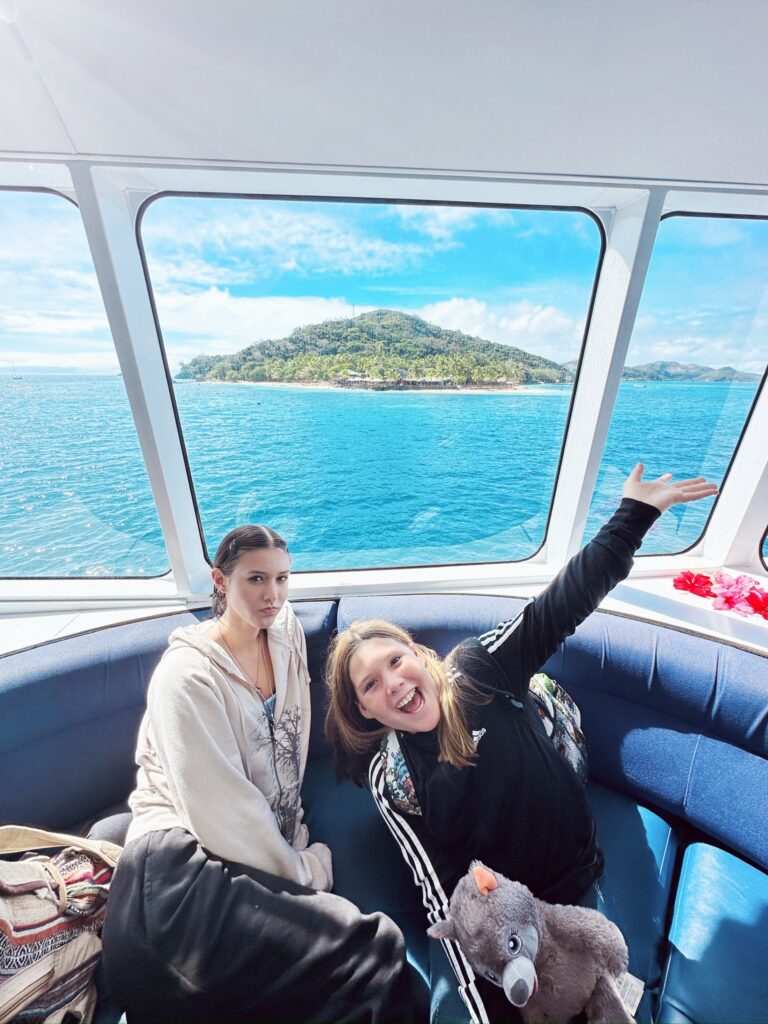 Our Arrival.
Probably one of the most iconic things about arriving in Fiji is that the locals will serenade the arriving visitors in song! A warm welcome indeed! We couldn't help but smile as we jumped off the boat into ankle-deep water and embarked on our magical stay on Castaway Island. "It's so beautiful," said Holland, crazy-eyed from no sleep but still bursting with excitement.
Amidst cheerful greetings of "Bula bula," we were escorted to a lovely table inside the restaurant where we soaked up the views, sipped on a refreshing welcome drink, and were taken to our beach bure. (Spoiler alert: it does not suck.)
Needless to say, our bure on the South Beach was stunning. We were just a few steps from the ocean which was, when we arrived, a clear blue pristine lagoon. The setup for the bures are perfect for a family of four, a king-sized bed in the main area and two small twins at the entry. We immediately threw on our swimsuits and jumped in the water.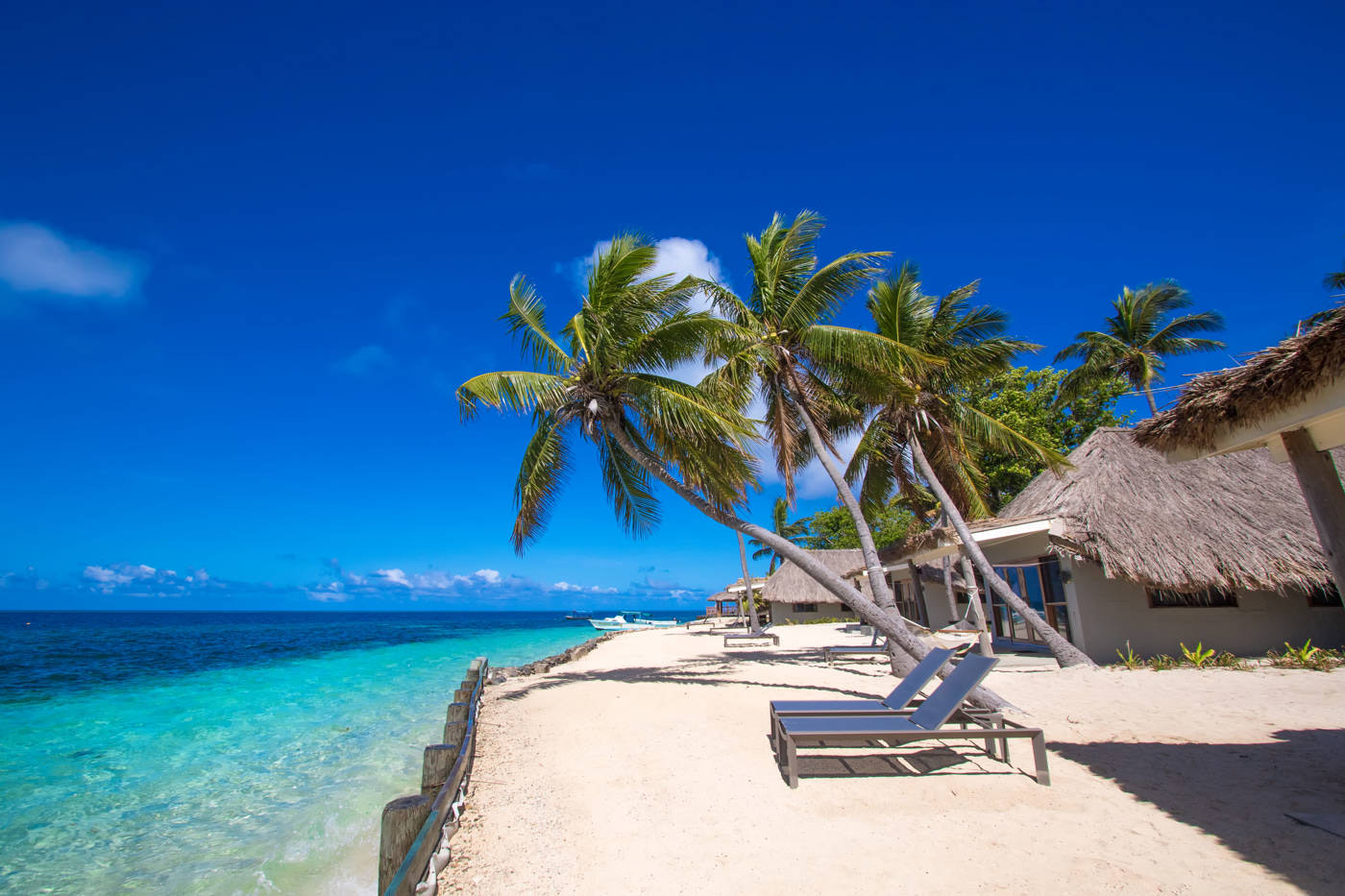 One of the first things we found when we jumped in the water was a beautiful, bright blue starfish! How could this trip go wrong?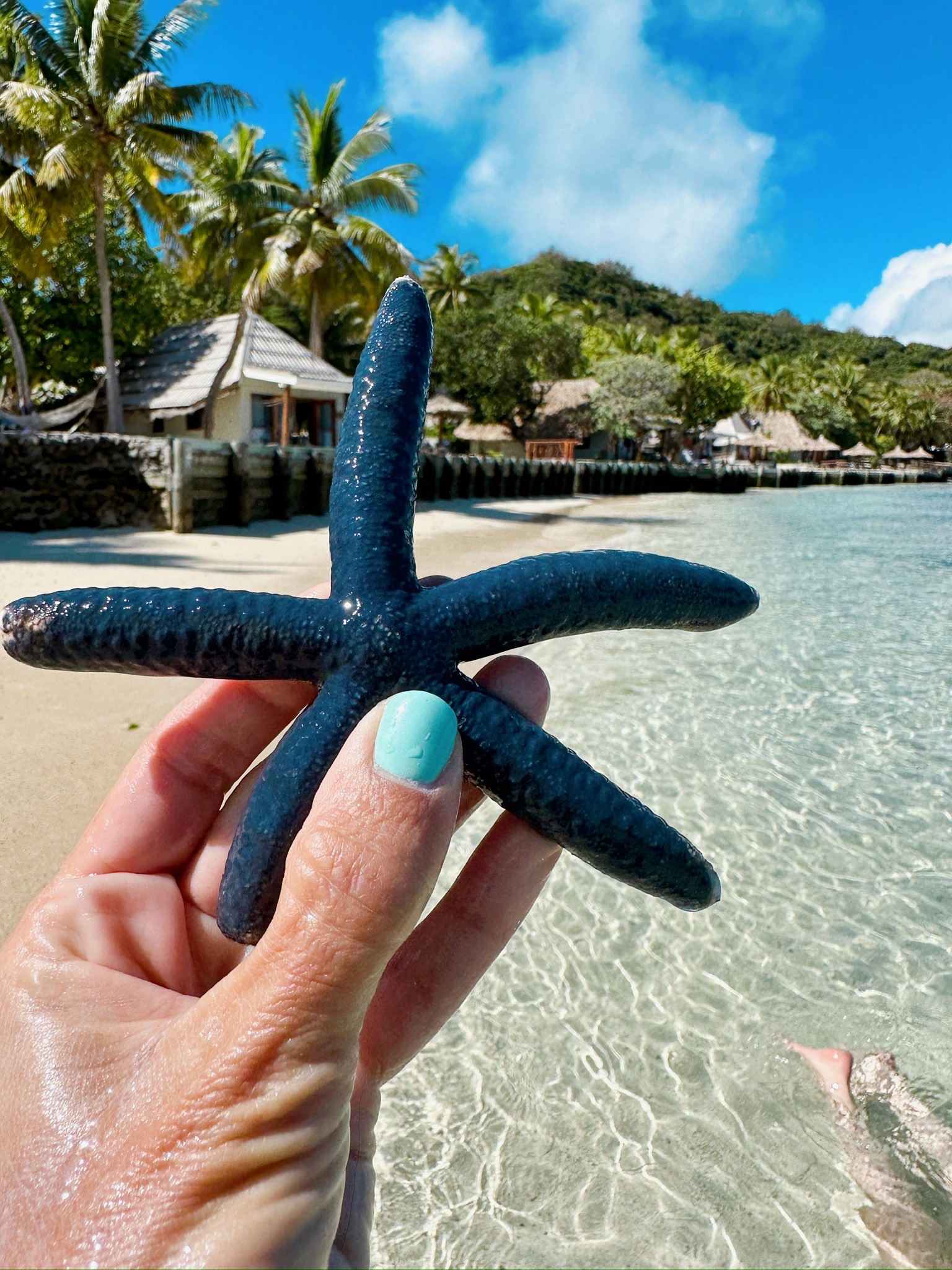 The Accommodations.
First things first. As I said above, the rooms (or bures, as they call them) are individual free-standing structures decorated in true island-style. Most sleep four people. There are options for more space as well. There is one grand bure with two bedrooms and two baths, which sleeps up to six, and one family bure that sleeps up to ten. But since there are only a couple of these, if you went nuts and had a bunch of kids, you better book early.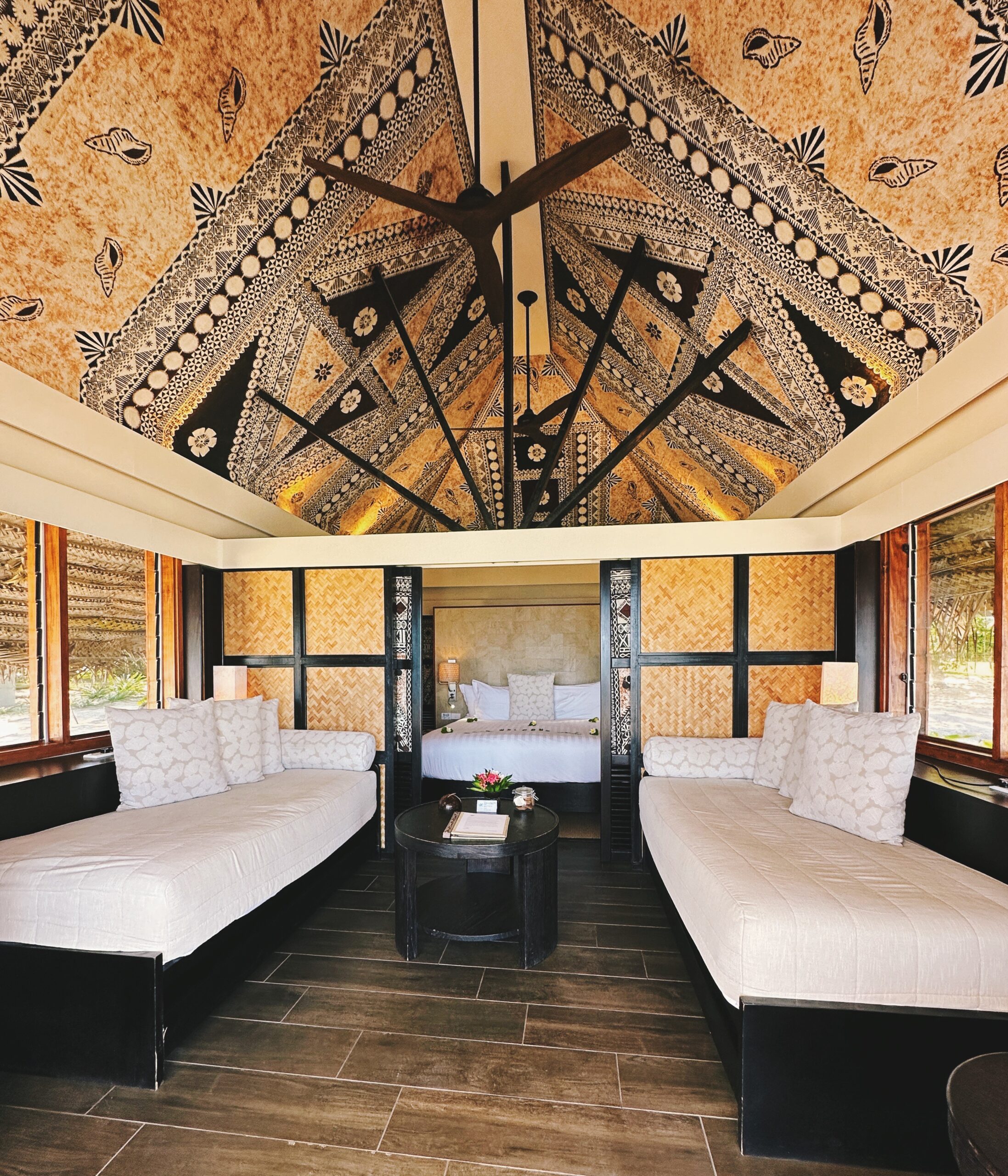 The biggest thing to consider when booking a bure is the location. The island bures are tucked away from the beach, usually surrounded by lush greenery. The ocean view bures a short distance away from the ocean, and the beach bures are beach front.
The South Beach bures are closer to the ocean and felt more private to me, but all the action happens on the North Beach. That's where all the kayaks and paddle boards are located, and some of the best snorkeling.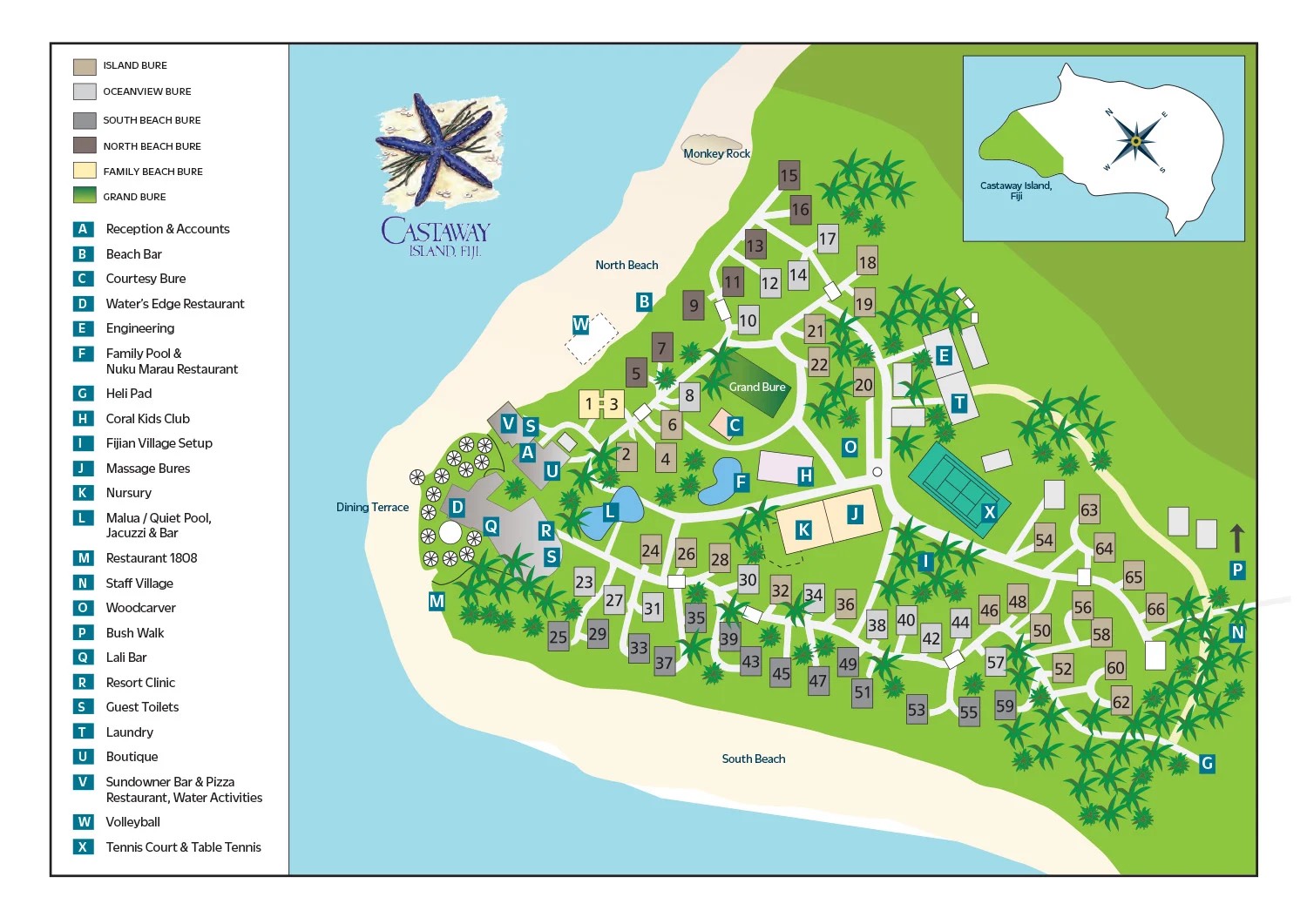 For the most part, the North Beach had better conditions when we visited. For a few days it was crazy windy on the South Beach. But we got a couple of pristine days where the water by our bure was absolutely perfect, an aquarium of teeming with sea life! So I really loved our South Beach bure and wouldn't have changed it.
The Activities.
Just Chillin'.
Honestly, my favorite parts of the trip were just relaxing in the warm water or dangling in a hammock!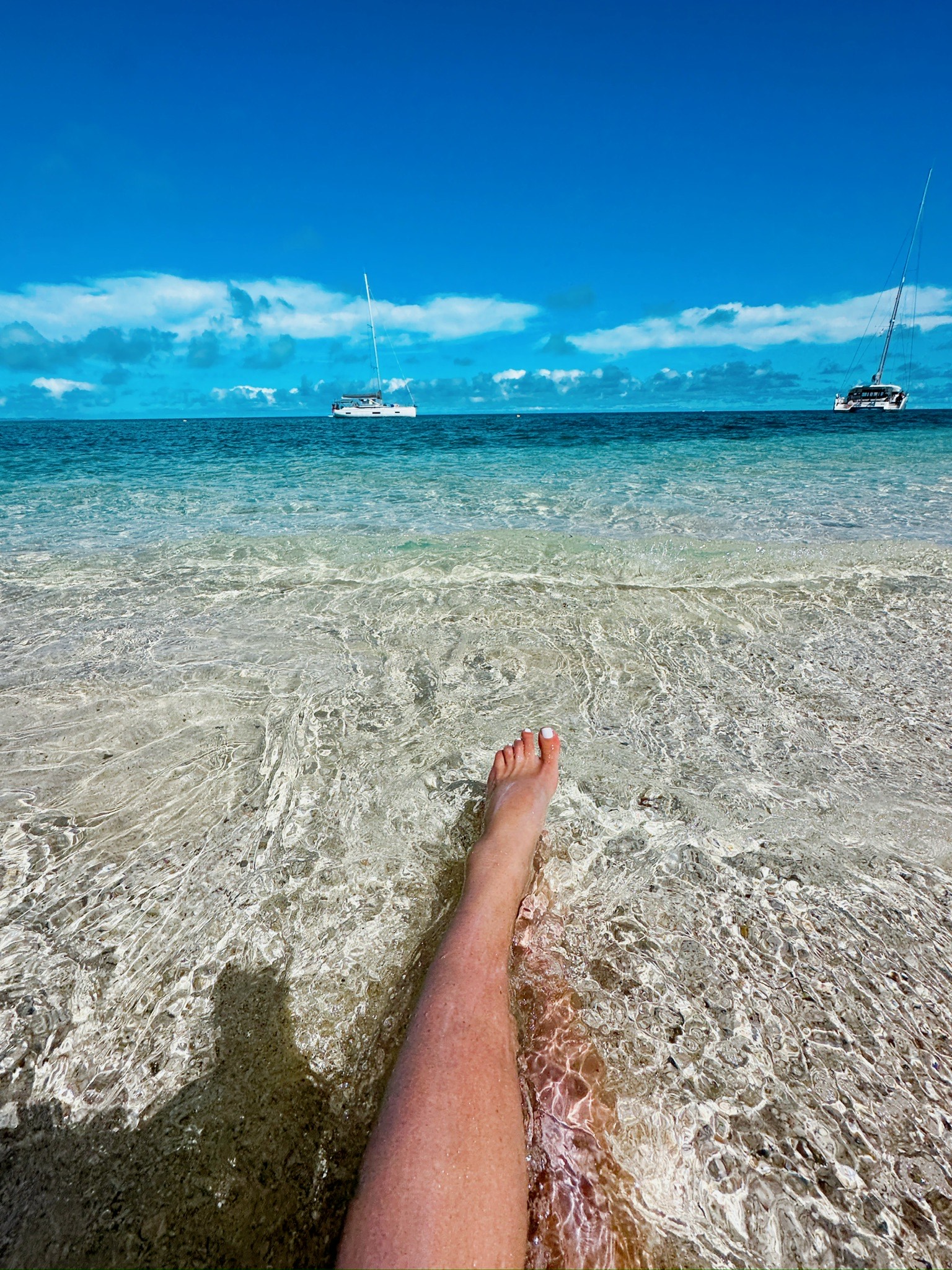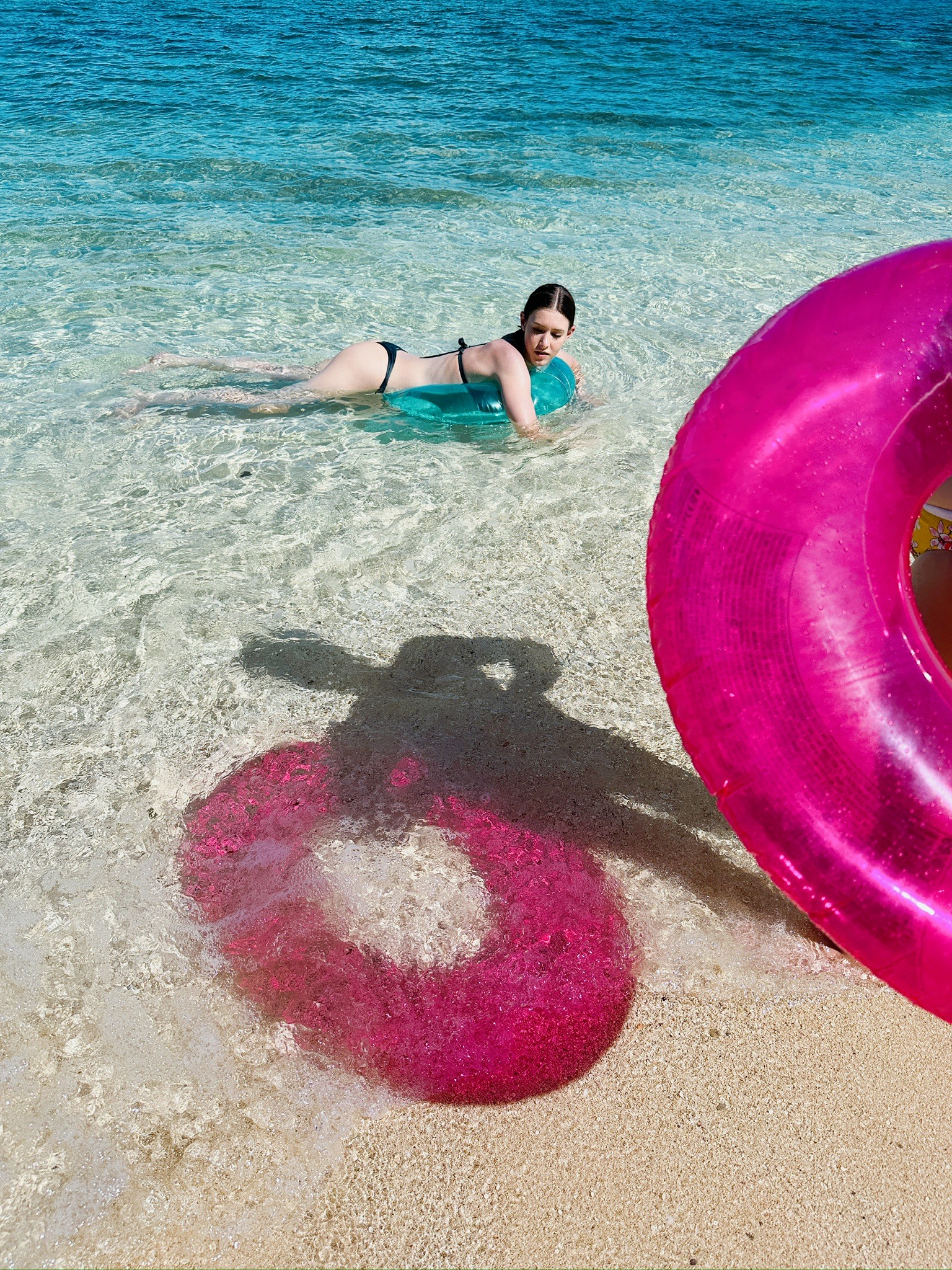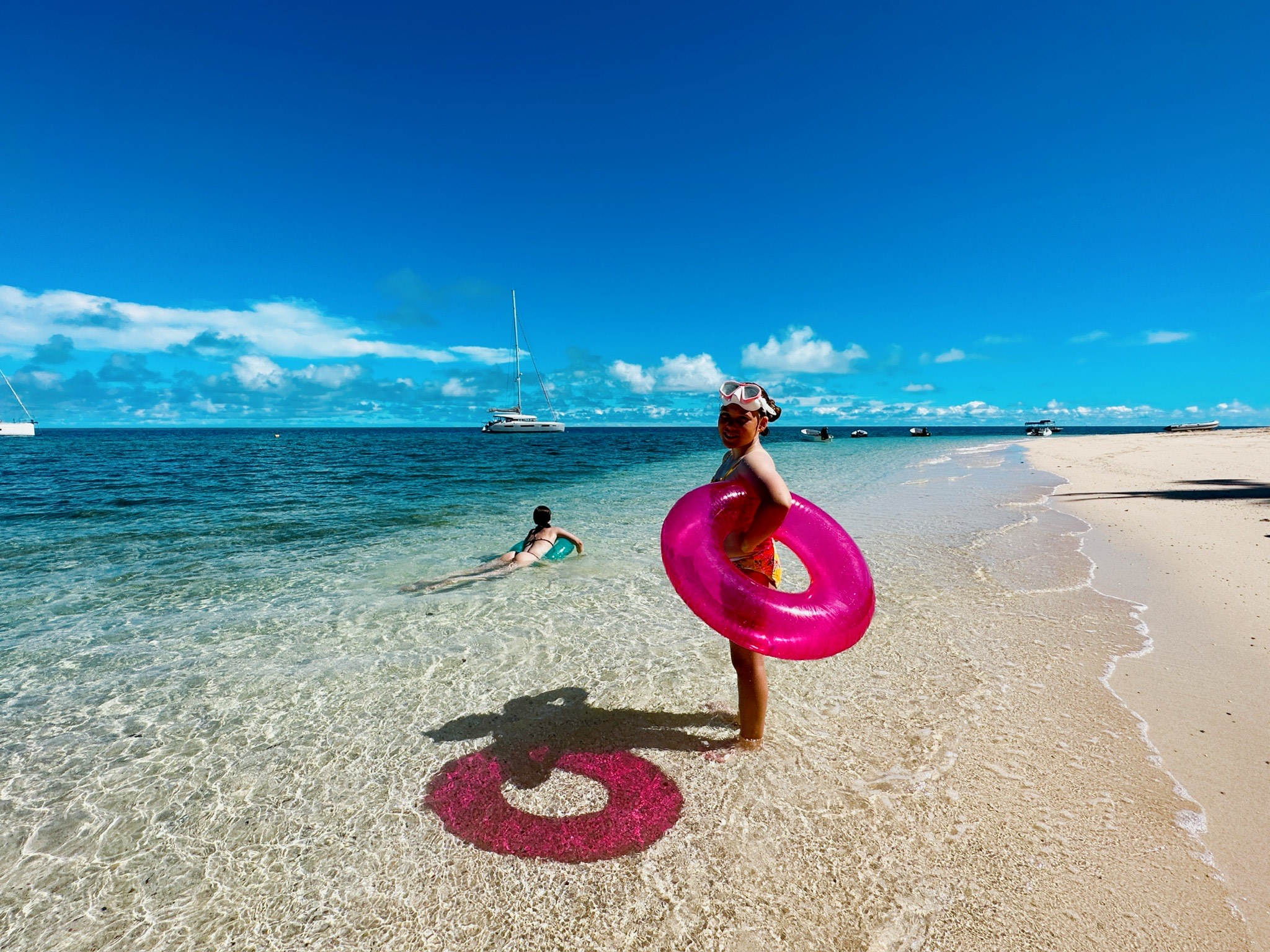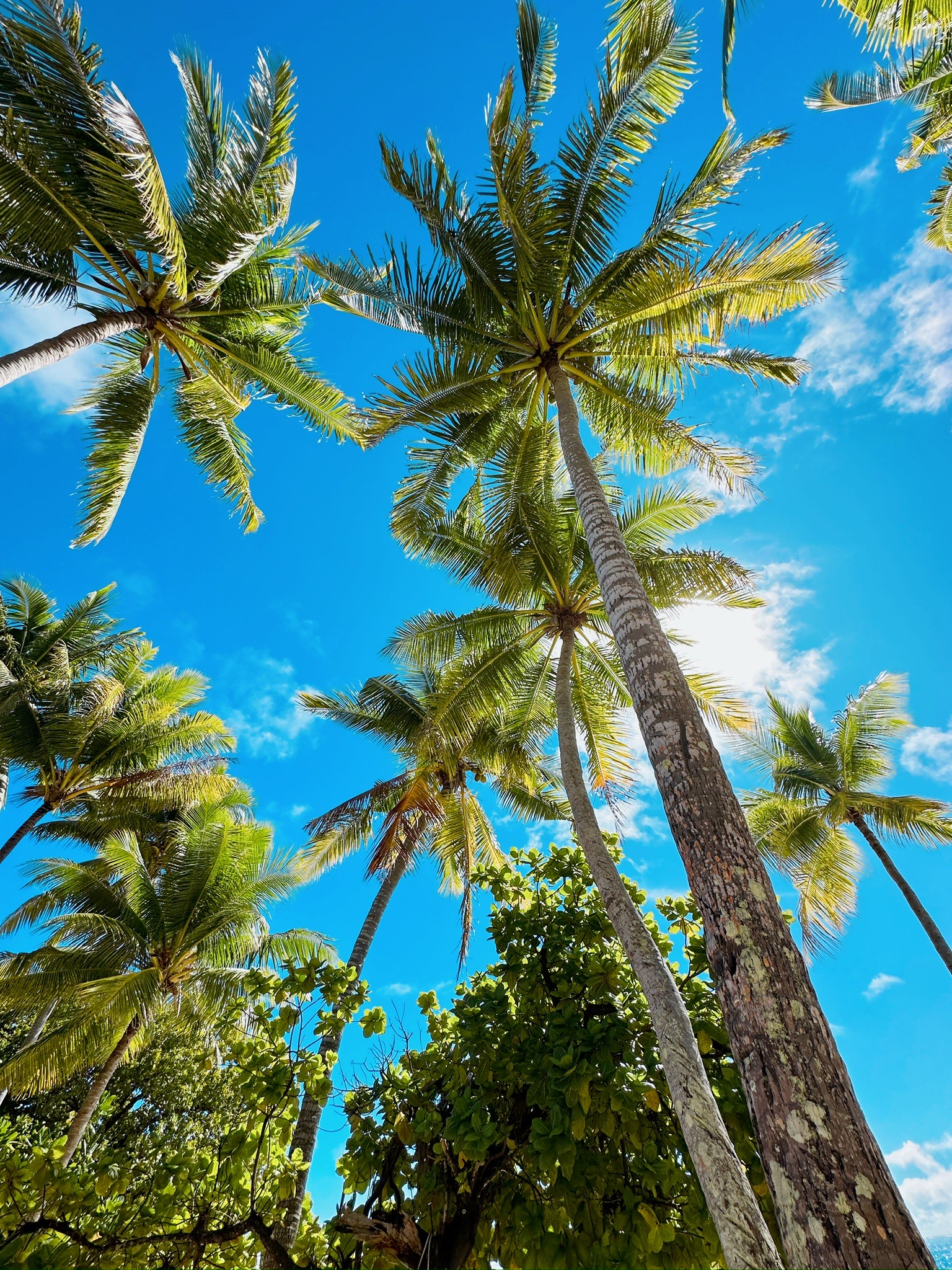 Snorkeling, Kayaking, Paddle Boarding, Etc.
But if you're looking for action, this island has everything you'd want in a tropical beach vacation. It's a small island, about 174 acres. It's bursting with hilly, lush greenery and is completely surrounded by coral reefs. This creates a calm, gentle shoreline, perfect for snorkeling, which happens to be one of best things to do on the island.
Like I said, you can grab a mask and fins from the activities desk and easily make your way into the water. We saw lots of bright colorful fish, purple and orange brain coral and stingrays in addition to the aforementioned blue starfish. We even saw reef sharks and eels!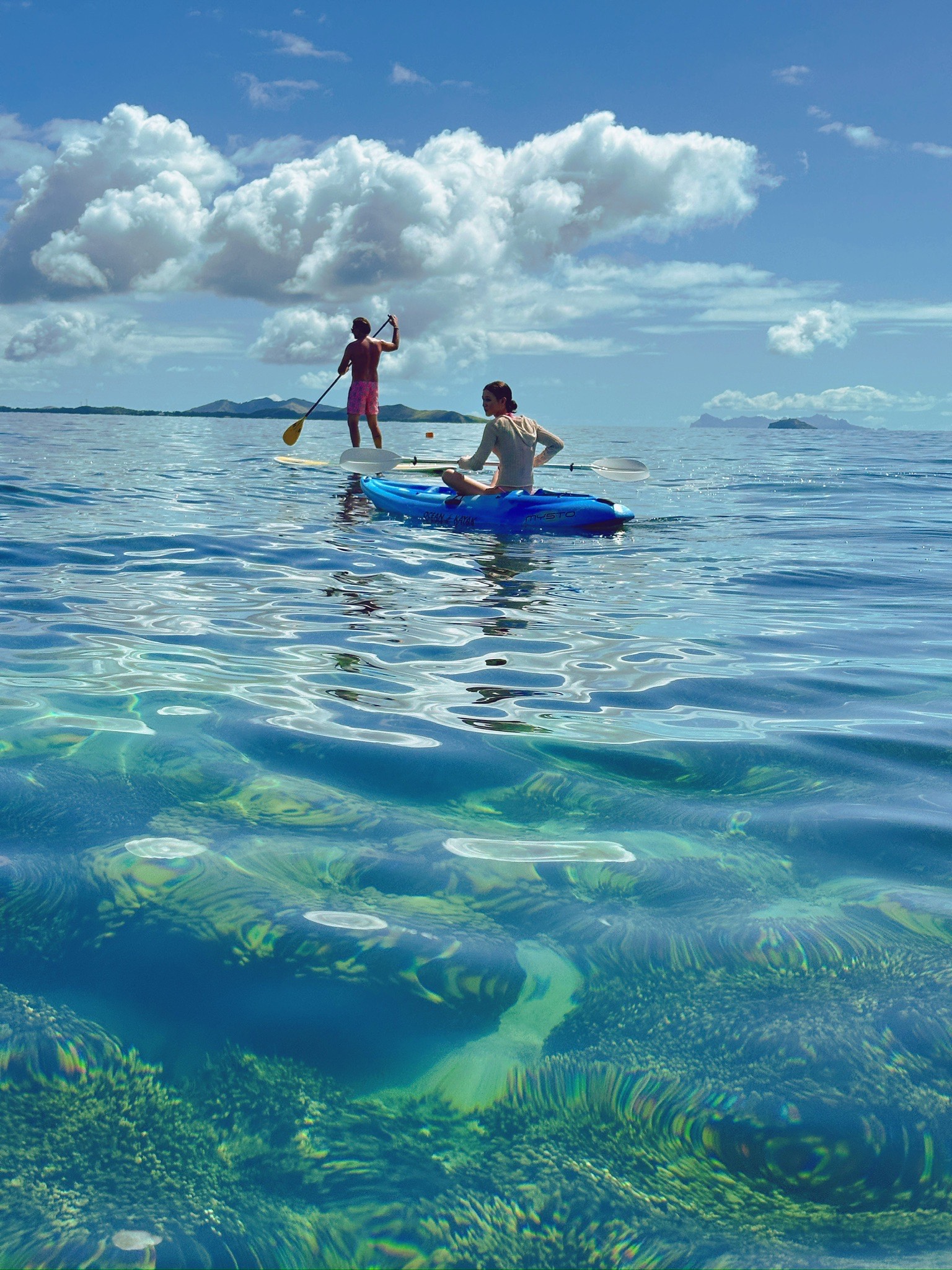 I'm a total snorkeling snob, and unless the conditions are perfect, I refuse to submerge. Why jack up my hair and makeup and get cold? Needless to say, I spent hours snorkeling in the ridiculously-clear water. I could have snorkeled for days. I didn't get cold.
We spent a lot of time kayaking, and my husband and I even kayaked around the entire island. Well, he kayaked, and I scanned the water for sea life. (This took a couple of hours and it happened to be during a storm which kind of freaked me out, but I would do it again on a clear day.) My husband paddle boarded quite a few times, and he took out the Hobie Cat as well. Check out more of the activities here.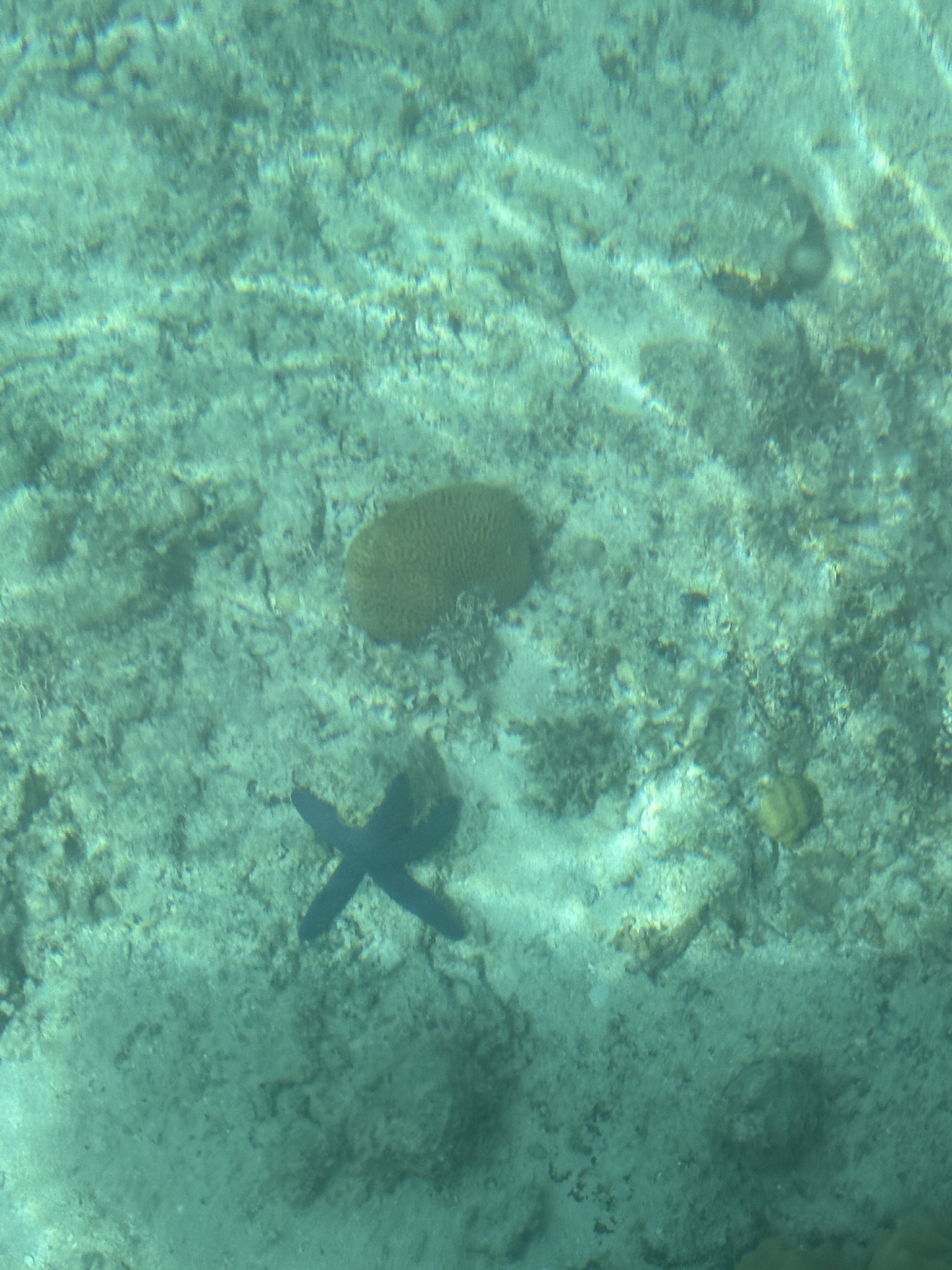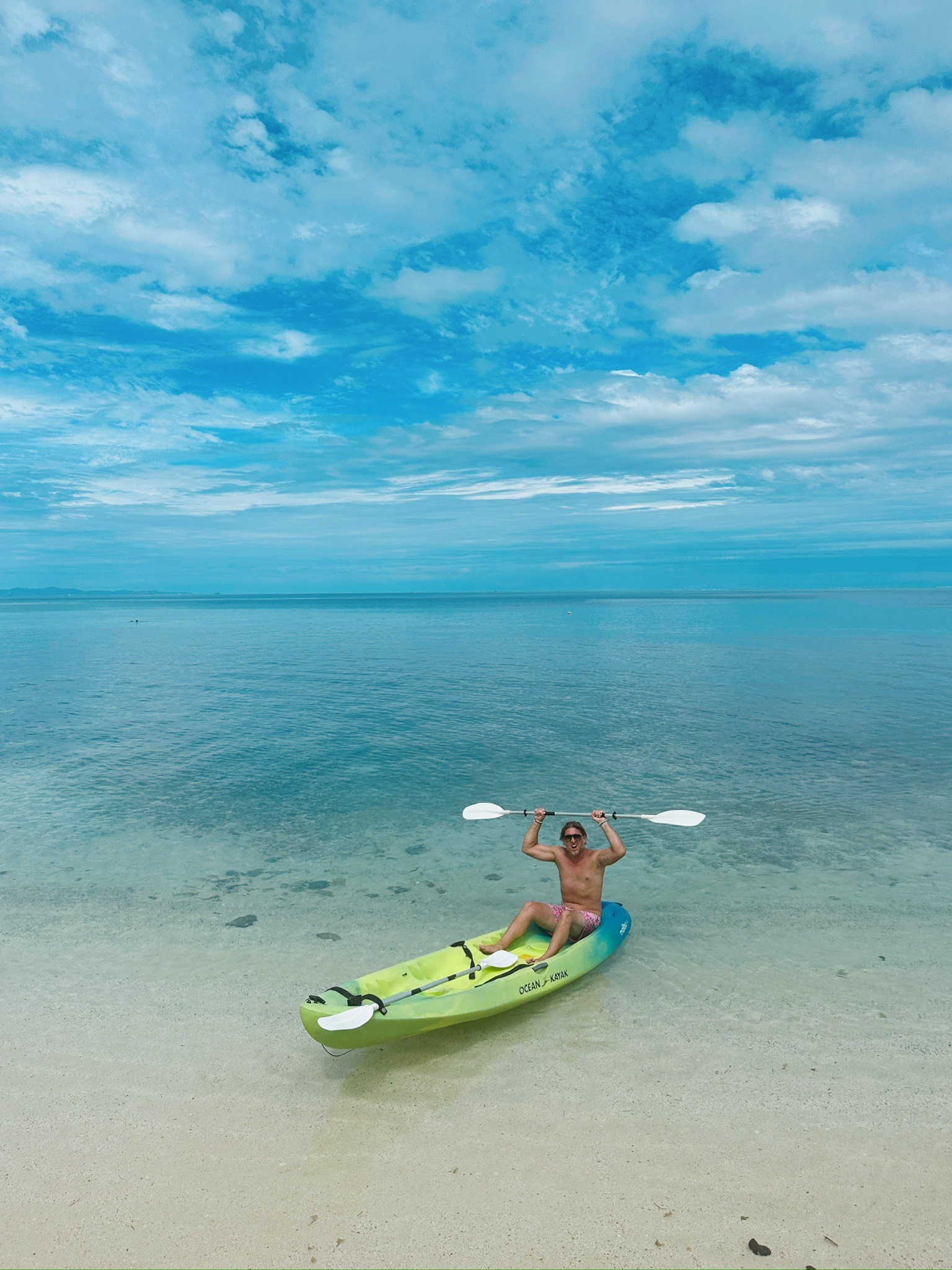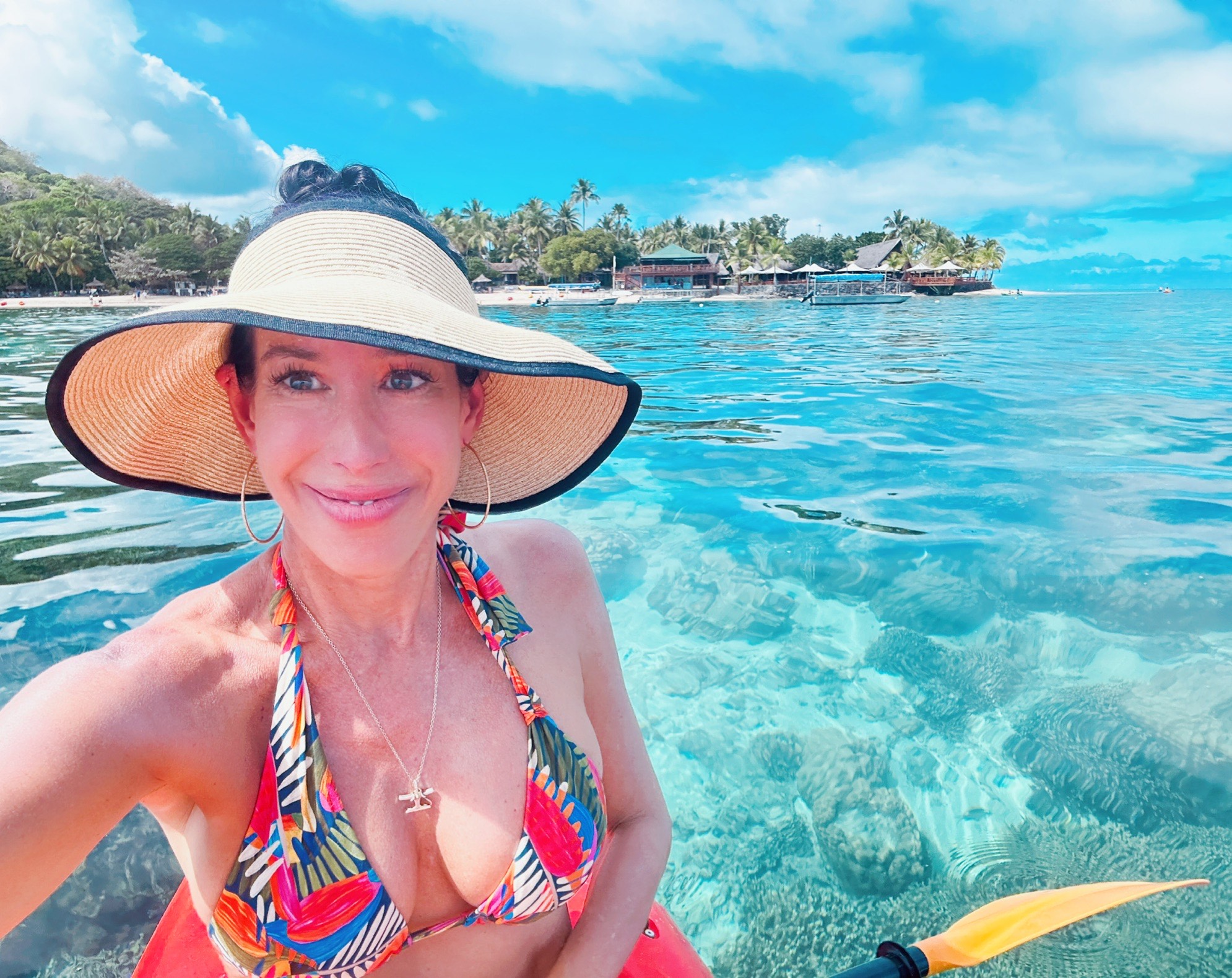 Day Trip to Modriki Island.
Castaway Island also offers lots of day trips, including trips to Shell Beach, the Sand Bar, and Modriki Island, where the movie Castaway was actually filmed. My husband booked the Modriki Excursion, which got me a little nervous because: sea sickness! Alas, I wore my faithful Relief Band on full-blast, and looked forward to the part of the trip which included the champagne brunch.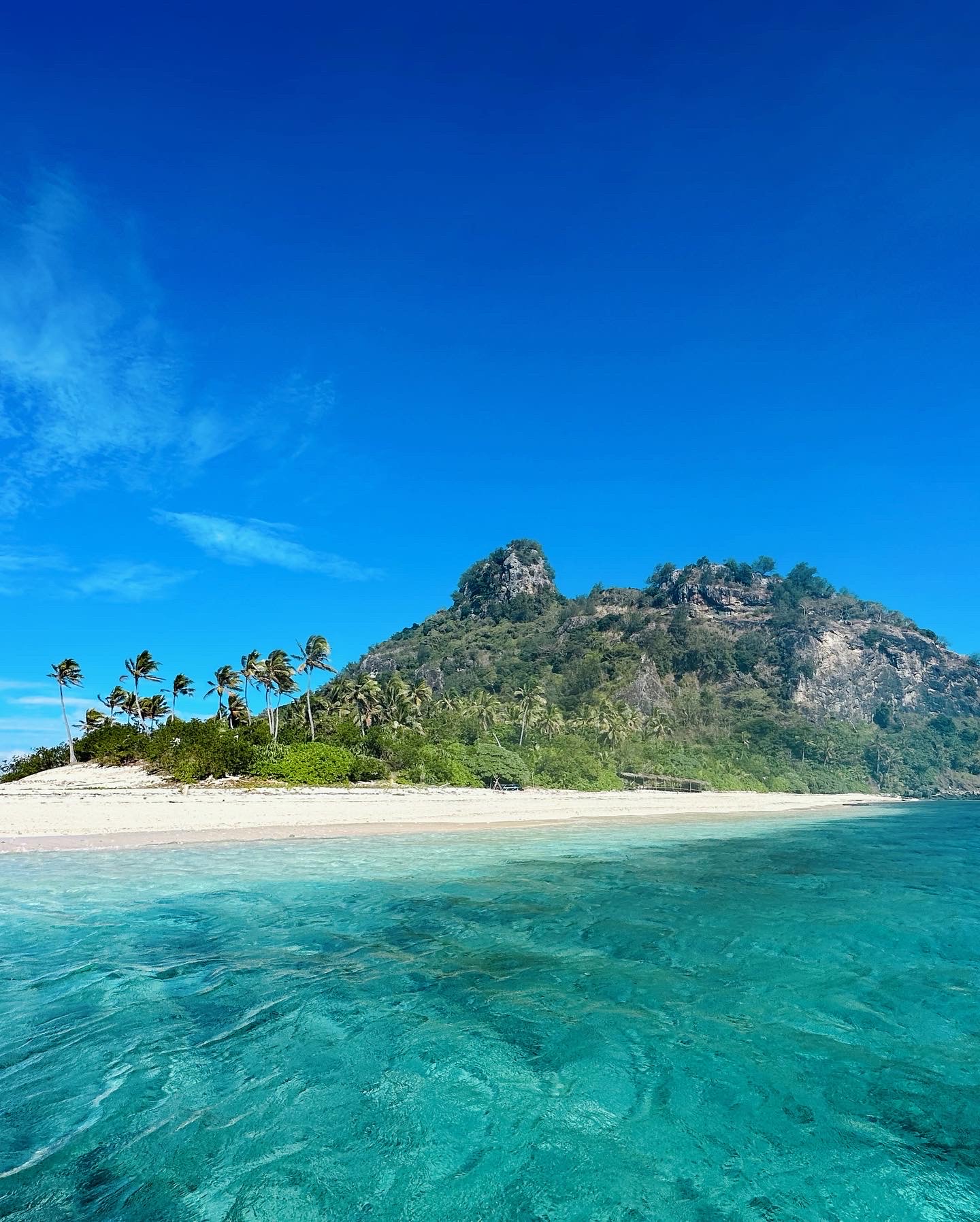 The excursion to Modriki ended up being a highlight of our trip. The water was relatively calm on the way out, making the boat trip to the island (which we could see in the distance) about an hour. Our guide, "Shrek," who also headed up the Kids Club and happened to be a great musician, accompanied our family along with the captain.
He took us on a tour of the island, pointing out fun scenes from Castaway: where Tom Hanks buried the dead flight attendant, went spearfishing, and the cave where he knocked out his own tooth. (We couldn't actually go inside the cave because the tide was too high.)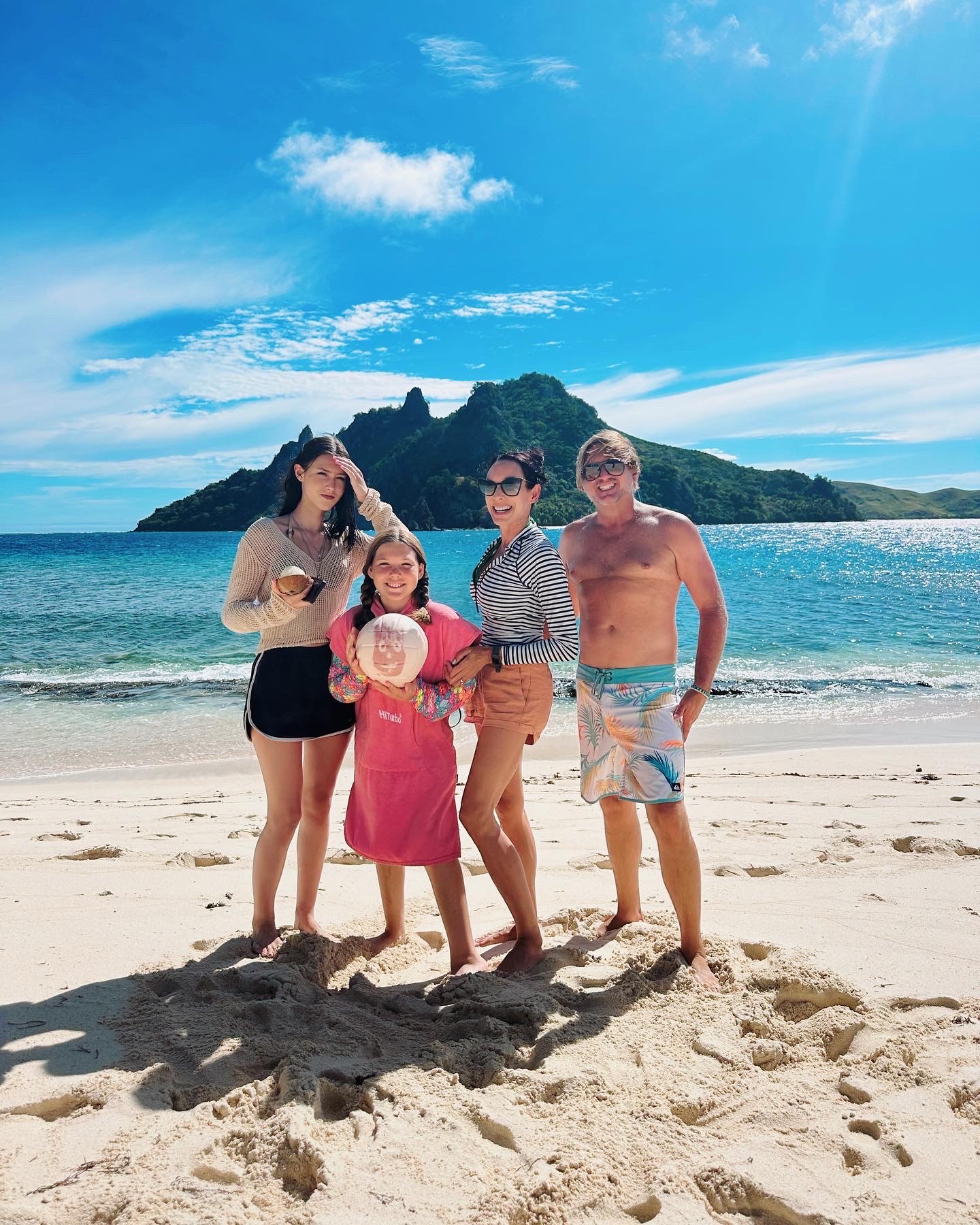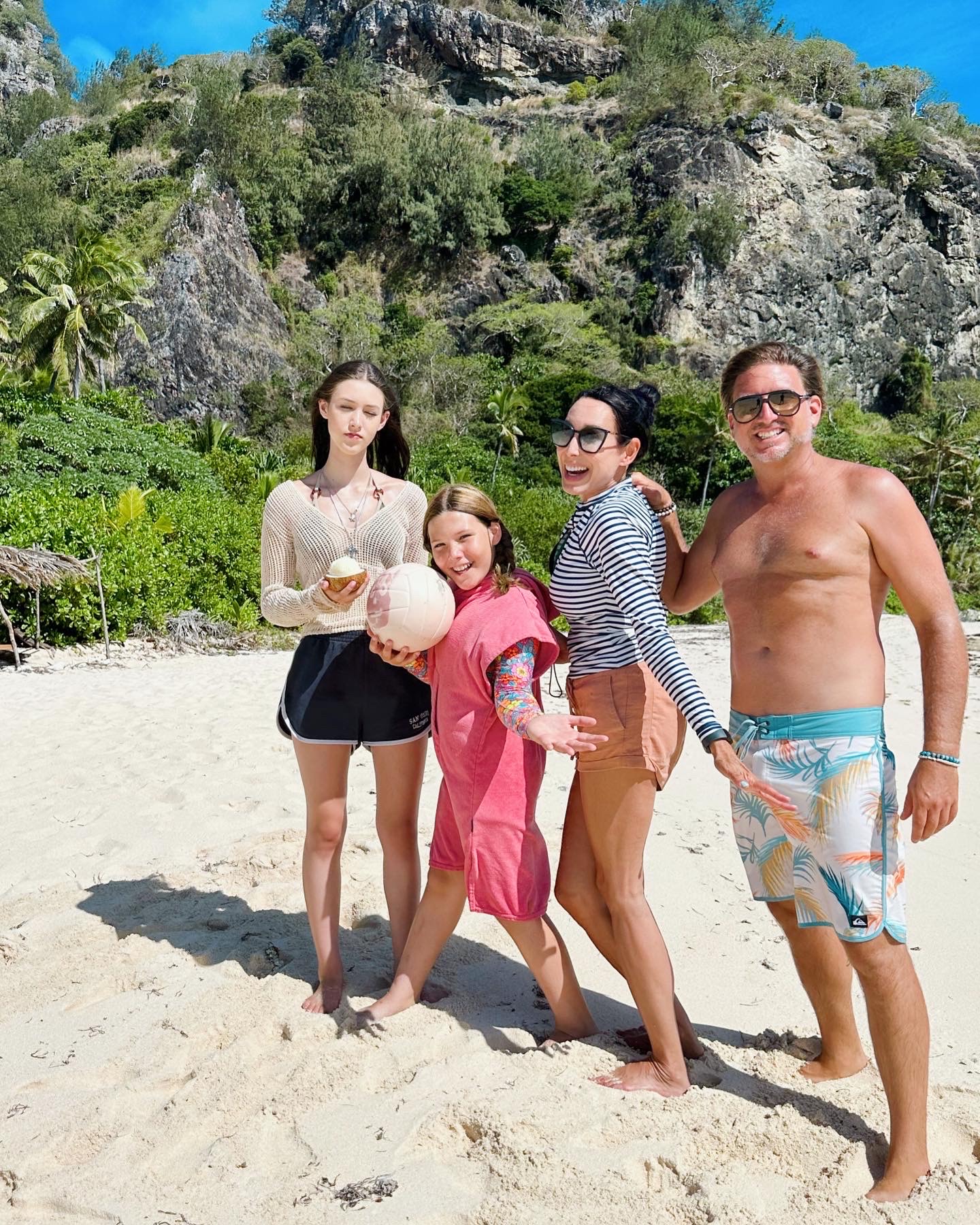 Turns out, Castaway wasn't actually filmed on Castaway Island where we were staying. It's called that, because that's where Tom Hanks stayed when the movie was being filmed. The actual island, Modriki, is where most of the action in the film takes place. It's uninhabited and wild and beautiful. A few small tour groups arrived as we were leaving, other than that, we had the island to ourself. On our short hike, Shrek grabbed several coconuts for us and we enjoyed marshmellow-y goodness from inside the older coconuts and the juice and soft meat inside the younger ones.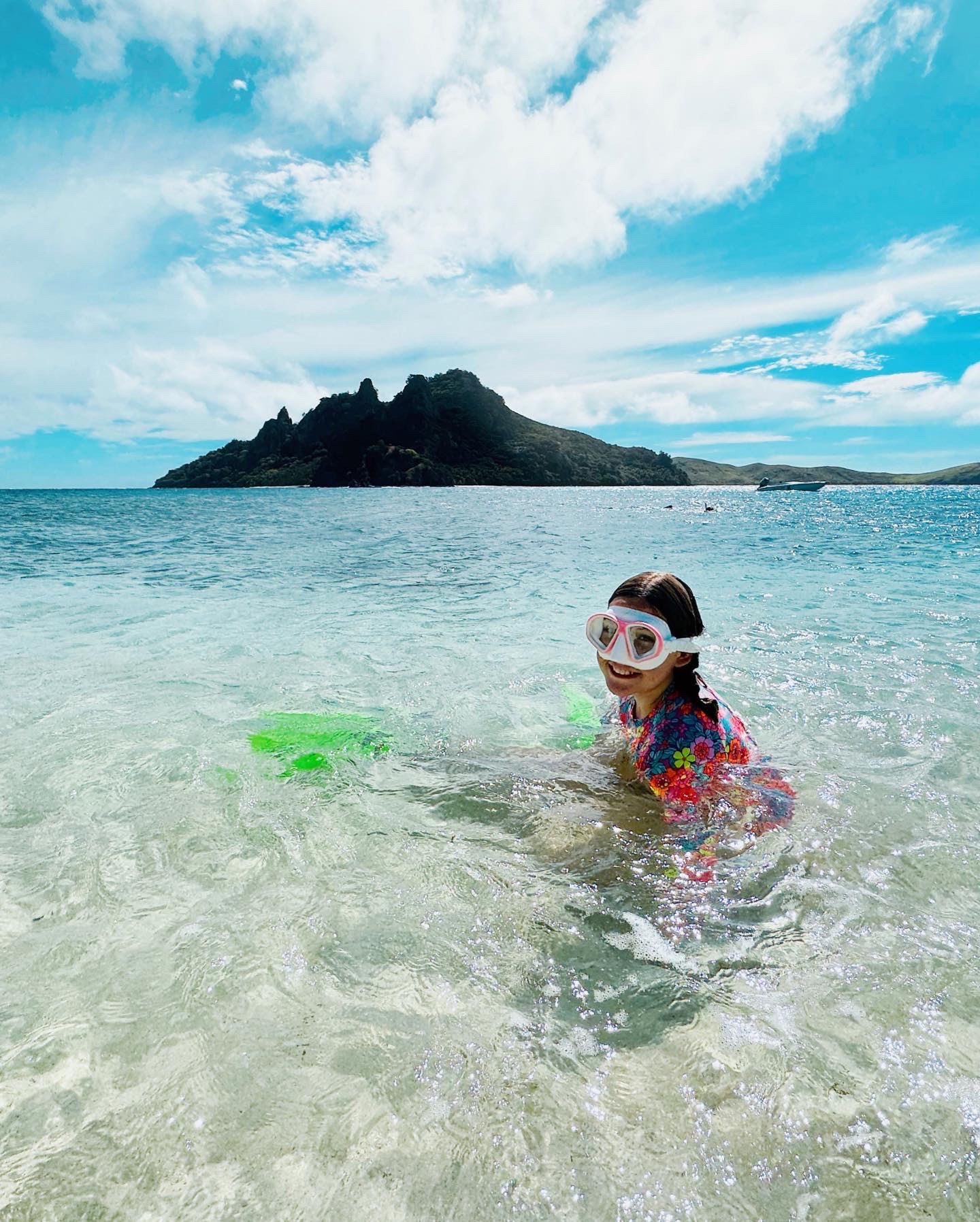 Then, we set up camp in a protected space at the foot of the hill and just steps from the beach. Conditions weren't perfect (it was windy) so I was loathe to snorkel. But Ian and Holland jumped in the water right away, with Holland proclaiming at the top her lungs, "This is paradise!" So of course, I had to get in.
The first thing I saw? An octopus. A freaking octopus! It sat in the reef, chillin' below me, looking up at me with one eye. By the time I surfaced to tell everyone what I saw, it was gone. But wow, was it beautiful. And it made me so happy that I had sworn off eating octopus after watching My Octopus Teacher.
We enjoyed a tasty champagne lunch under the thatched-roof hut and lounged on the mats. Then of course, we got the token pictures with Wilson!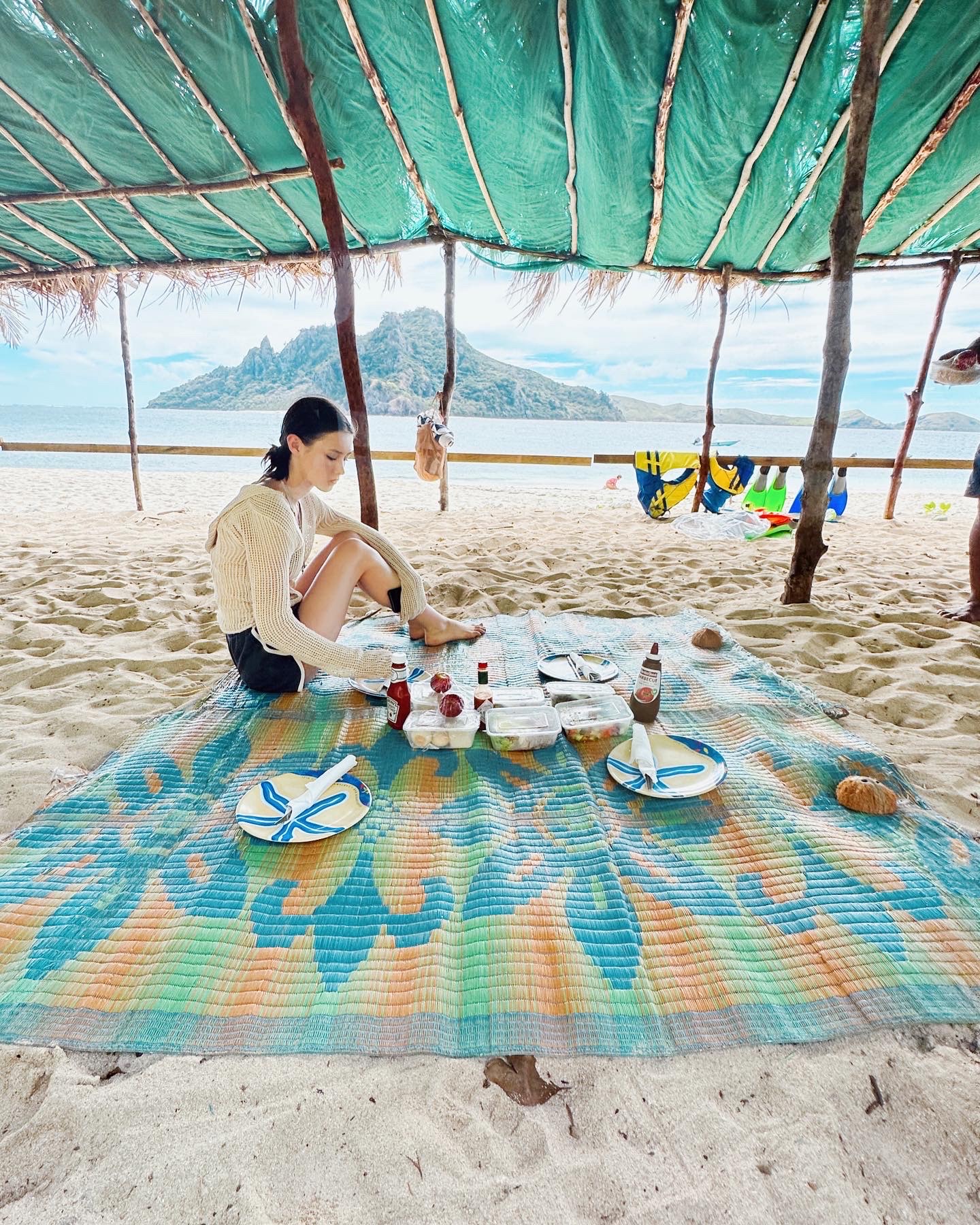 The coolest part? The owner of Modriki Island stopped by. Shrek told us he does this, to make sure everyone is having a good time and all is well on the island. He seemed happy that we enjoyed our visit. Of course, I told him all about the octopus.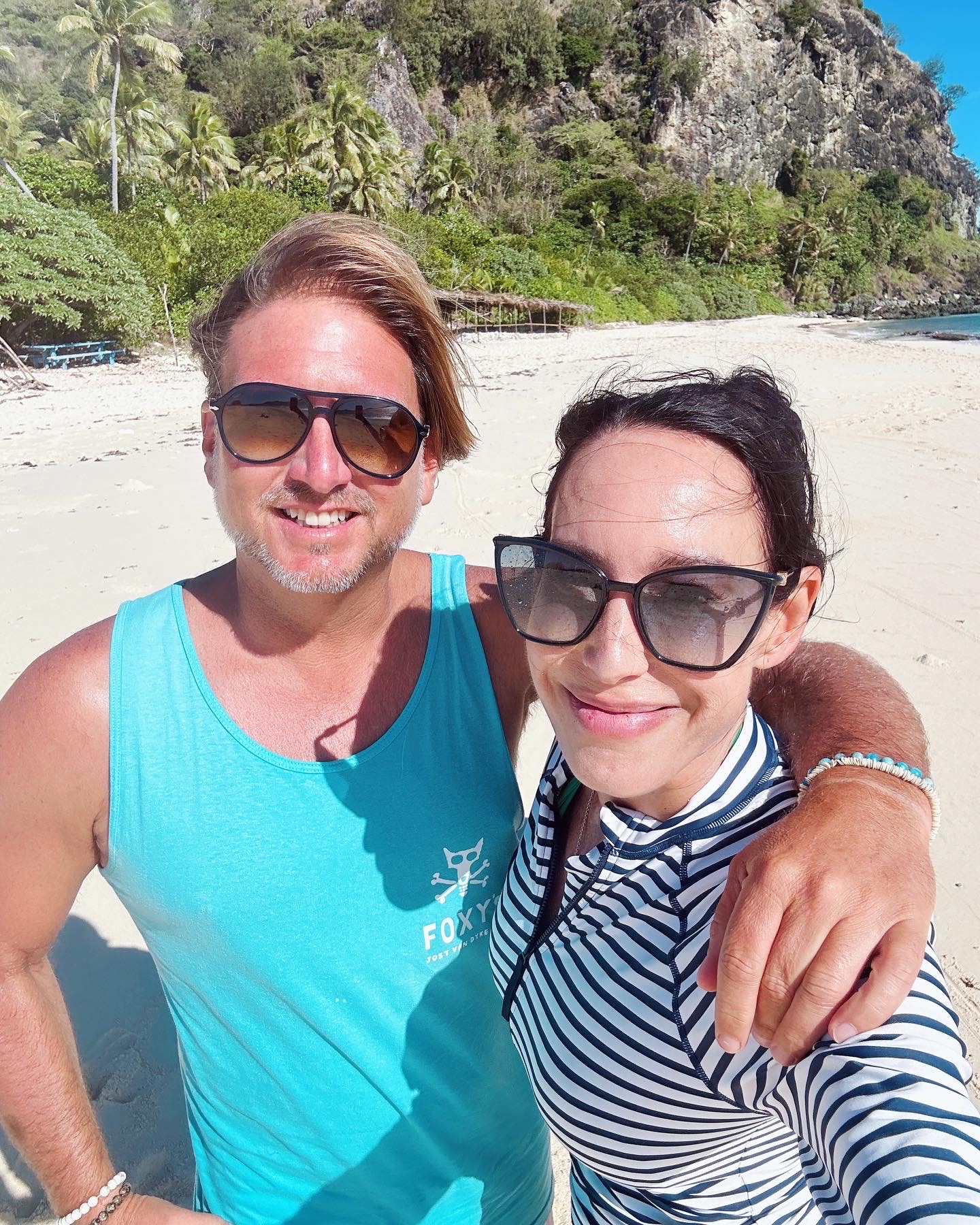 Bush Walk.
Back on Castaway, one of the cool things you can do on the island is the Bush Walk. I'm not sure how long it is, but it's a path around the island that takes up to a pretty spectacular view. Ian and I decided to venture off on the bush walk on one of the rainy days we got on the vacation. It was perfect because we didn't get hot, but we did slip and slide around a bit in our flip flops.
It was beautiful and lush and steep, and when we got to the top we were graced with beautiful views. We took the beach trail down and it was definitely a bit perilous. But we did see a family of goats on the other side of the island! We took the long way down so it took us a couple of hours. In only slipped and cussed really loud and cursed my husband a handful of times. Probably not a good idea with little kids. Even my girls would have complained, so we left them in the bure.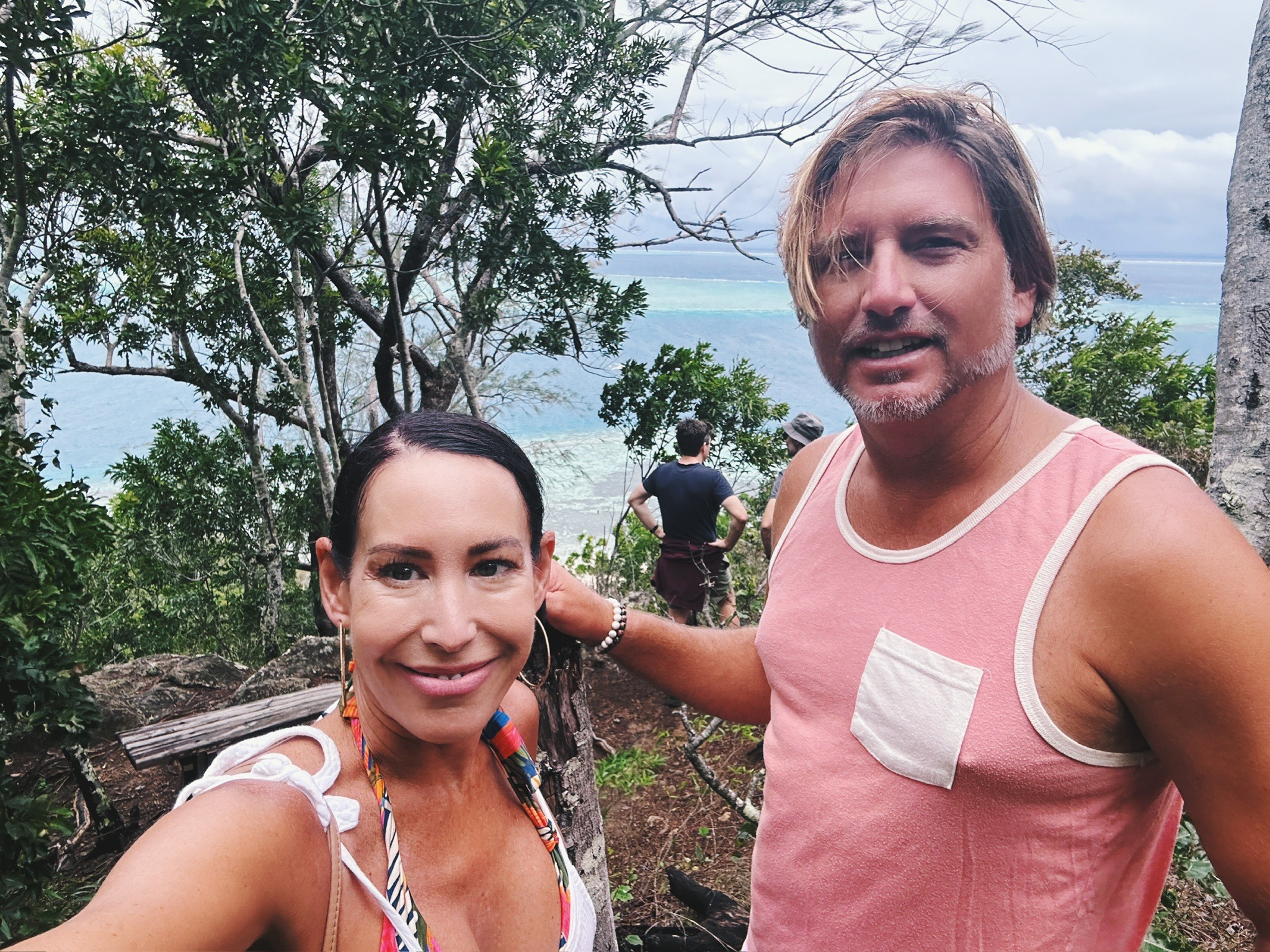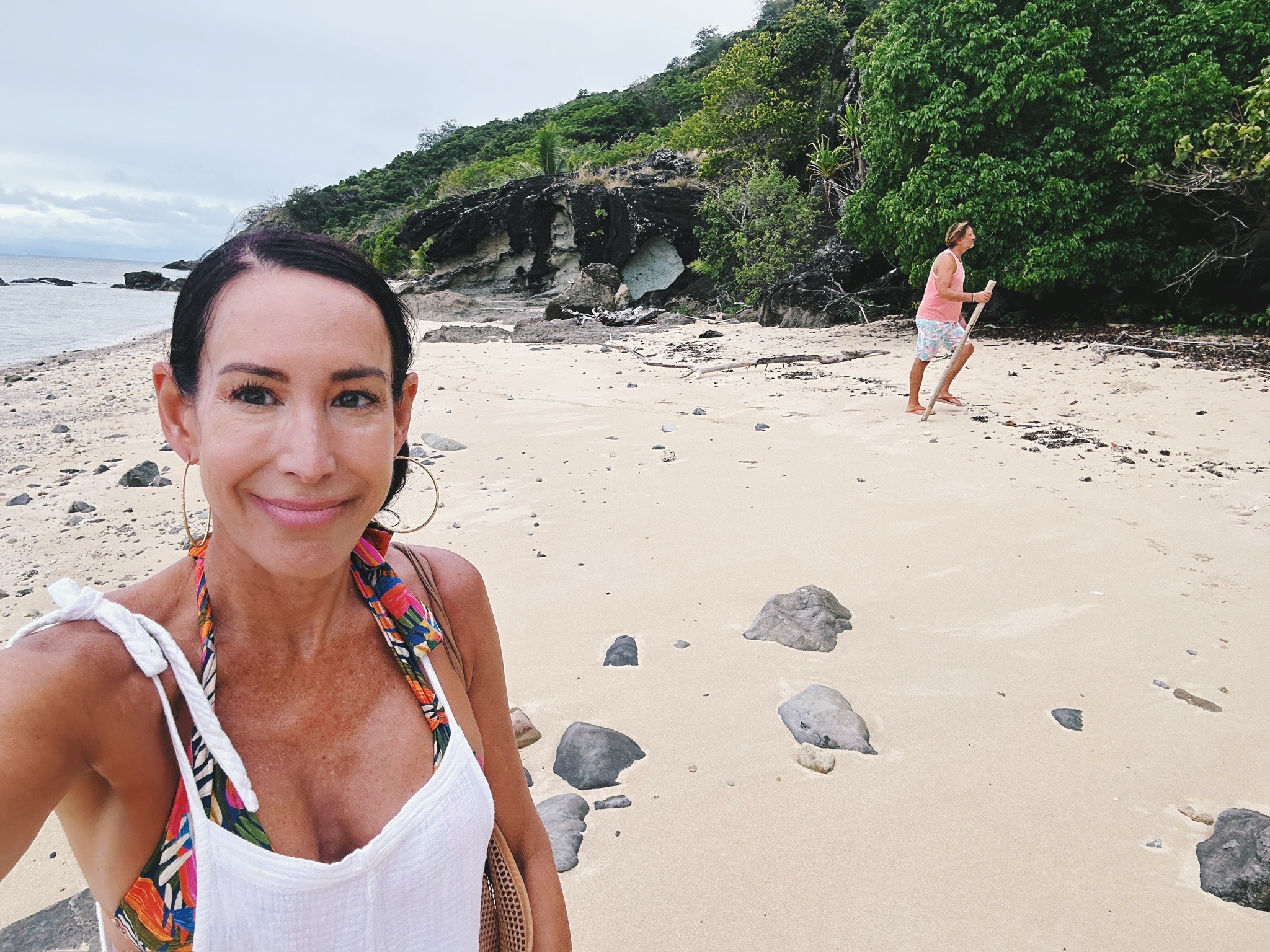 Pools.
There are two main pools on Castaway Island, a kids pool (that has the Nuku Mari Pool Bar and Grill eatery attached) and the "adult pool" with a swim up bar. I say "adult pool" because the entire time we were there, kids were swimming in it, and no one cared.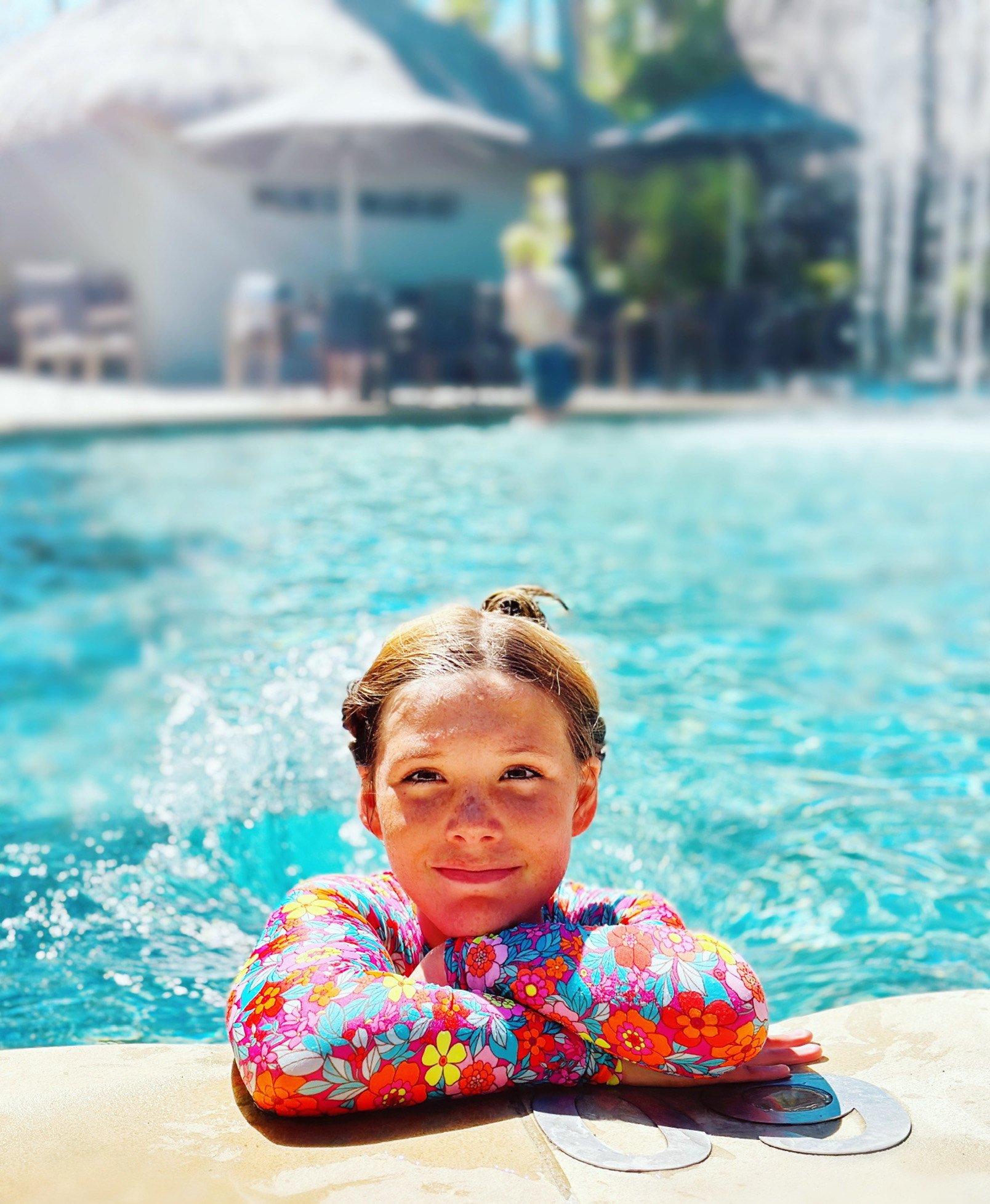 The pools are refreshing and delightful on hot, sunny days and a bit cool on cloudy days, and there's no real hot tub, so some days we elected not to submerge.
The bartender at the adult pool made delicious drinks, including fun and festive kids drinks. Getting the "Cinderella, icey-style" was a highlight for my girls. I loved the "Stay Chill" and the "Island Girl," in addition to my standard choices of pina colada and sauvignon blanc.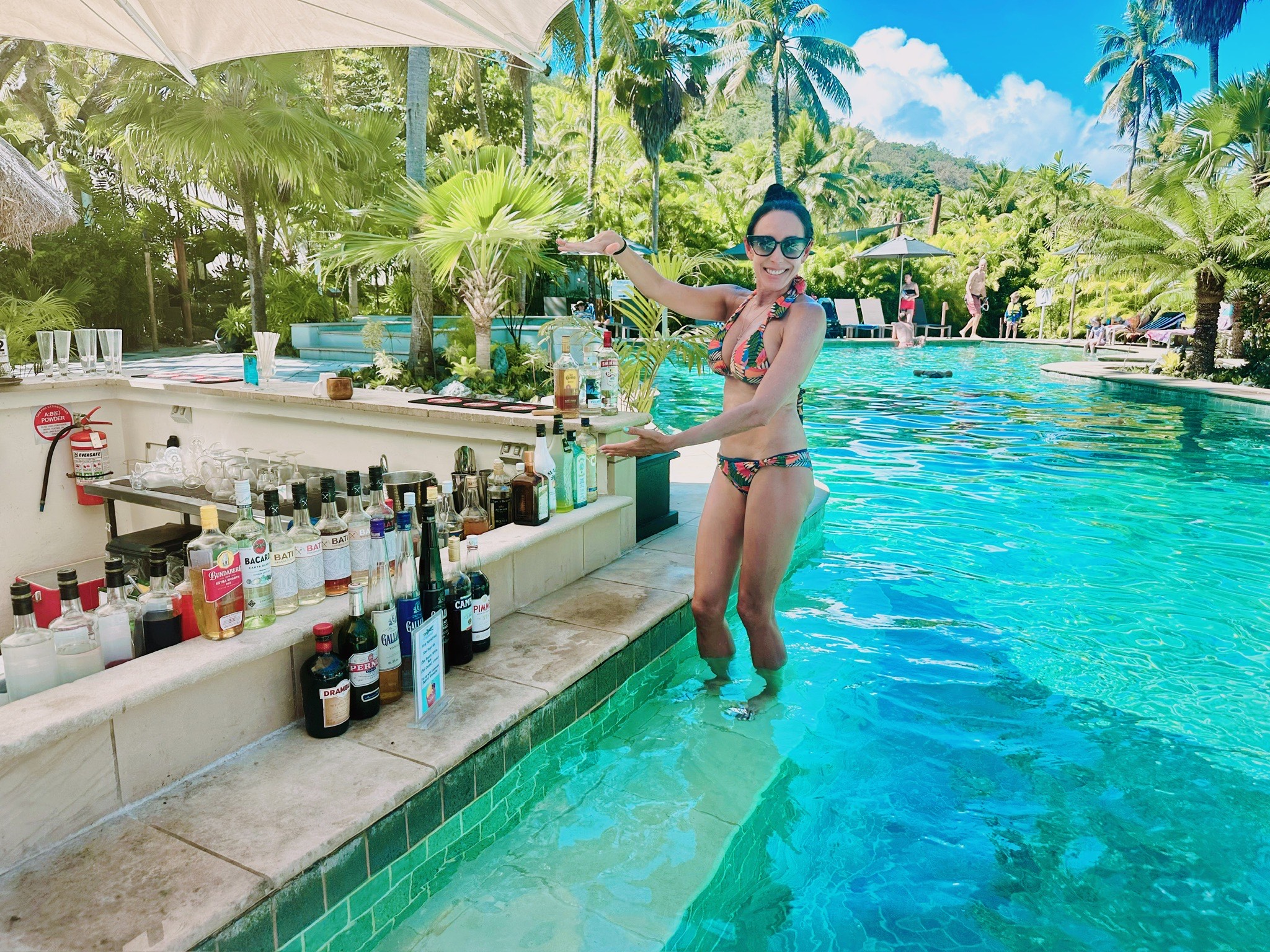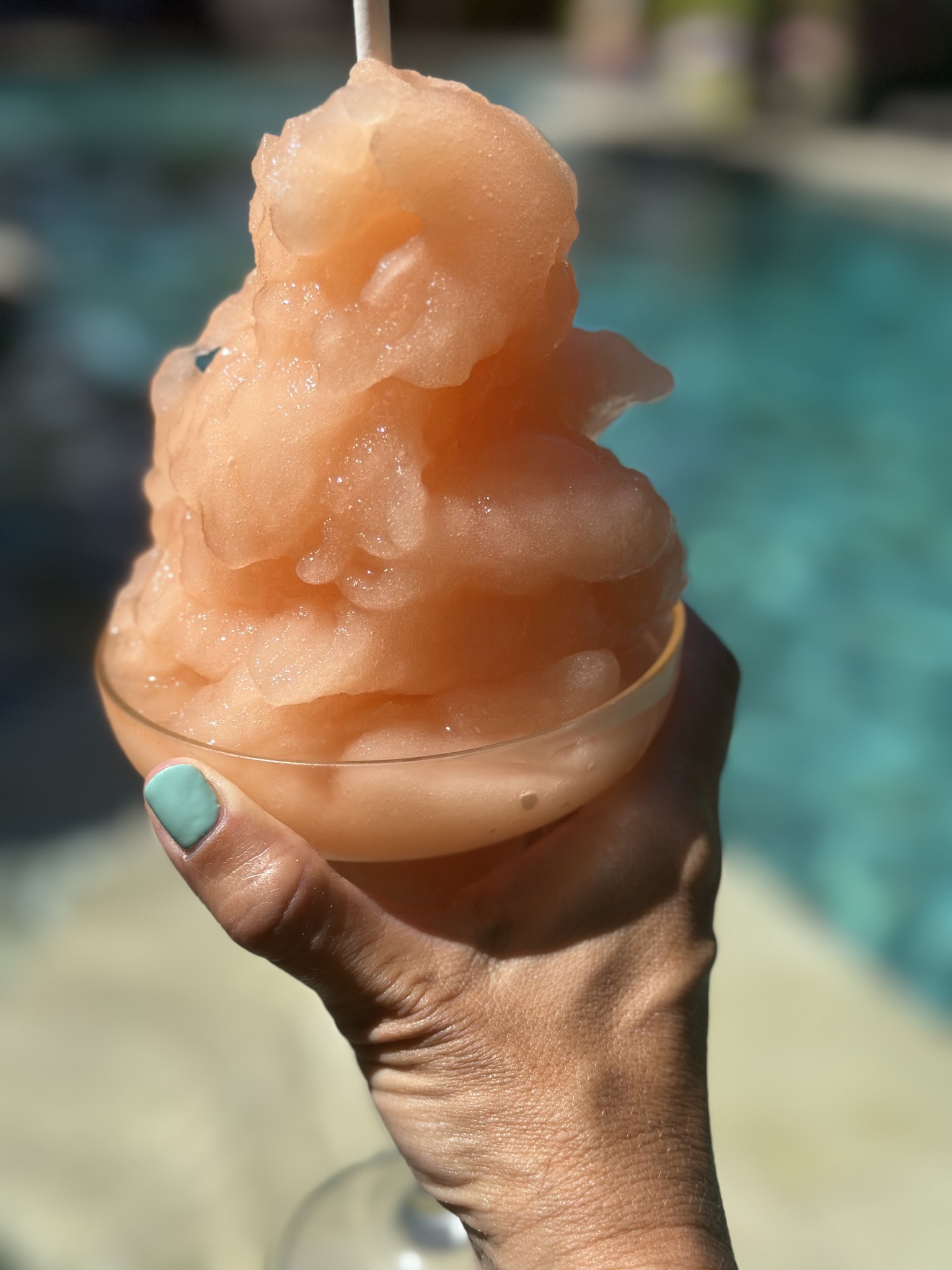 Kids Club.
The Kids Club at Castaway Island is special and appealing for all. It was so fun, Ian and I even joined in on some of the activities. They don't do stupid, boring kiddie things. They do cool things like egg throwing and watermelon bashing and Fijian headdress-making and crab catching. The best part? The frog hunting, which we did with Holland the rest of the kid's club. Imagine two dozen kids, most of them barefoot, tramping through the jungle in the dark with flashlights, screaming and yelling and catching frogs with their gloved-hands. (Of course, Holland caught a ton of frogs.)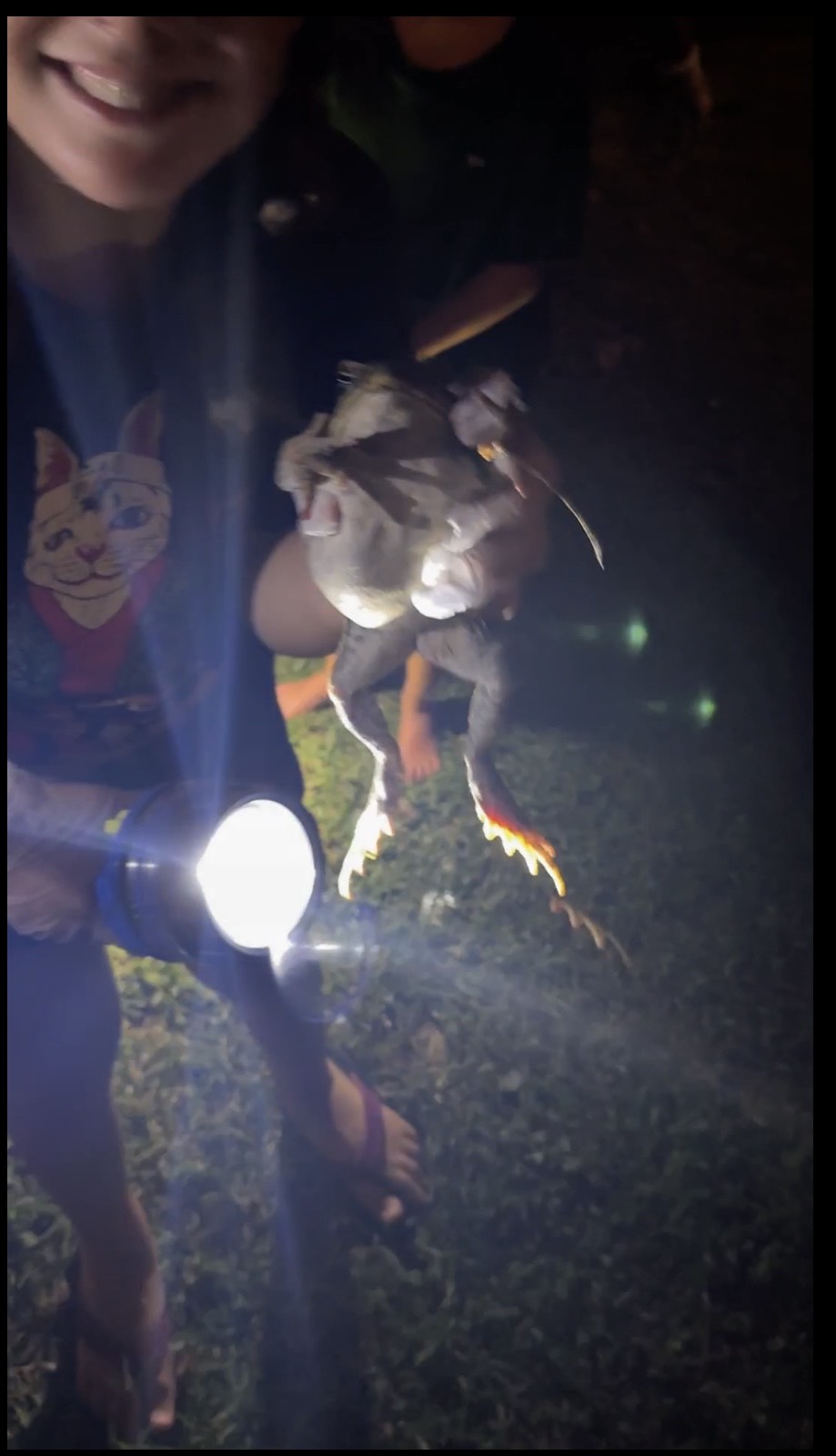 Then in the bar that night, they did an "International Frog Race" where they named the frogs and assigned them a country, taking bets on who would win, all to benefit a Fijian environmental group. (Don't worry, no frogs were harmed, and they were all returned back to the wild after the race.)
We also joined the kids club to make hookah shell bracelets which was decidedly more peaceful, but just as fun.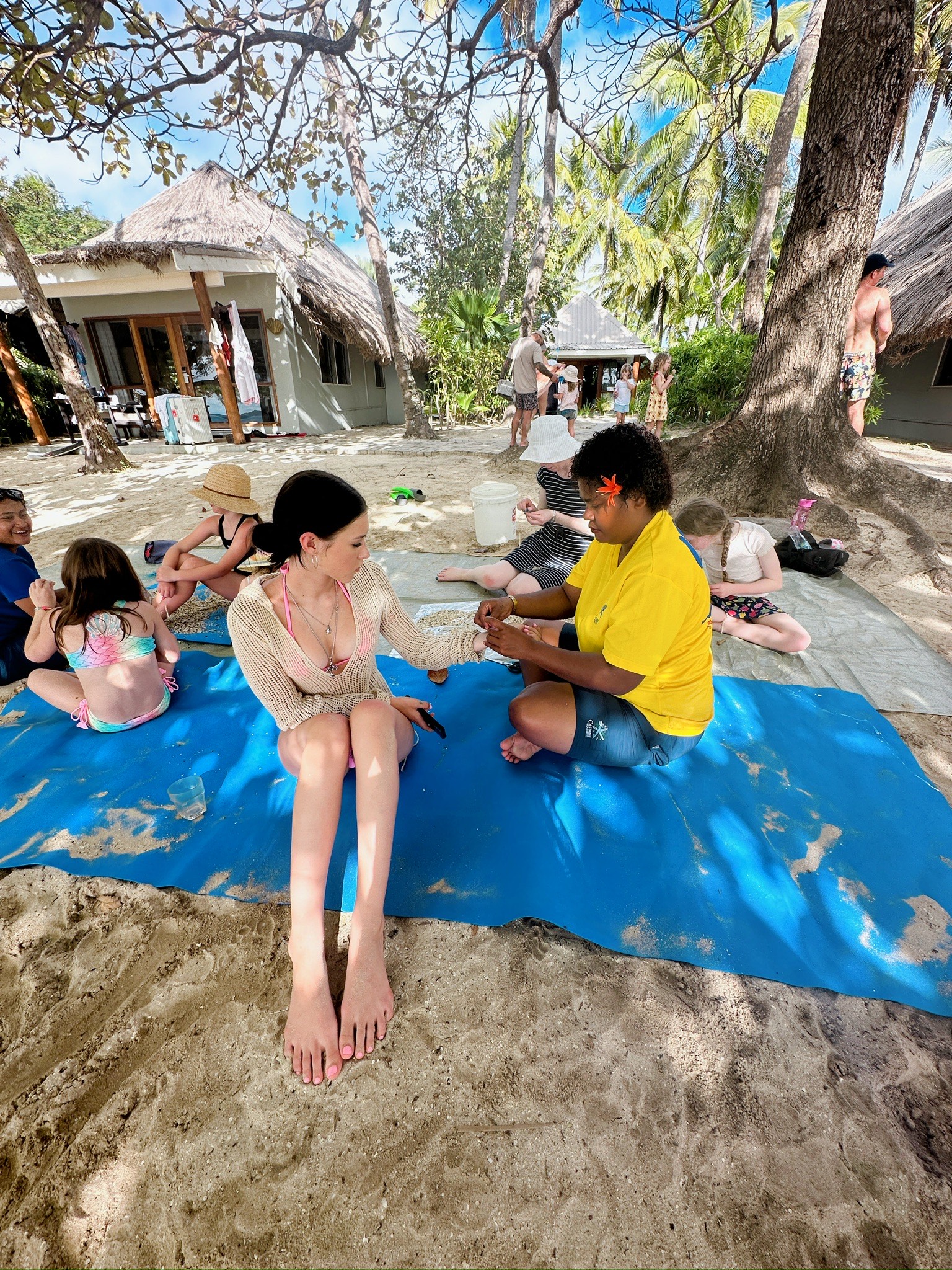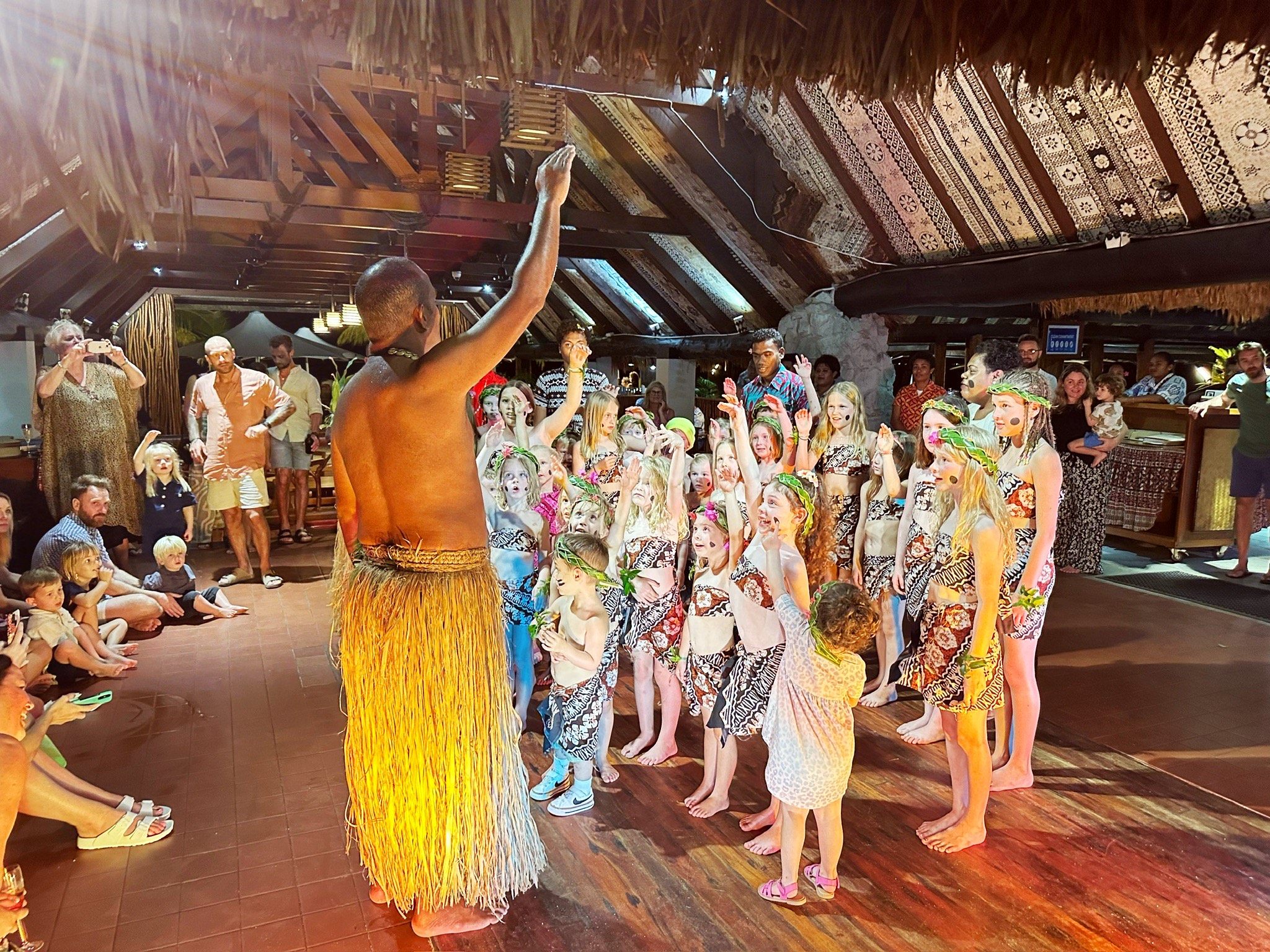 Food.
The food on Castaway Island was for the most part, good. My girls loved the buffet at the main restaurant for breakfast, lunch, and dinner. For breakfast, they served up the fluffiest French Toast you've ever had, and lots of tropical juices and delicious papaya. Holland noshed on lots of pasta, rice, and fries, while Marley loved the salad bar, shrimp and clams. Both of them enjoyed the desserts.
Ian and I ordered off the menu some of the time, and when the fish was fresh and local, it was delicious. The island hosted a special Fijian buffet which was festive and wonderful, and one of the nights they made Pad Thai right in front of us, which was great.
My favorite food, honestly though, was at the Sundowner Bar where they made wood-fired pizzas. They were delicious every single time.
We enjoyed some meals at Nuku Mari Pool Bar and Grill, which is located at the kid's pool. My girls loved the kids Bento boxes and shrimp sushi roll, and Ian and I liked the tacos. They made us fish tacos upon request, which were great!
Lots of guests did the meal plan, but we opted not to, as Ian and I usually split a lot of meals. I didn't do that math so I'm not sure…the meal plan may have been a better deal for us. But my diet is limited, since I'm allergic to crab, shrimp, lobster and squid, and I also don't eat meat. But whatever. The food, for us, was not a highlight of the trip, but it sure was for the kids!
Other fun stuff, and things to consider.
This is an island teeming with life. You can legit grab coconuts right from the beach and, if you're determined enough) peel back the outside until you can bore hole into the coconut, drinking the juice and eating the delicious meat.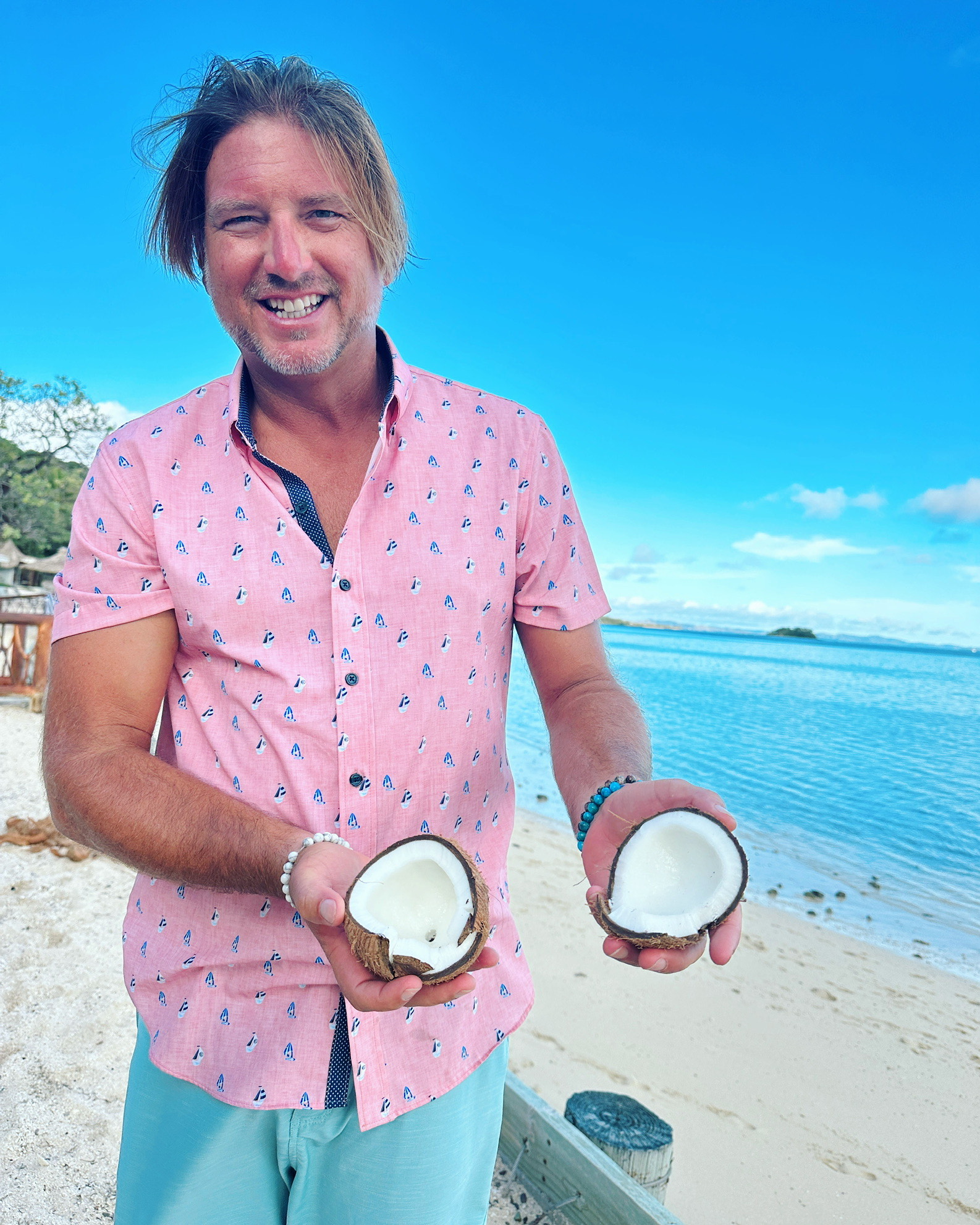 In addition to all the beautiful fish and sea life, we found giant crabs, the aforementioned frogs, and bats. We loved all the critters we stumbled across.
The stars at night are mesmerizingly beautiful. Do yourself a favor and drift away in a hammock and watch the night sky.
This resort is designed for good weather. When a storm rolls in, its windy and a bit cool, and there's not much to do. Bring some cards and a good book and snuggle in with your family. We did, and had a blast!
The staff at this resort is the absolute best. They are so kind and welcoming and will do anything to make your stay more enjoyable. Most of the people perform multiple tasks. Shrek, for example, led the kids club, the Fijian dance performance, played music at the main restaurant, led the dance party, and was our guide to Modriki. I hope they pay him well!
This is a kid-friendly resort. Almost everyone brought kids. Which means there are kids running around everywhere. EVERYWHERE. We didn't mind this, as we brought our girls. But at 12 and 15, they were some of the oldest kids on the island. For us, it worked out great. But I wouldn't come here if I didn't have kids.
Most of the families are from Australia or New Zealand, as the plane ride is only like five hours long. (It's like what Hawaii is to us West-coasters.) They were delightful and fun, all in all, a jolly group of travelers. The best part? Overhead on the frog hunt, a little Australian boy said…
"Back home, I always have to say 'Good day' to my friends and people I see. But the truth is, sometimes I don't want them to have a good day."
We did stumble upon one other family from Hawaii, and on the very last day, two other American families arrived.
Finally, the trip from the U.S. is burly. If your kids are angels then you will be fine, but I struggled with my girls, even though they were older. Which brings me to a point I made early in this post: I've realized that I am a travel snob. Never again will I fly economy with my kids if the flight is over 10 hours.
Parting thoughts
If you've got kids and can handle a long flight, I absolutely recommend a visit to Castaway Island. It's practically paradise. Your kids will have a blast, you'll have a blast, and you will be so glad you went. 100% recommended. Just go.
I really hope you enjoyed this write up! And stay tuned for our next family adventure…to Japan!