What do you do when your mother-in-law offers to stay with your kids so you can fly to Miami with your husband for the Miami Boat Show? You call your South Beach friend, book your flight and make hotel reservations before anyone changes their mind.
Your hotel: your friend recommends the Standard. It's not smack-dab in the glitter and flash of South Beach. The Standard is a mile away on Belle Isle, a small island off the Venetian Causeway between South Beach and Miami.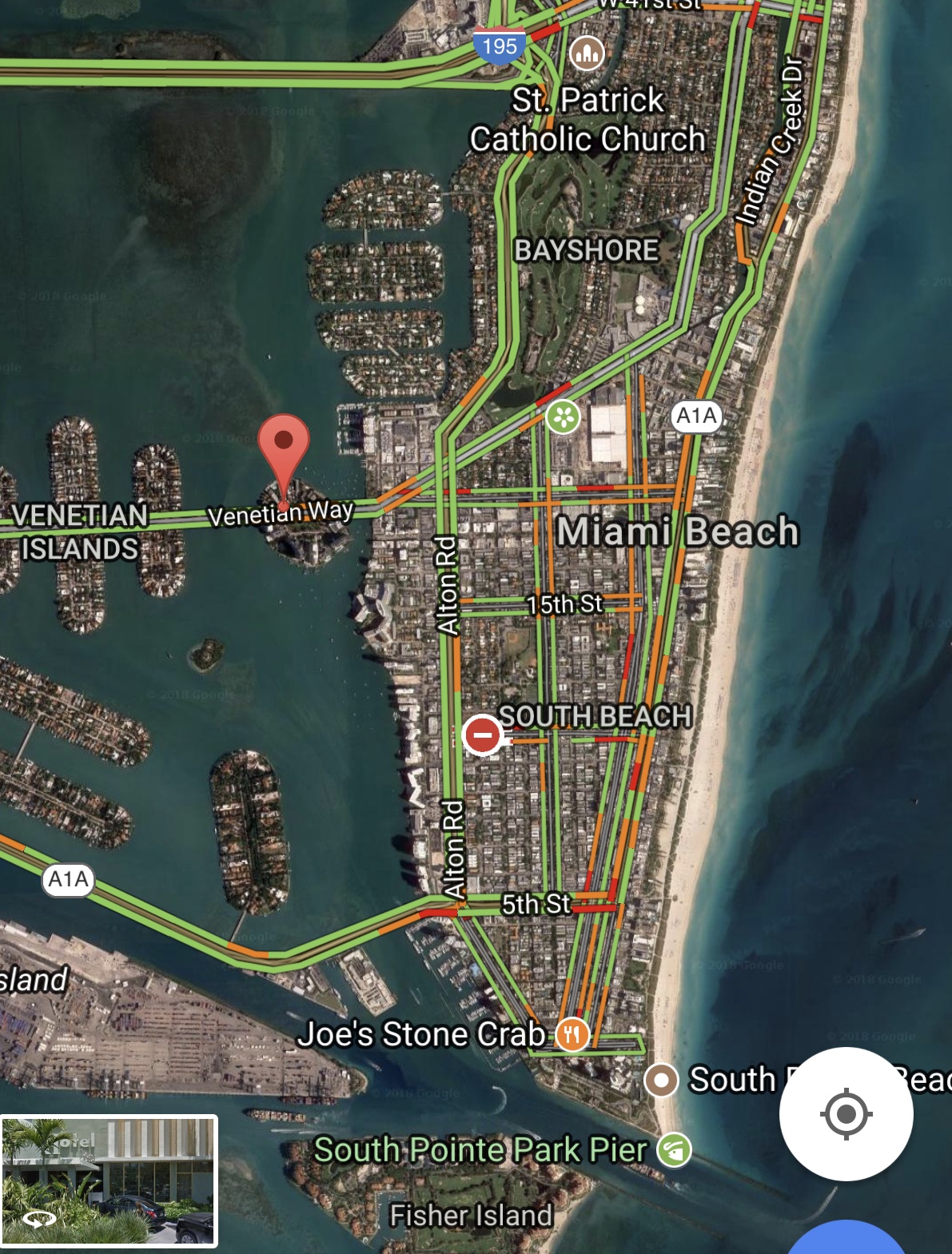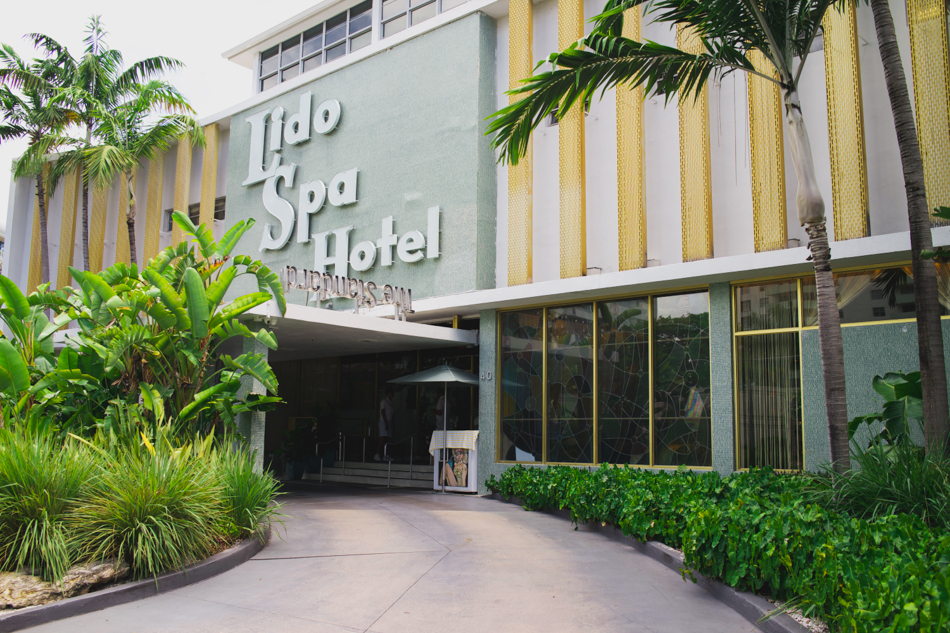 Formerly the storied Lido Spa Hotel, the Standard embraces you in yoga-style heart hug from the moment you walk in. From the warm, friendly staff to the aromatic candles burning in the lobby (the Standard Scent, it turns out, and you make a mental note to buy a candle before you leave), you can't remember the last time you felt such welcome.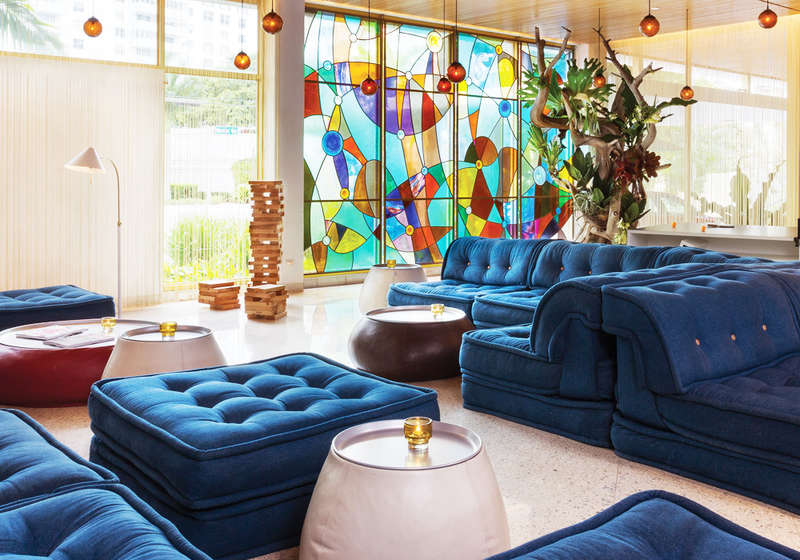 The lobby is stylish and kitschy. It radiates a chill, tranquil vibe oozing with the unapologetic, unaffected cool of a Hollywood A-lister heading to Coachella. You love the earthy, bohemian elements like a mystical tree sculpture and hanging tapestries. You'll lounge in the rich, cobalt blue couches and take in the bright stain glass window.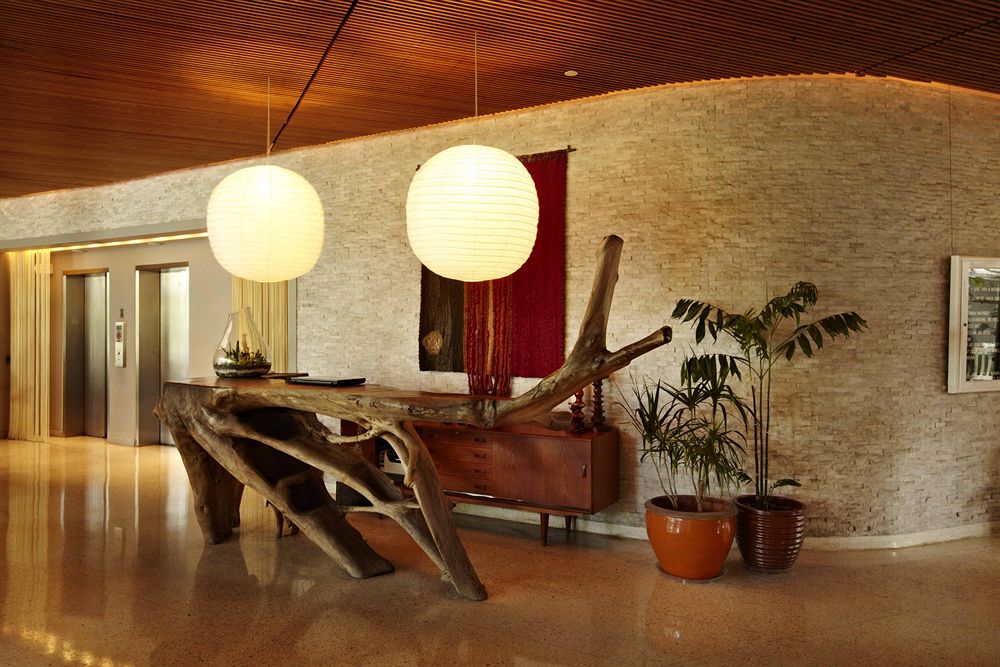 But this place isn't too cool to playful, as evidenced by the foosball table, giant Jenga set and ping pong table.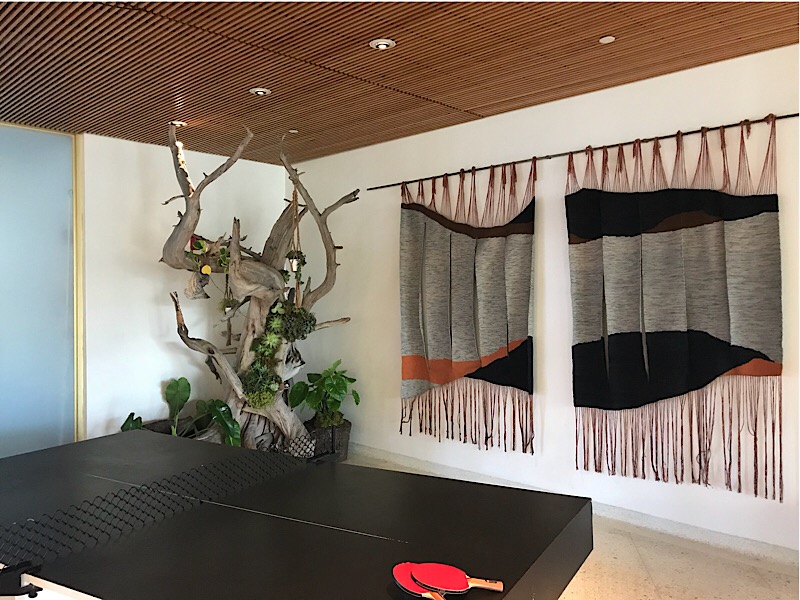 The room is nothing to write home about, small and unadorned. But it's clean, bright, and inviting, and you didn't come to Miami to spend all day lounging in the room, did you?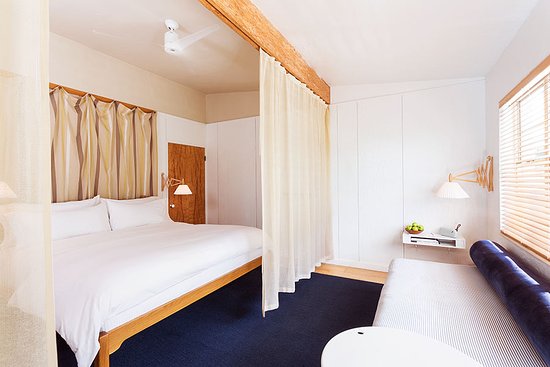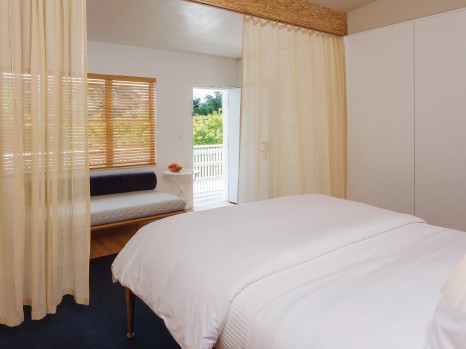 Back downstairs just outside the lobby, you find a cute shop that sells everything from bikinis to rolling papers, as well as the Juice Café, which promises a bevy of juices and elixirs as well as coffee. You can even grab an acai bowl or parfait, so you won't get fat here on vacation. Excellent!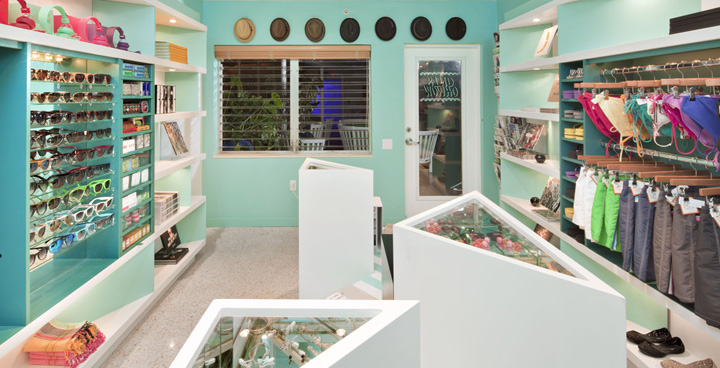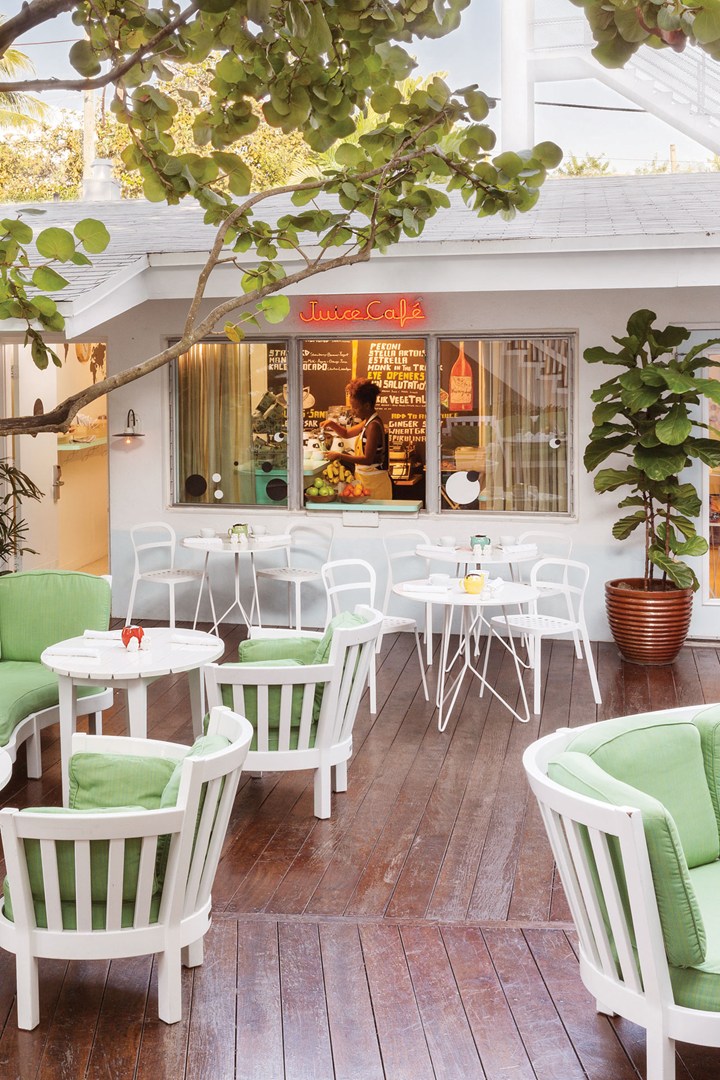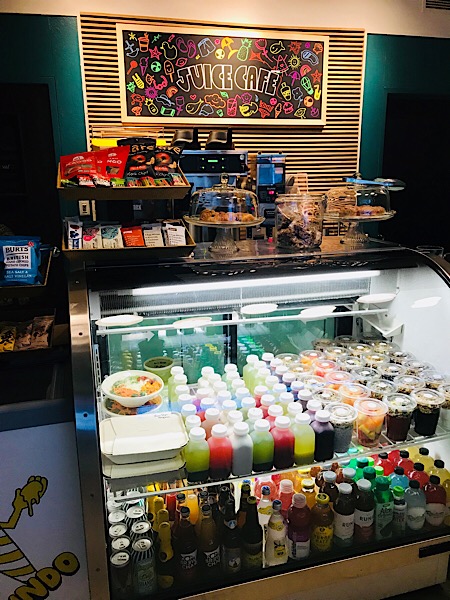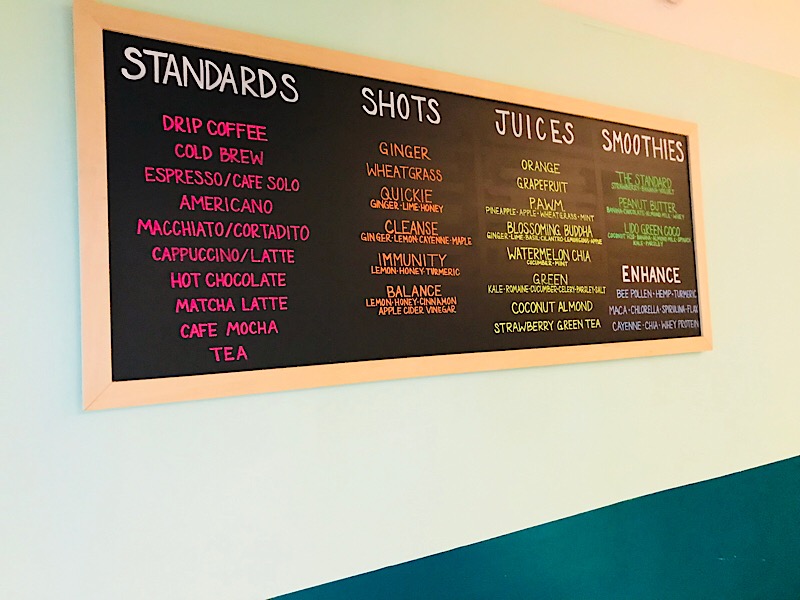 A beautiful path leads you towards a lush, grassy courtyard adorned with Native-looking sculptures, hammocks, and a ridiculously tempting "Swing Lounge." (The swings get more and more exciting after a few cocktails, I promise.) A fire pit beckons for later, and you see an empty bottle of Veuve and two champagne glasses nestled in the pillows of one lounge sofa.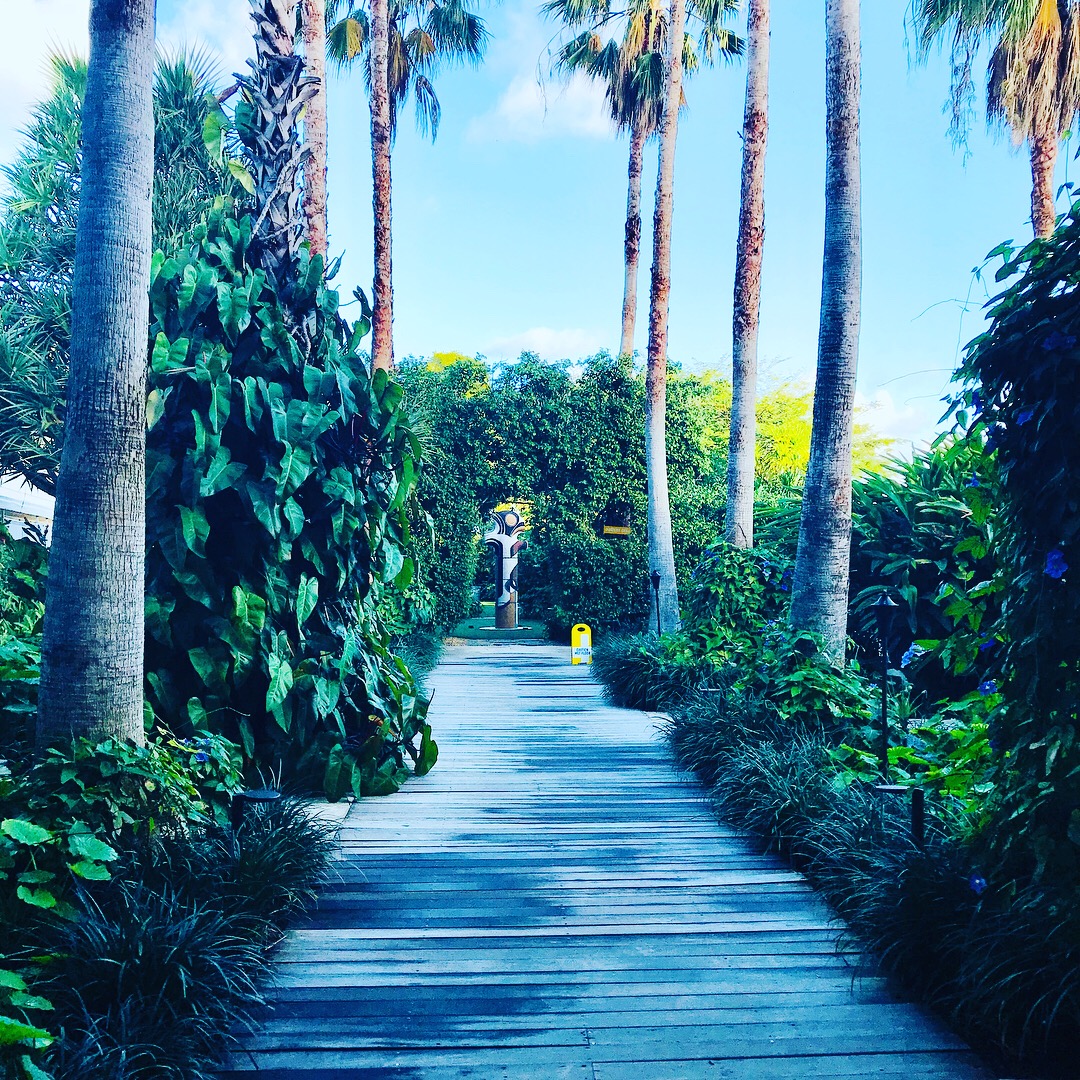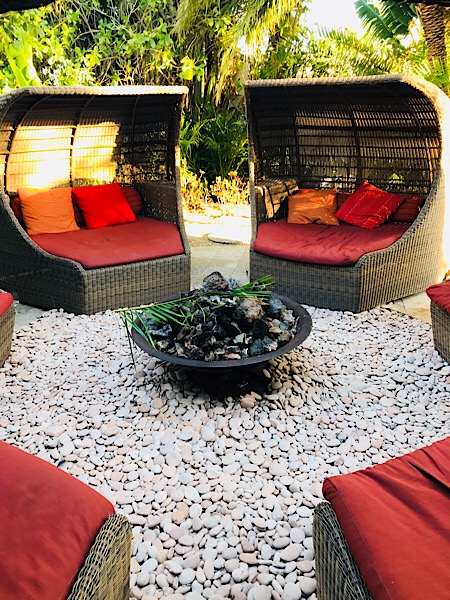 A walk through the ivy covered archway of the Lido, the outdoor hotel restaurant, leads you to the inviting waterside eatery and a chill outdoor bar. From this view you look right out onto the calm and serene bay. You imagine you will see some pretty nice boats coming and going from the dock and maybe even some dolphins. (Yes to both!)
To the left is the pool area…mesmerizing and calm when you explore first thing in the morning. It looks out directly on the water and promises to deliver a hip, stylish scene later on.
But, first things first. As a guest of the hotel, you get to visit the Spa for free, so this is first on your agenda. (They also offer massage and beauty services for a fee.) The third floor and part of the second floor is entirely devoted to wellness, featuring a decent gym (you forgot to pack your running shoes, oh well) and a very interesting Spa, or Turkish-style Hamam as they call it.
Featuring a long, mysterious and slightly 1960s-space-film hallway, you'll find both hot and cold saunas, soaking baths and showers, all co-ed. (Some girls like to go into the spa topless, as my husband was quick to notice.) Although not particularly luxurious, the spa experience was unique, zen and relaxing…I love me a good steam room. I emerged feeling refreshed and ready to take on the stresses of a day in paradise.
The pool scene had livened up a bit by the time I got there at 10:30. I got one of the few coveted chairs front-row to the pool and was promptly greeted by a server with a pitcher of water and a pool menu.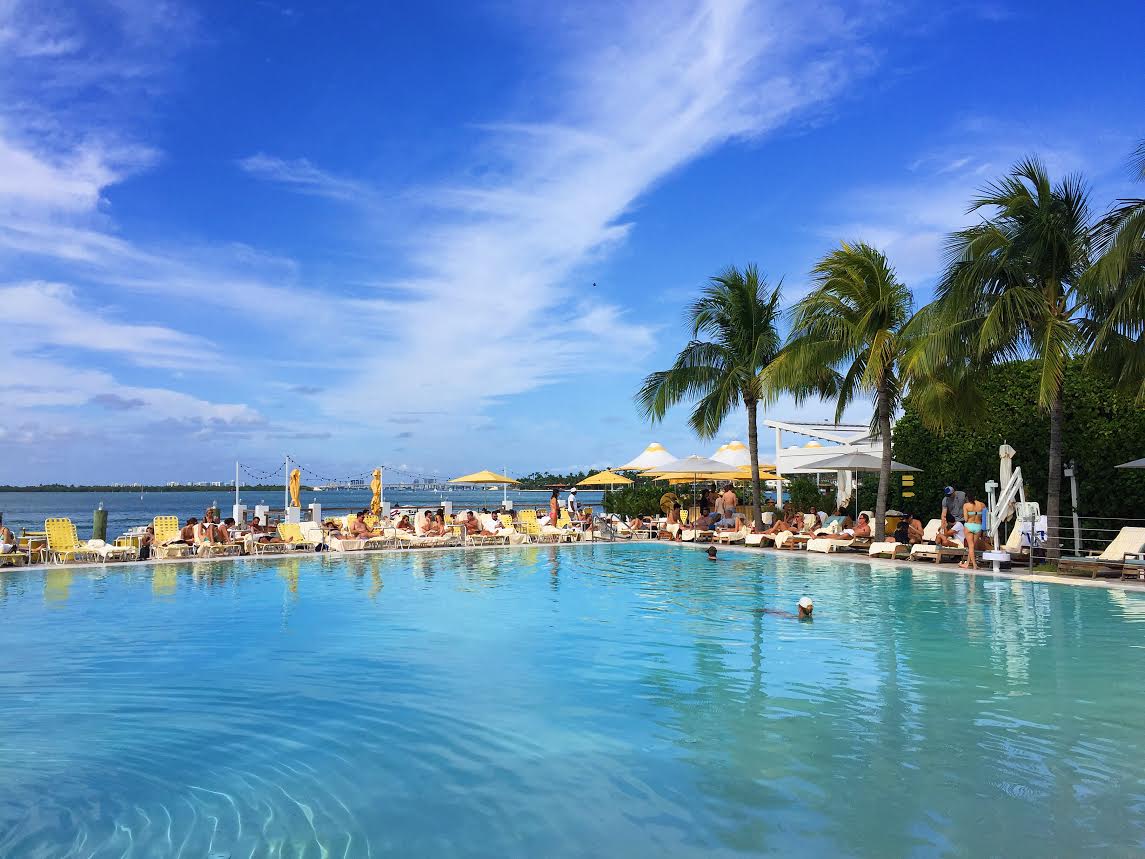 Pina colada or F'rose, where to start? I opted for the pina colada and it was in fact delicious, the best I've tried! (And believe me, I know a good Pina Colada when I taste one.) It's poured on the rocks so you don't get that blended bloaty feeling, and it has tons of fresh coconut on the top. The server even knew to ask me if I wanted a floater. God bless him!
The pool scene was indeed super chic, chill, and a bit mischievous. (Dive into the infinity pool and check out the beats from the underwater sound system.) Lots of fit, good looking people who looked like they just got out of yoga (they probably did, the hotel offers lots of classes) and a lot less plastic surgery then I would have expected for Miami, but then again, we weren't right in South Beach. I heard every language from Portuguese and Spanish to French and Russian. My South Beach friend (who just happens to teach yoga) explained that this pool scene was a favorite for the trendy locals.
Around noon, a lot of shiny powerboats started circling for the boat docks. Most were full of really tanned well-heeled (or flip-flopped) people who showed up for a drink at the bar and left with bottles of champagne or tequila for their boat.
The food! For lunch, I ordered the Roasted Veggie Buddha bowl which was a plentiful arrangement of avocado, tofu, broccoli and other assorted veggies over quinoa. Amazing! But it paled in comparison to the salad with an ENTIRE LOBSTER CLAW on top that my friend ordered!
(When we first arrived at the hotel the night before–on Valentines Day, of all things–we rolled into the restaurant at 9:30pm and were able to get seated, even though the place was hopping. We tried a special ahi crudo appetizer, along with a surprisingly festive and delicious grouper with chilies. Once again…perfection.)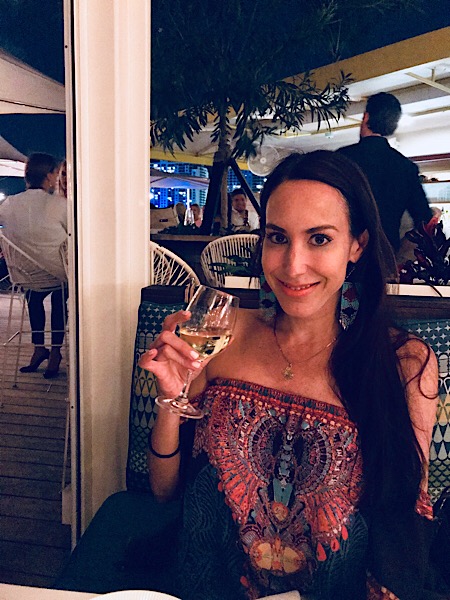 The restaurant even offers a legit happy hour in the bar area which makes it the perfect place to catch a drink, order a small bite and watch the sunset (one of the few locations to see the sunset in Miami.)
But tonight, after we tired of the pool and my husband finished up at the boat show, we were headed somewhere different. Somewhere you absolutely MUST go if you visit Miami: Joe's Stone Crab.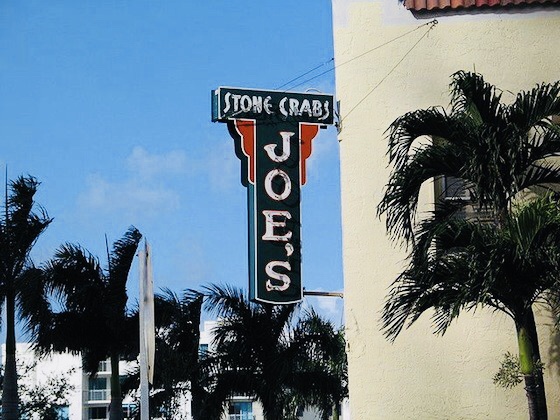 Tucked down on the south end of South Beach, Joe's Stone Crab is venerable and legit. It's been around since 1913, seats 450 people, and only stays open half the year. Joe's is an old-school, tuxedo-wearing-waiter, try-to-tip the maitre d, no reservations-allowed, see-and-be-seen kind of place. Visited by celebs, boaters, locals, and everyone in between, the wait can run over two hours on weekends (so get there early, and grab a drink in the bar, preferably a Moscow Mule which comes with its own Joe's mug.) While you're waiting, watch some expert patrons inconspicuously grease the maître d and get seated right away. Apparently there is an art to this, and a high dollar figure involved.
As you can guess, the stone crab is sweet and delicious (according to my companions), the oysters are fabulous, and the wait staff quick, proficient, and no-nonsense. "But what are you having for your DINNER?" the waitress asked me a few times after I tried to order just an appetizer for dinner, since I'm allergic to crab. I ended up with scallops, and yes they were succulent and amazing. Total bursting-in-your-mouth action.
Don't forget the key lime pie for dessert!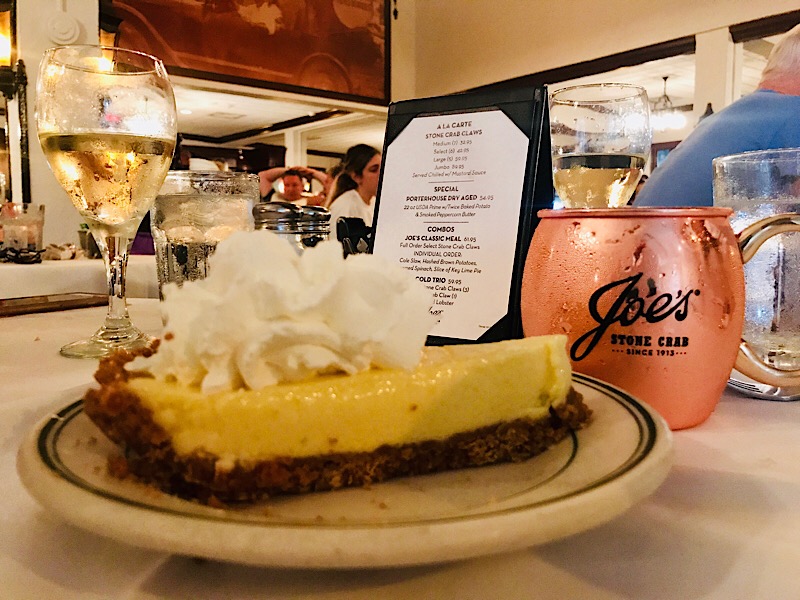 After dinner it was time to dance off some crustacean and shellfish, so we headed to the Living Room at Faena, which your friend promises is a current night-time hotspot. (You opted out of the intense clubbing scene because…why? Over it.)
The Faena Hotel is an over-the-top collaboration between hotelier Alan Faena, costume designer Catherine Martin, and her husband—film director Baz Luhrmann. The vibe: ambitious and highly stylish; everything is dripping in gold and tapestry. You'll find plenty to keep you busy snapping pics on your iphone before you even make it out of the lobby. Profound luxury abounds!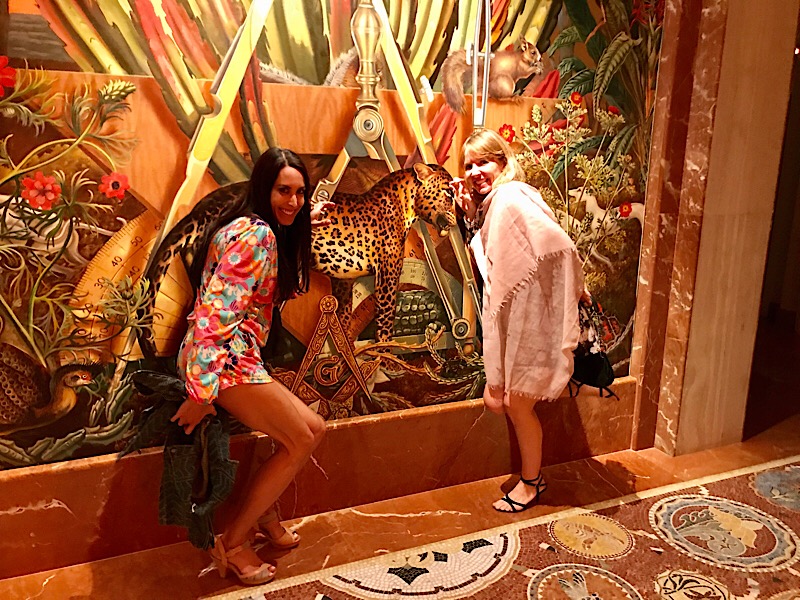 The Living Room is bursting with the good-looking, international set and the well-dressed bouncer is going to let you in until he spies your husband's flip flops. "No flip flops allowed," he says.
"But, but, he just sold a boat at the boat show!" you protest. "I'm glad for you," he says, "but we have a dress code."
A peek inside affords a glimpse of the scene, and its just bleeding coolness. You know you will have to come back again, with the right shoes.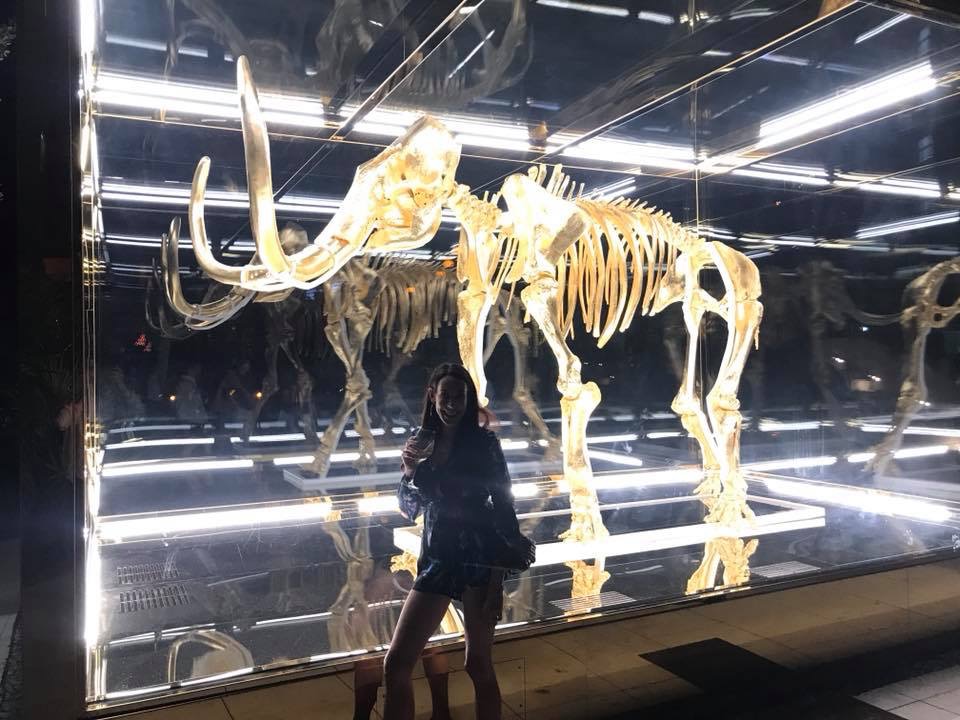 So you slink off, in search of a less stringent dress code, and your friend promises the Broken Shaker is less swanky but just as much fun.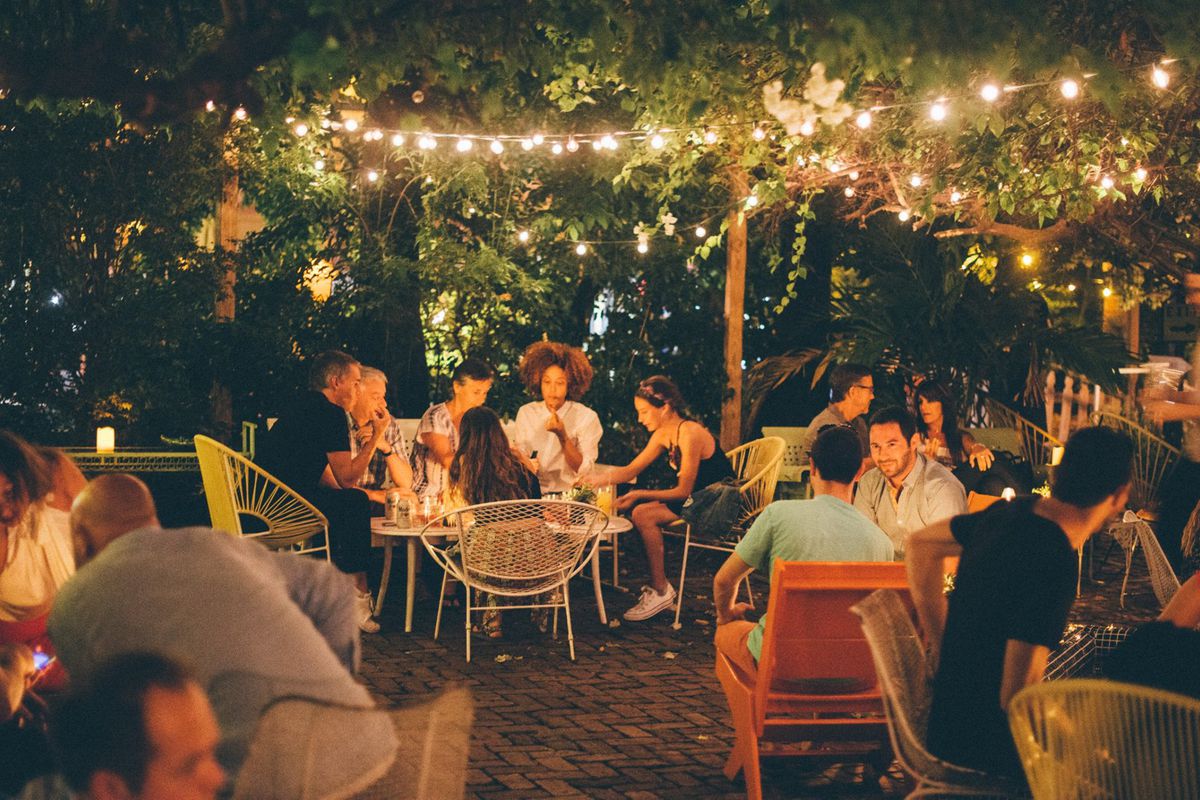 The Broken Shaker is located at the outdoor bar at the art deco Freehand Hostel in South Beach. GQ calls the Broken Shaker the "Coolest backyard in Miami," and you can see why. A super casual, mingle-around-the-pool kind of place where everyone is in a good mood…like a house party gone right.
But don't be fooled…the bartenders take their drinks seriously, and mix handcrafted cocktails with handmade infusions and syrups created from herbs found in the property's private garden. We loved checking out the hipster scene and listening to some reggae and Unwritten Law. But don't get too comfortable…this isn't your house and you have to get back to your hotel!
The sun rose much too early the next day, and it was time for me to wander the Miami Boat Show with my husband. Now I've been to at least 30 boat shows, but Miami blows them all out of the water! If you find yourself in Miami during the Boat Show, do yourself a favor and go!
When we grew tired of checking out million dollar yachts, we decided it was time for some lunch. We headed to La Cote, a Mediterranean bistro at the Fountainebleau, which was just across the street.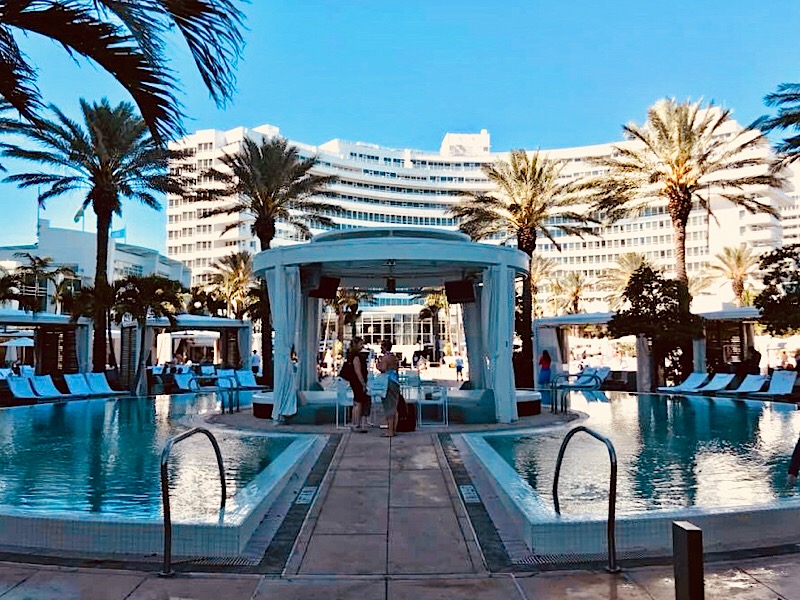 We walked through the pool area on the way to the restaurant, and it was kicking! At 2pm in the afternoon. The pool bar was packed with a live DJ, bartenders throwing bottles and doing tricks cocktail-style, and lots of happy revelers cocktailing in their swimwear. (I noted much more plastic surgery and sequins at this hotel pool.)
The upstairs dining area at La Cote was a welcome reprieve from the craziness, and our lunch was scenic and delicious! Didn't mind the champagne cart one bit, or the amazing heirloom tomato salad for lunch. But I was happy to leave this big, flashy, and beautiful resort…and go back to our mellow oasis.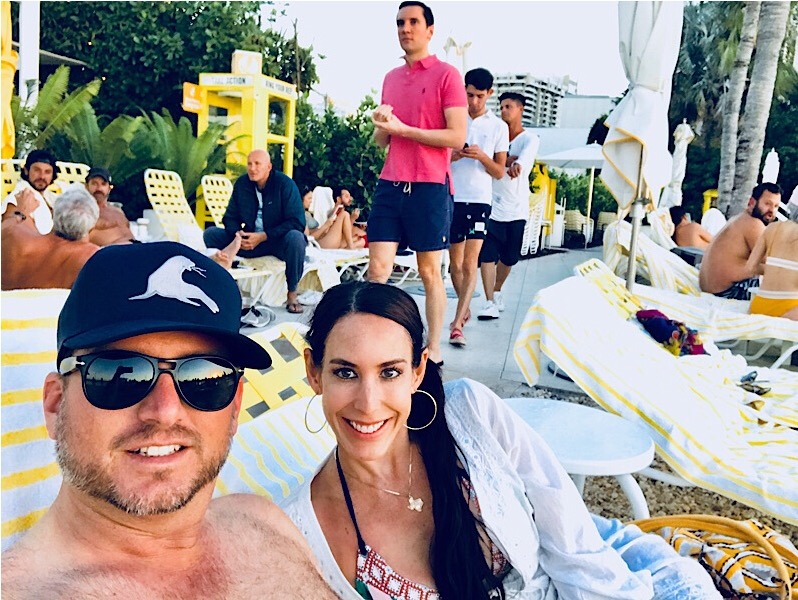 We decided do to a two-hour yoga and meditation session back at the Standard that night, that my friend Leah just HAPPENED to be teaching. It was super-relaxing and wonderful to decompress and just BE after the long day of champagne, yachts, and people watching.
As our departure grew sooner, I found myself sad I didn't have just one more day to relax, read, and order yummy drinks and food poolside. I knew that I absolutely LOVED our hotel and would totally stay there next time I get out to Miami.
And if you are wondering, did we make it back to the Faena for the Living Room Bar? Hell to the yeah!  The same bouncer was working, took a look at my husband in closed-toed shoes, and welcomed us in.
The live music was incredible, and the drinks and scene were perfect. And so our last night, like everything else we experienced in Miami, was just as fun as promised.
Thanks for reading, and if you've been to Miami or the Standard, please share your experience!