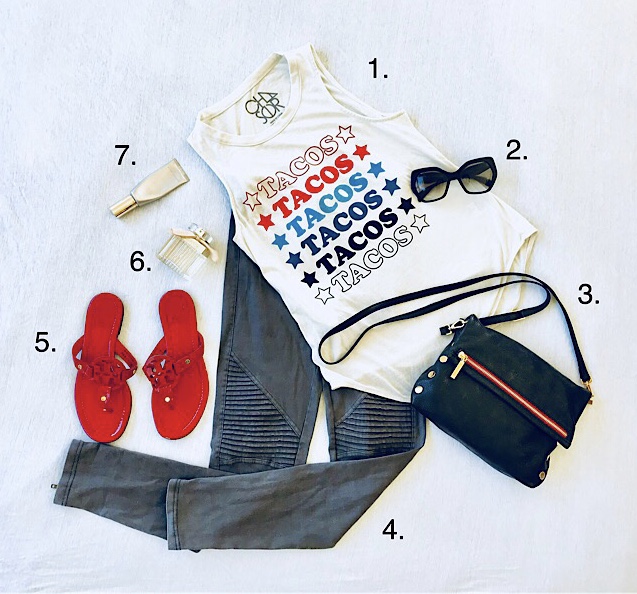 It's not October in Coronado until we've had a warm, dry Santa Anna spell…where the hot winds blow down the inland mountain passes and bring crystal clear skies and toasty, tank-top weather. Lucky for you, I've got the perfect weekend ensemble! Check out my outfit crush.
1. Chaser Taco Tank. What's not to love about this quirky tank top? It definitely kicks it up a notch! I don't know about you but I can eat tacos all day, every day. Nothing better to wear on a sunny San Diego Saturday! (Or on a Taco Tuesday, for that matter.) Buy it on sale here. 
2. Black Prada Sunglasses. Still, it feels nice to be a little incognito and these shades offer up the perfect blend of style and coverage! Find them at House of Soles and Shades at the Coronado Ferry Landing.
3. Hammitt Crossbody Bag. You know I love my Hammitt Bags and this one is no exception. It's the perfect size, soft and buttery to the touch and looks great with everything. Love the red zipper detail and phone pouch in the back! Find yours at Dollie Style and Accessories at 824 Orange Ave.
4. Grey Moto Jeggings.  These fun and frisky leggings add some "street" to your style. I found them at Miss Match down at the Coronado Ferry Landing. Don't forget to ask for the locals discount!
5. Tory Burch Miller Sandals. I'm dying over this fiery red color and let's face it…can you ever go wrong with a Miller sandal? These shoes add a festive splash of color to any look. Buy where you procure your Tory Burch. (I'm an eBay gal myself.)
6. Chloe Parfum. The bottle looks so pretty on my vanity and it smells like heaven.Buy on Amazon here.
7. Get Glowing with Dew Skin. Yes, I sell Beautycounter–lets just get that out of the way. But I'm absolutely OBSESSED with Dew Skin–our tinted moisturizer with SPF that plumps out your skin and makes you glow like a goddess. There's a reason celebs like Gwyneth Paltrow love it. It also wins best in category from Allure and In Style Mag. Buy online here.
That's it, folks! Happy weekend, and thanks for reading!