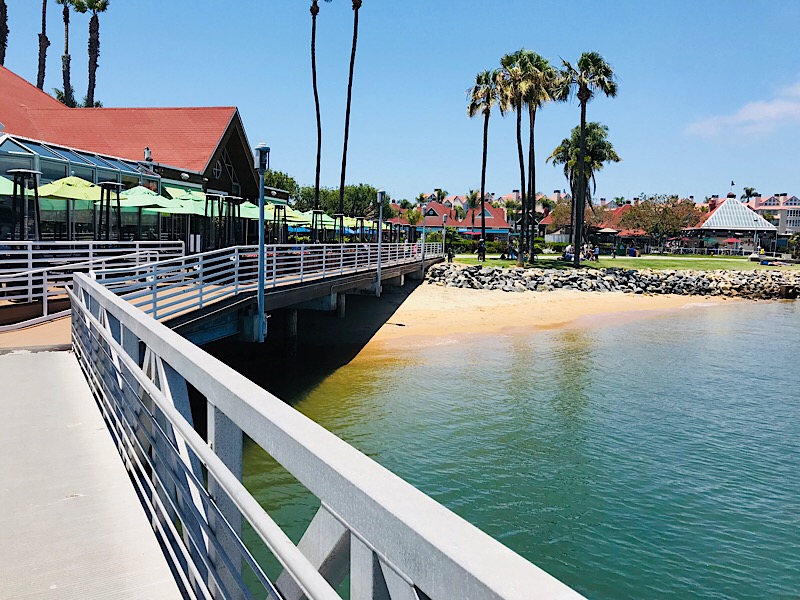 The scenic Coronado Ferry Landing:  I'm lucky enough to live just around the corner from it.
When I worked at Peohe's in the early 1990s, the Ferry Landing was mainly for tourists. T-shirt shops, a few places to eat, and of course the iconic San Diego Ferry.
Things have changed. While you will still find some souvenir shops, the Ferry Landing is switching things up a bit…starting to cater more to locals with killer happy hours, some charming little shops, and–hello–two of my favorite things, kombucha and acai!
So where are the best places to visit as a local? Here are my favorite stops along the Coronado Ferry Landing!
1. Grab a coffee and acai bowl at Coronado Coffee Company. Then take a morning stroll.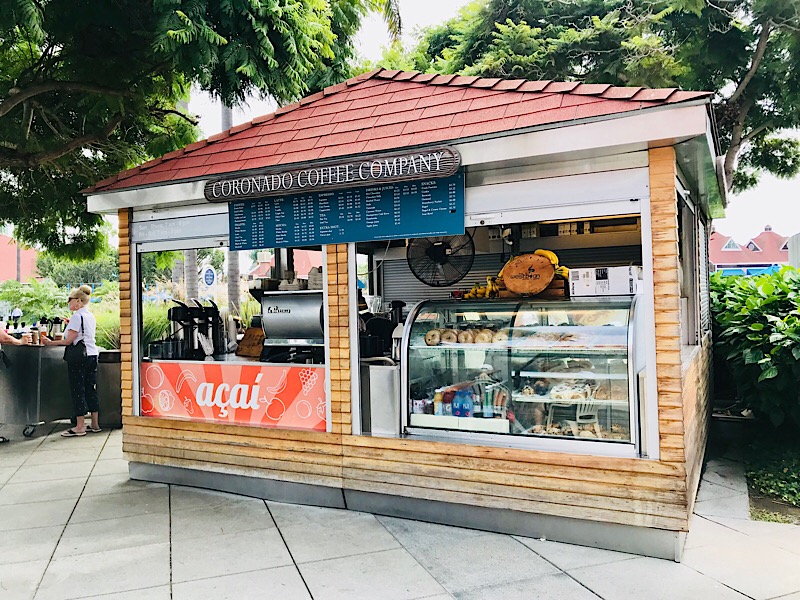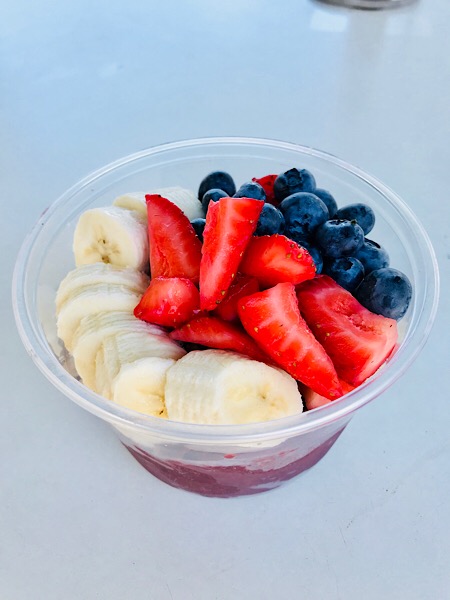 The Ferry Landing is practically deserted in the morning, and it's the perfect time to grab my chai tea latte and a healthy acai bowl from Coronado Coffee Company. I love to take a walk and take in the calm, tranquil scenery.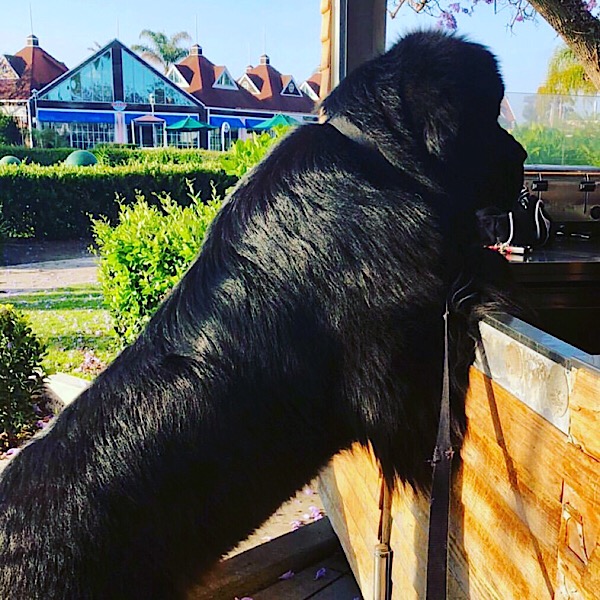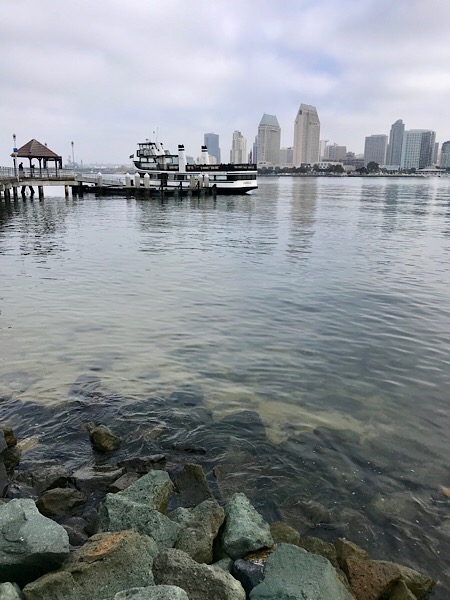 2. Enjoy a morning paddle.
There's no better place to paddle than the mellow waters at the Ferry Landing. And the views…perfection!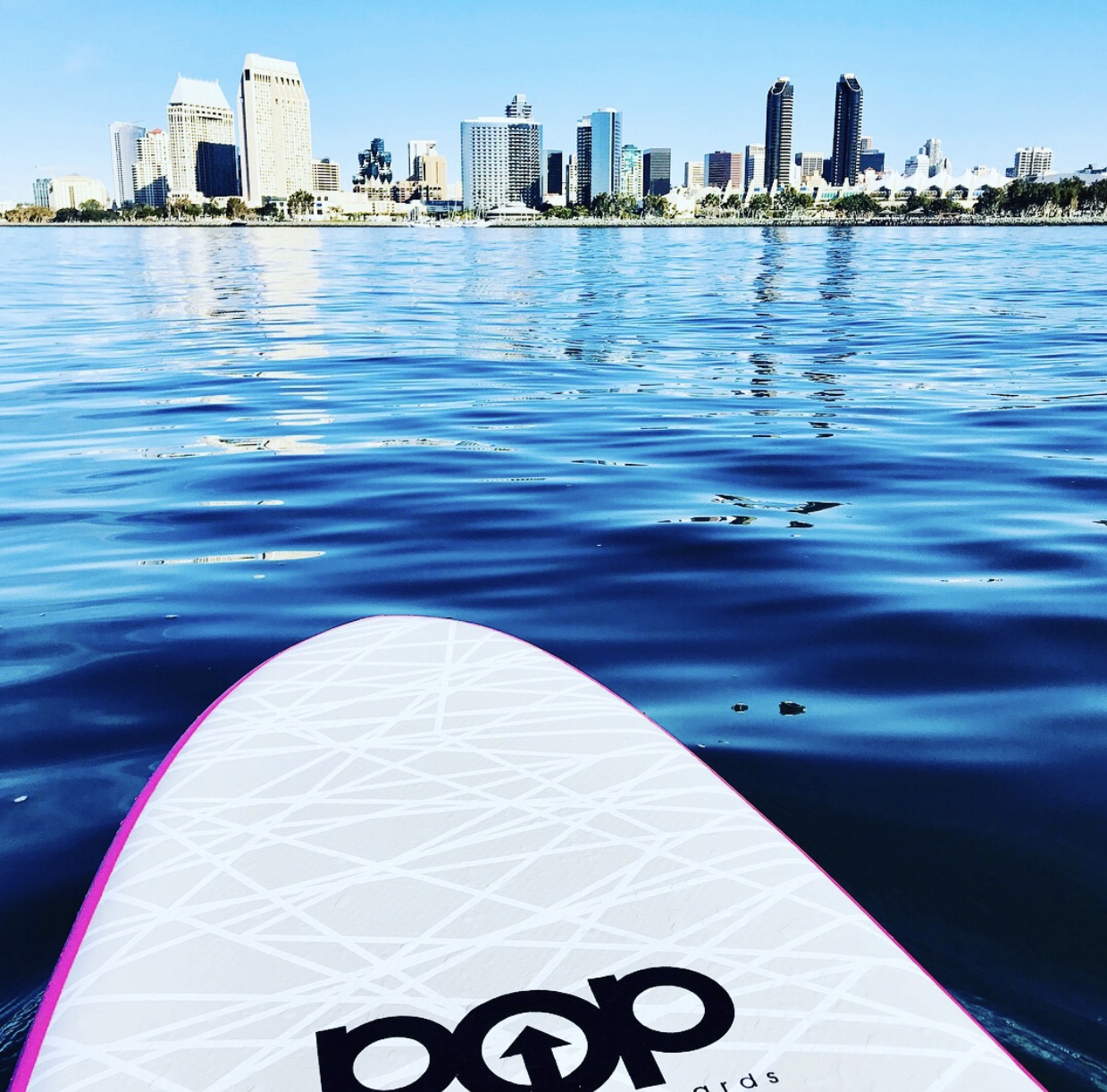 Solo paddles are the best!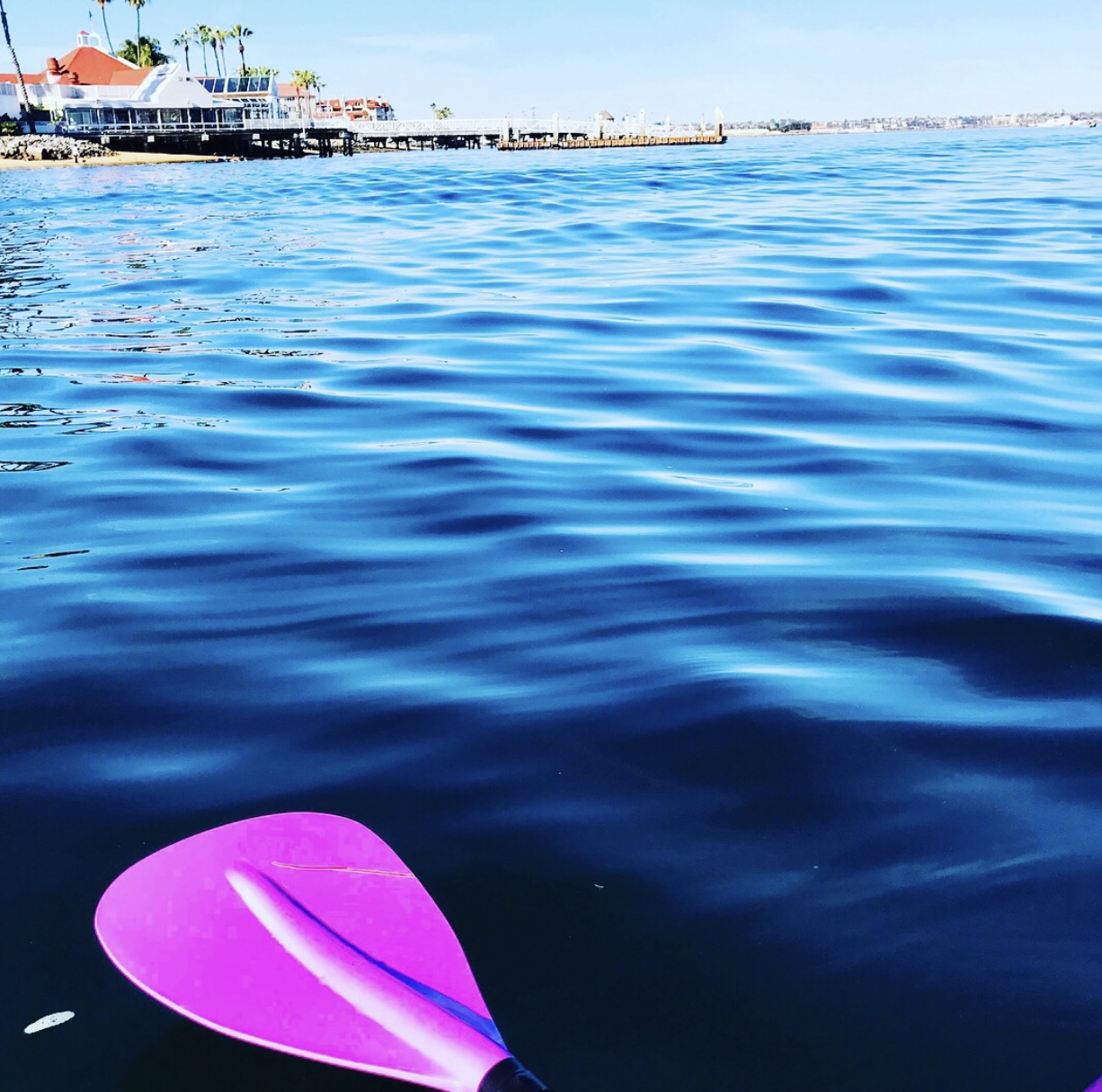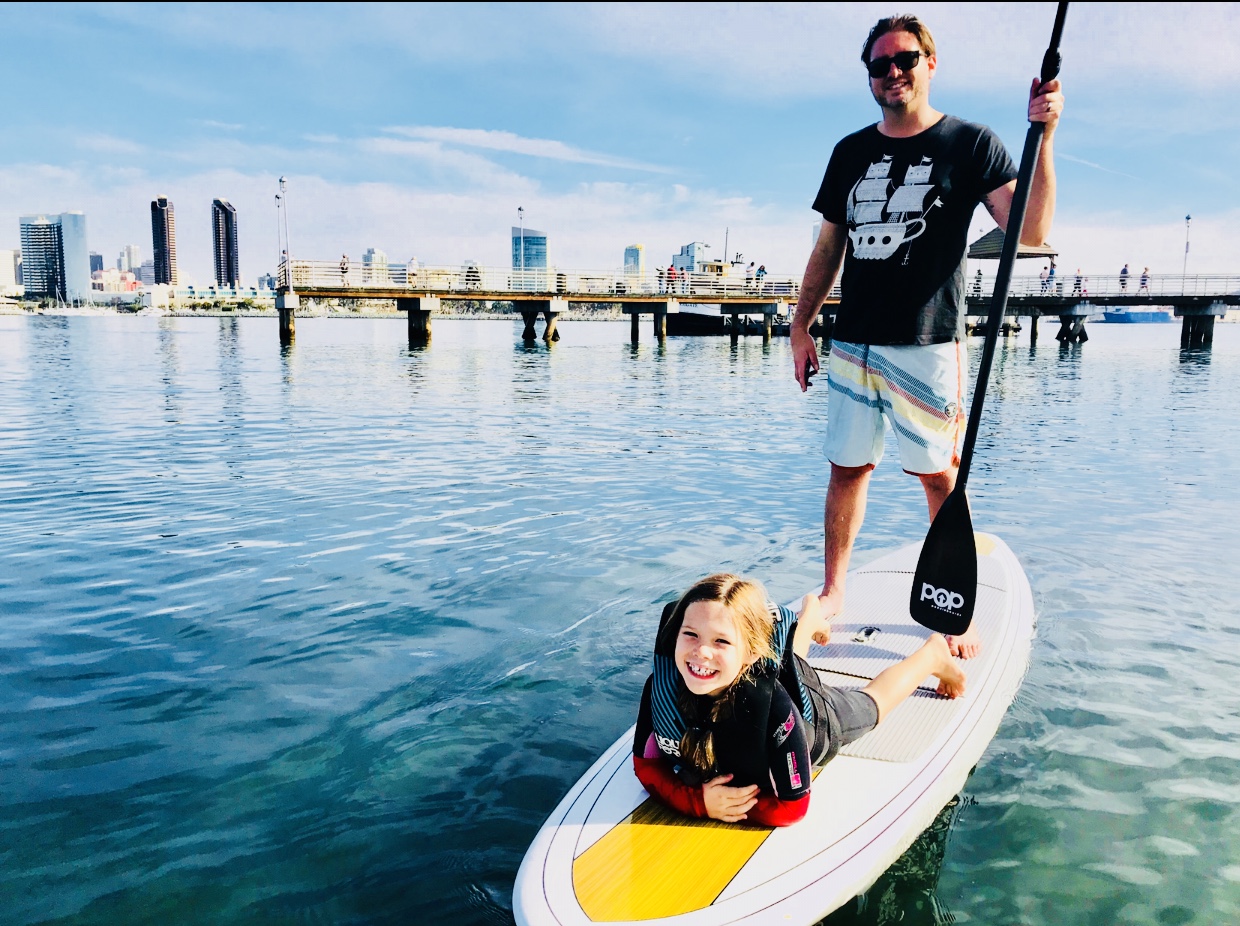 But if you must, bring your husband and a kid…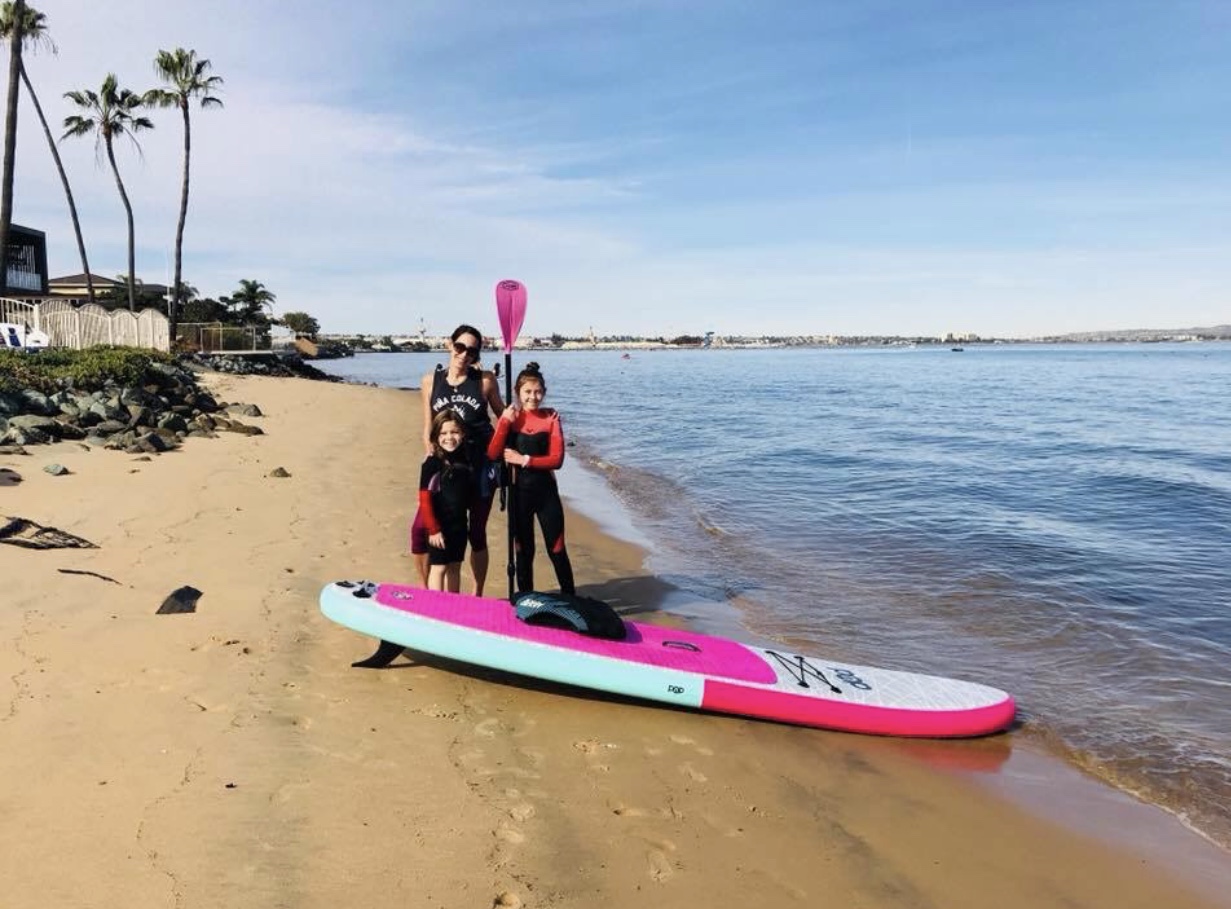 Or two. 🙂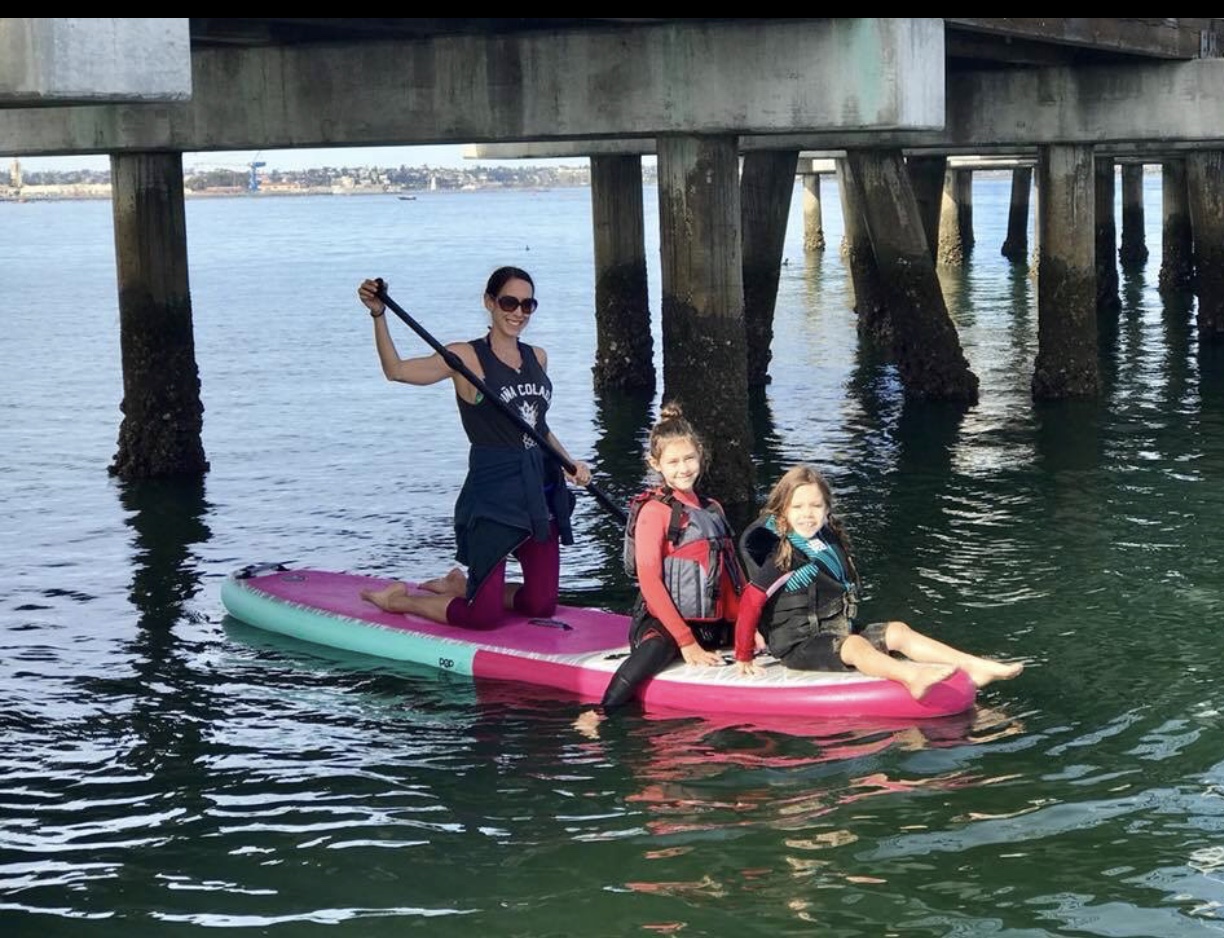 Always fun to paddle under the pier! (Watch your head.)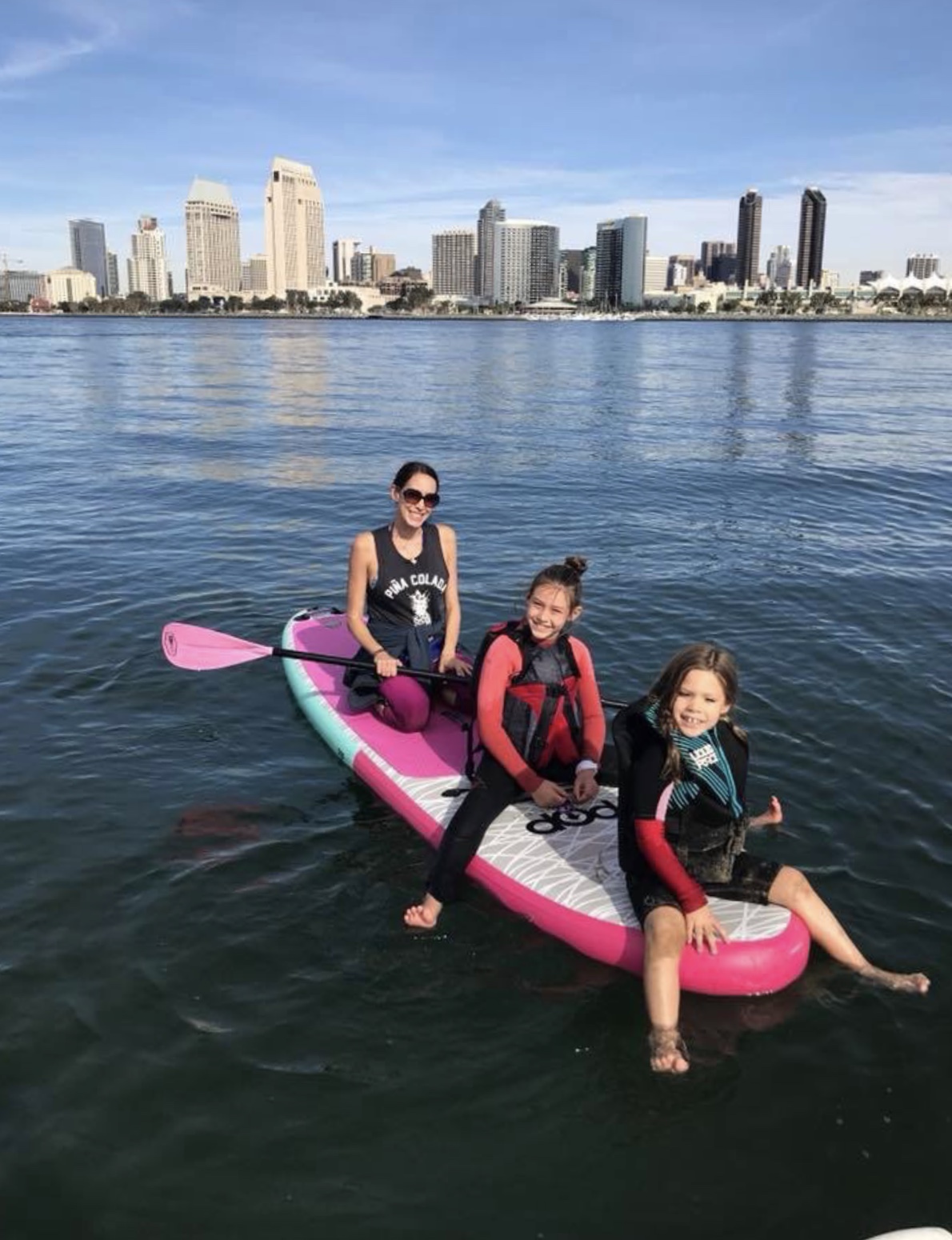 Look, everyone's happy!
Even if you don't have your own board, you can easily rent one from Bike and Kayak. I love that they do all the board-lugging and hauling for you, so you take off right from the little beach by Il Fornaio.  All you have to do is hop on and paddle off into the Bay!  Have a furry friend? Bring your dog along for free! The prices are good…rates as low as $29 per person!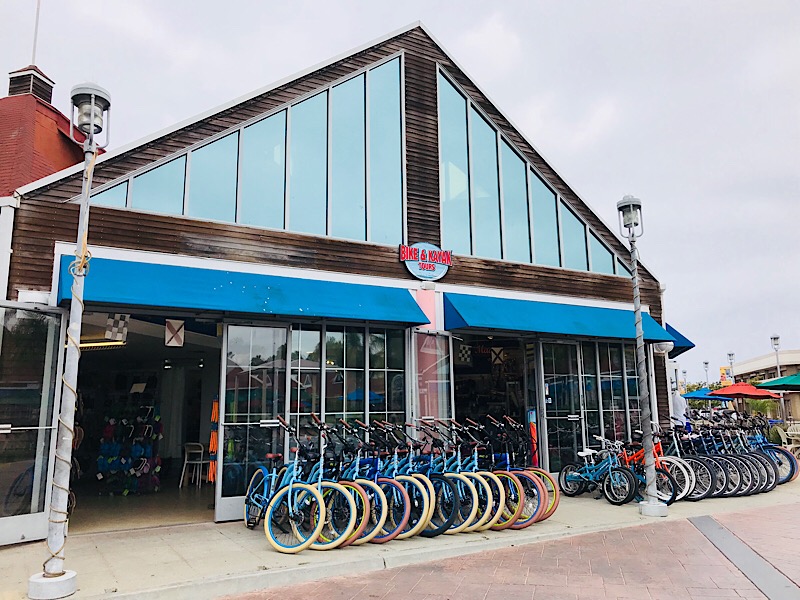 3. Grab a snack at Lil' Piggy's Bar-B-Q.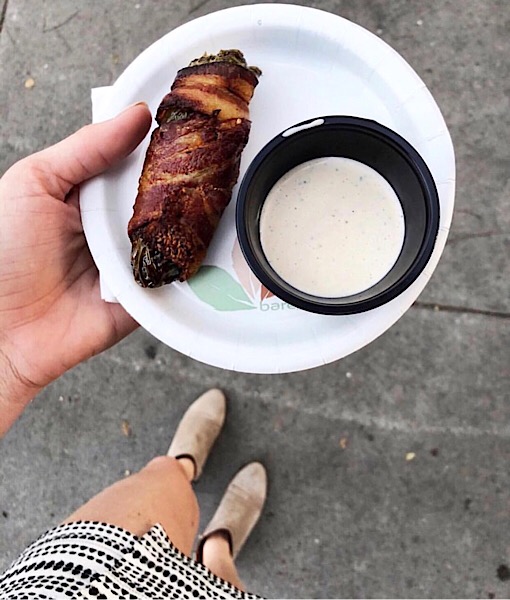 Two Words: Piggy Poppers. These fresh jalapeños are stuffed with cream cheese, wrapped in bacon and smoked tender. I could eat these all day!
4. Order up some custom-made treats at Coronado Cupcakery.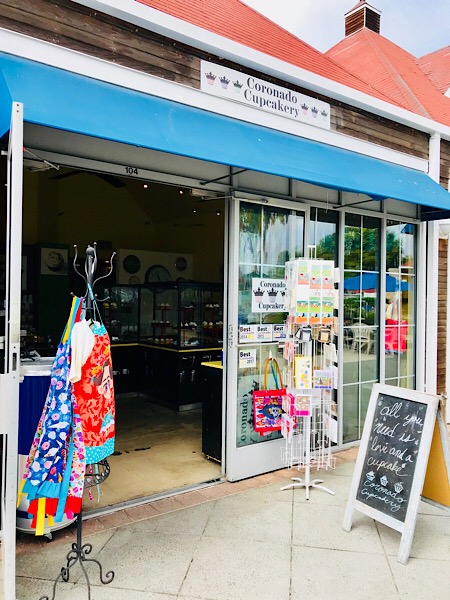 Not only are the cupcakes at Coronado Cupcakery ridiculously delicious right out of the shop, but you can pre-order and customize for any party theme!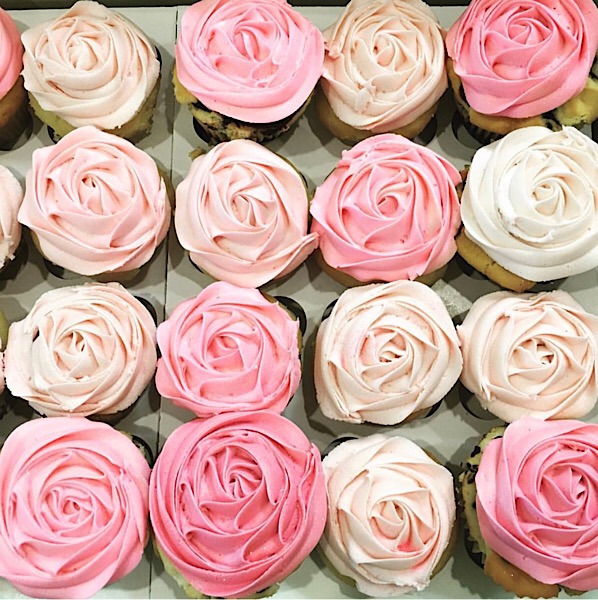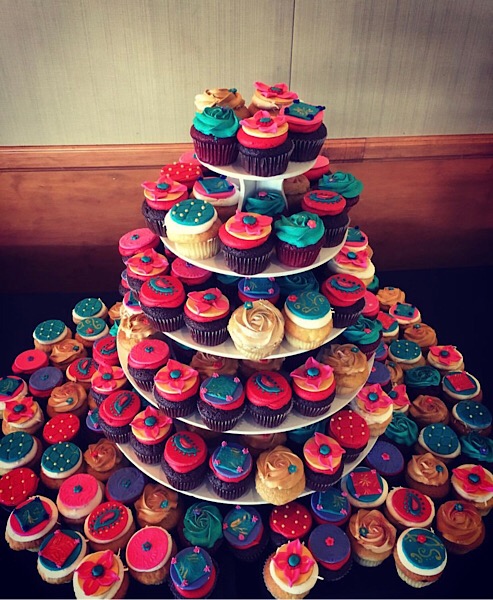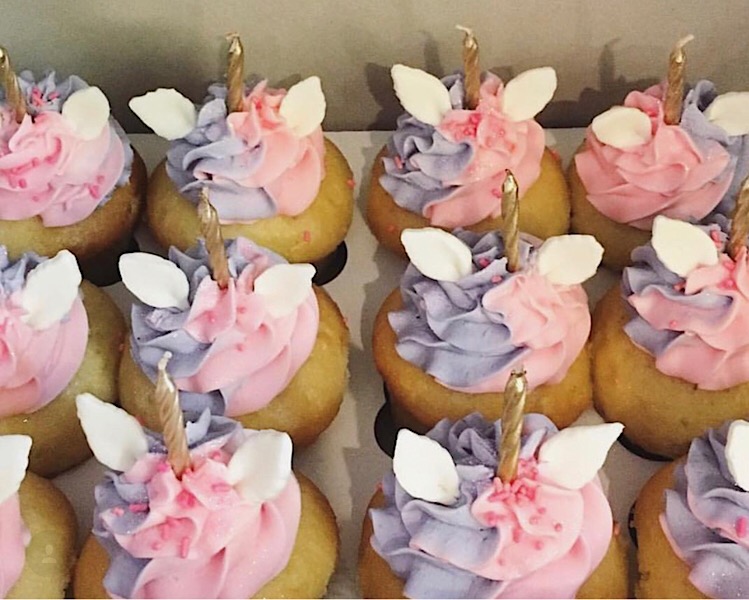 My fav? This adorable cake they did for Easter last year. If I'm hosting, I am totally ordering one of these bad boys!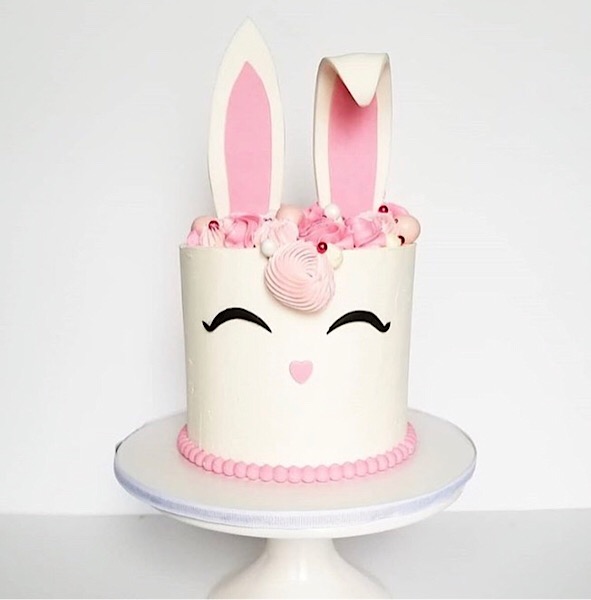 5. Grab a sandwich and Kombucha at Crown Town Deli. 
I've said it before and I'll say it again… this place doesn't beat around the Boar's Head! Crown Town Deli makes the yummiest sandwiches AND they have kombucha on tap, people! I love to order ahead when we are taking the boat out and have them slice the sandwiches in quarters. Makes a perfect snack when you're out on the water!
6. Get earthy at the Art for Wildlife Gallery.
Every time I come in here, I find something new and fabulous. An artist's homage to Mother Earth, the Art for Wildlife Gallery was established at the Coronado Ferry Landing in 1994. This gallery calls visitors with a distinct purpose: the inescapable belief in the purity and sanctity of animals and the natural world as "subject matter" for art. How can you not love it?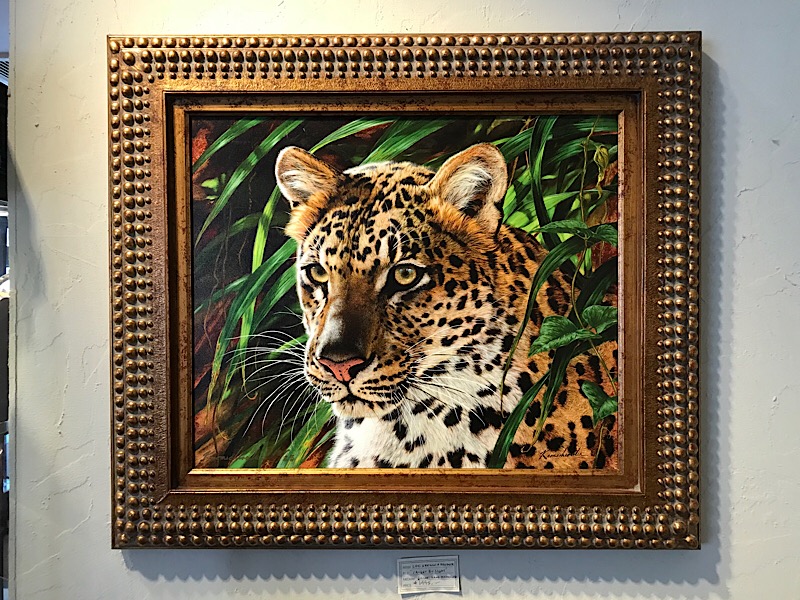 Last time I went, I scored this lovely purple starfish that adorns my mantle.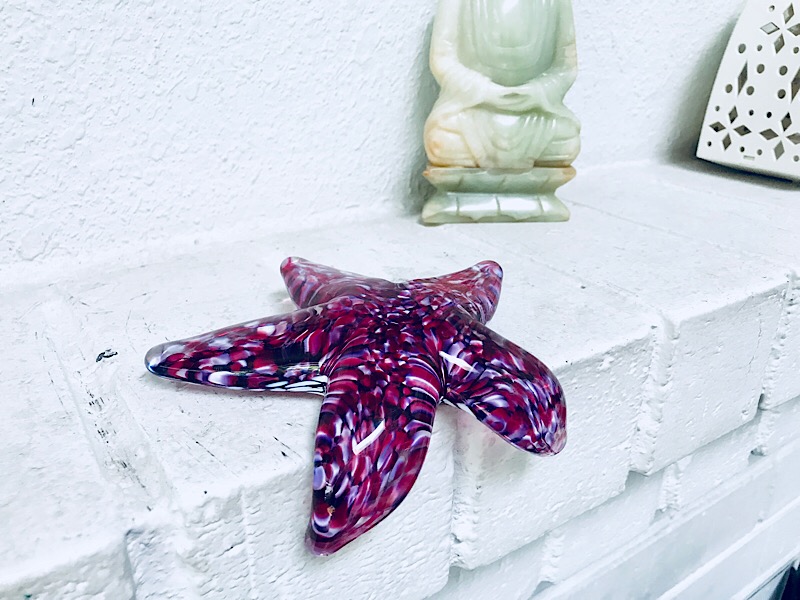 7. Plan a private party on the Peohe's patio.
Now I've planned quite a few private parties, and I had no idea that you can book an event on the back patio at Peohe's! This lovely, outdoor setting serves up jaw-dropping views of the San Diego skyline. And of course, it's Peohes…hello, coconut crunchy shrimp! I'm thinking this setting would be fabulous for business events and birthdays…and pretty much any other sort of celebration.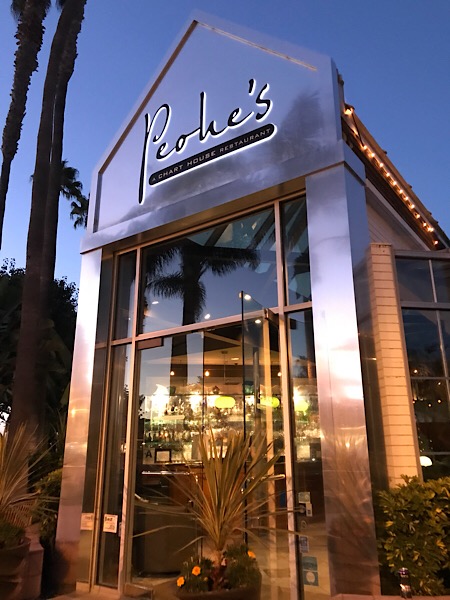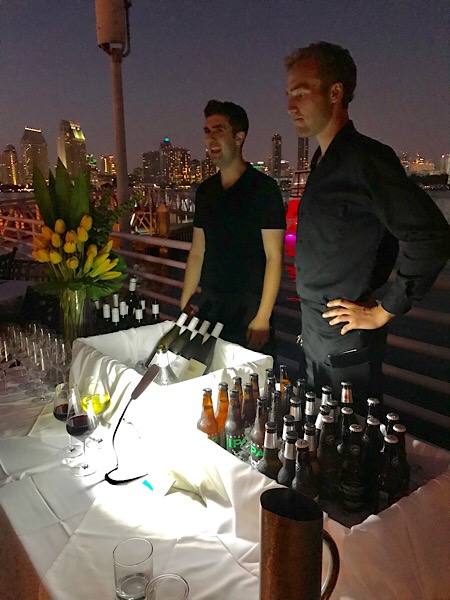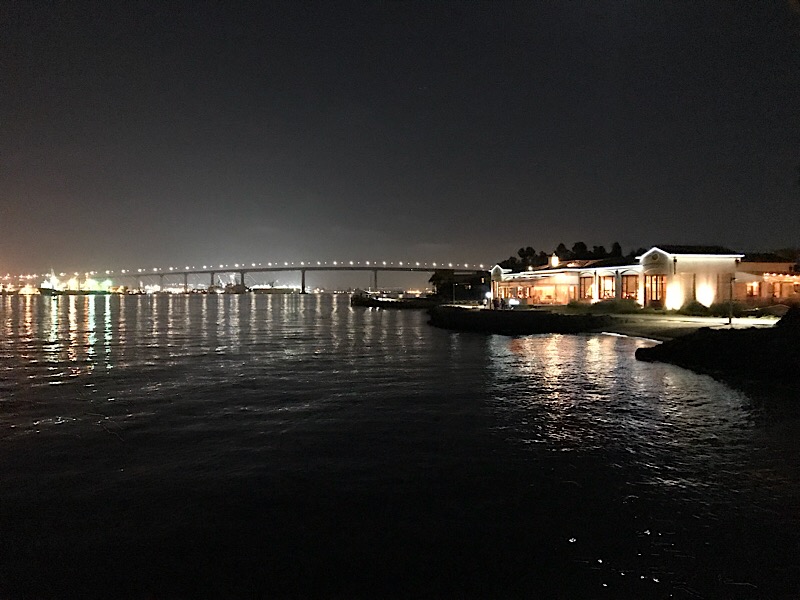 8. Shop 'til you drop at Miss Match.
I do most of my shopping online…but every now and then, I like to buy in person from local retailers. I'm lucky to live just a hop, skip and a jump from Miss Match which has everything from party dresses and jewelry to casual tunics, jumpsuits, wraps and scarves. And the prices are pretty decent!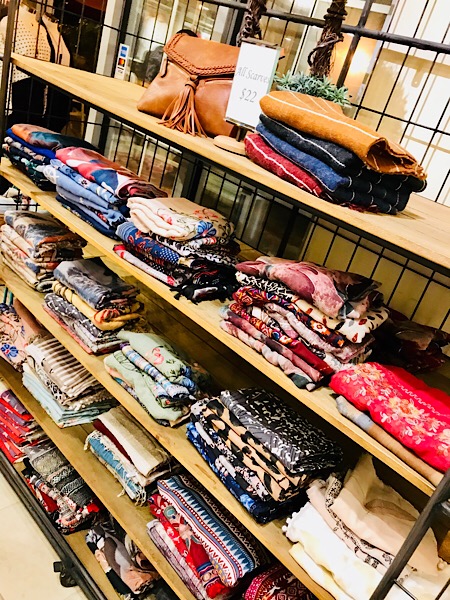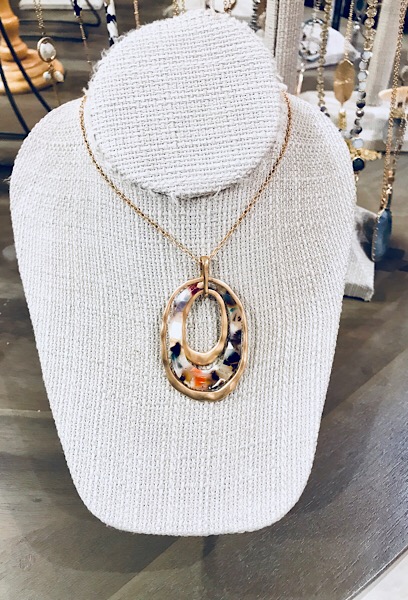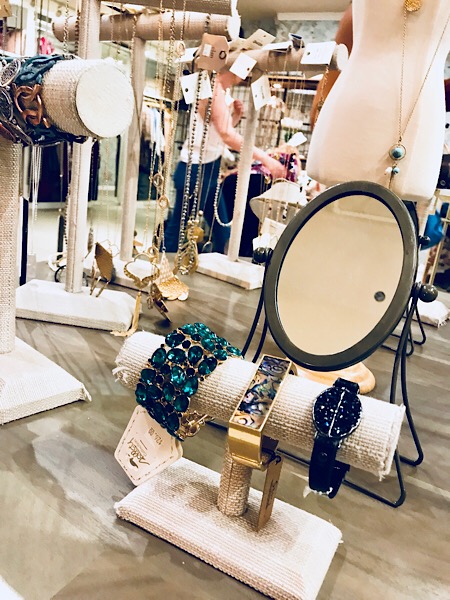 And here I am rocking one of my favorite scores from Miss Match, my cold-shoulder red-print top. Pssst… did I mention they offer a locals discount?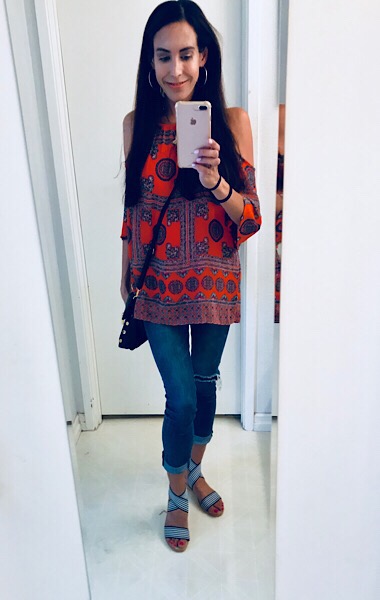 9. Grab some empanadas and a drink at El Roy's Happy Hour!
All this shopping has got you hungry again, and there's no better place for a delicious, scenic and affordable happy hour than El Roys.
My favs? The empanadas of course….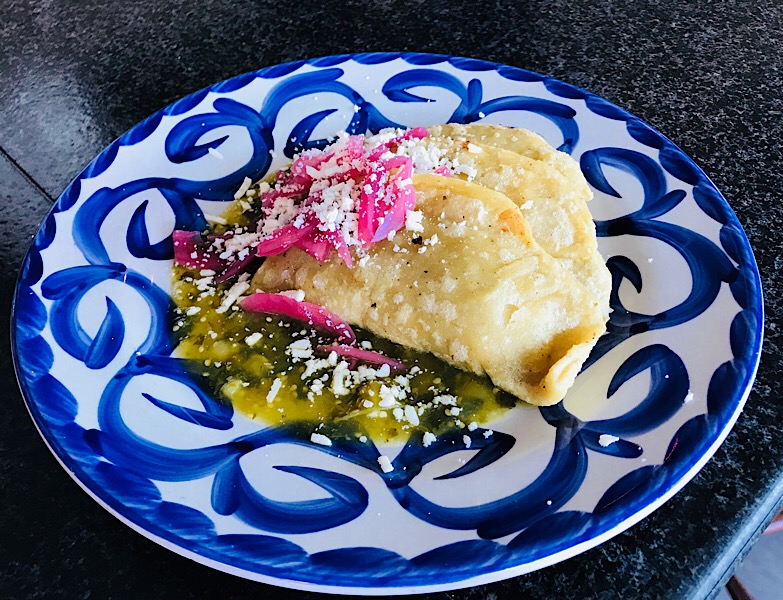 and I just love this blackberry cooler.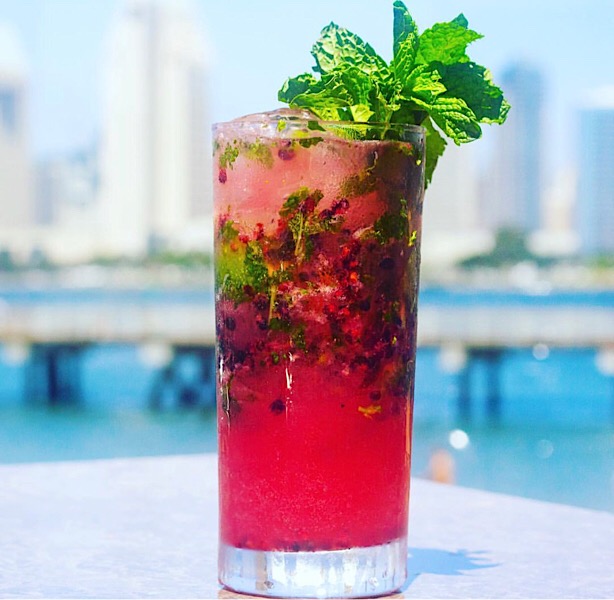 But really, with specials on beer, wine, and cocktails, how can you go wrong?  Other half-off apps include Churrasco Tuna Sliders with chili tomato jam, Duck Confit Empanadas with Oaxaca cheese or Quatro Chili Chicken Wings with chipotle ranch. Mmmmm…..
10. OR…savor some authentic Italian food at Il Fornaio Happy Hour!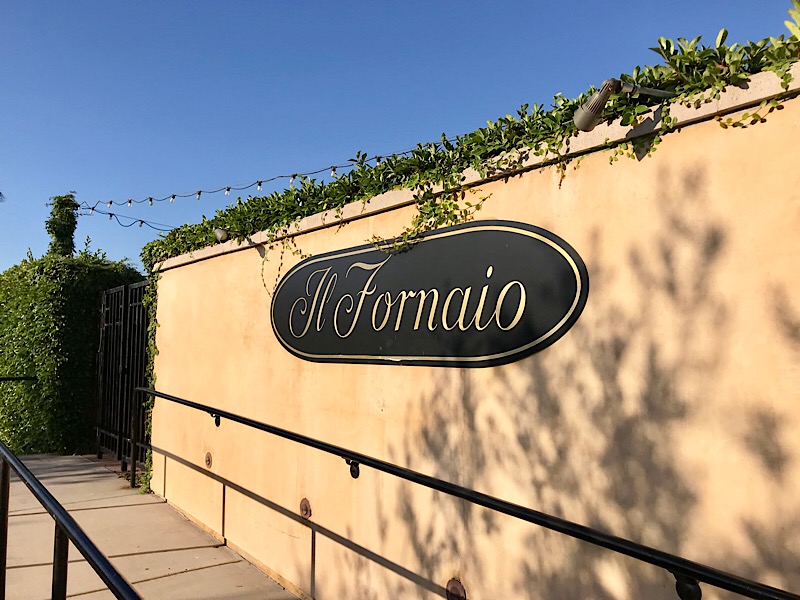 This is where I take my girls when my husband is away on business, mommy needs some downtime and the kids have energy to burn. I plop myself right down on the outside patio, order a glass of happy hour wine….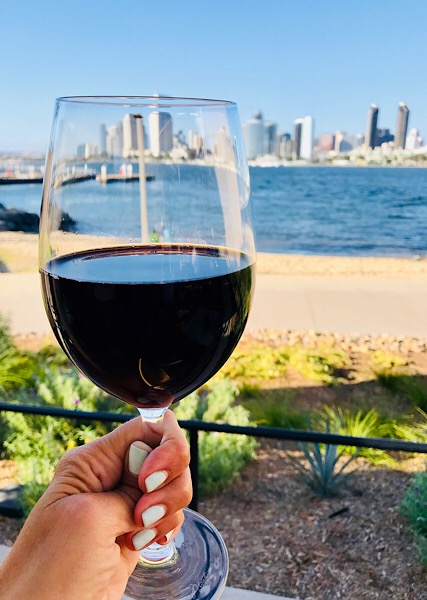 And let my kids run around on the little beach, or scooter, or rollerblade, or do what they need to do to get the wiggles out.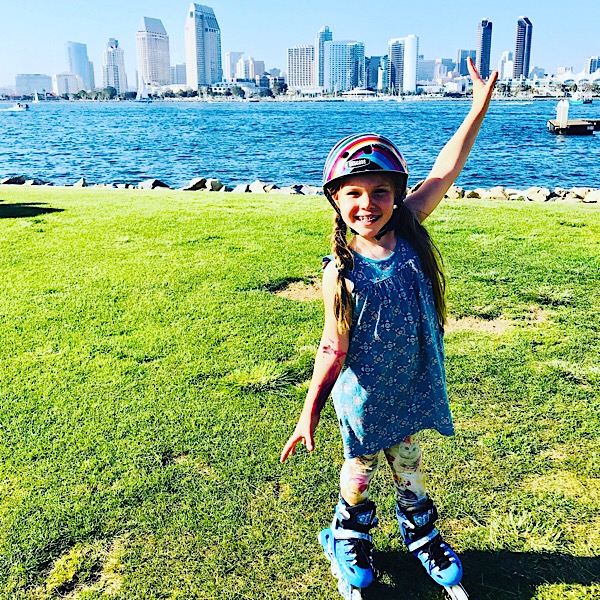 I adore this prosciutto salad on happy hour, and my girls always pick the pasta of the day (one with the sauce on the side.)
But seriously, its really hard to beat the views, food or the Happy Hour prices.
11. My last favorite thing about the Coronado Ferry Landing…actually riding the Ferry and getting off the island!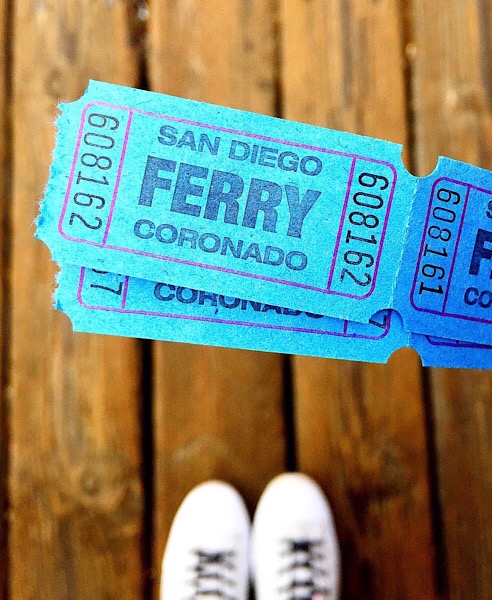 There is something so magical about getting on that boat and embarking on a short (yet scenic) voyage.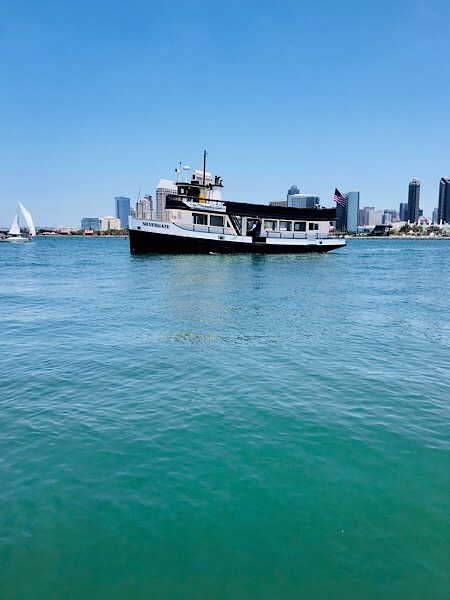 We love taking the girls on the smaller boat to the Convention Center dock, and grabbing lunch or dinner at Joe's Crab Shack (which is an absolute BLAST for kids, let me tell you.) Or bringing the bikes and scooters and riding over to the Marriott for some poolside cocktails. Either way, it makes for a super fun outing, although I' m always happy to return home to my enchanted isle.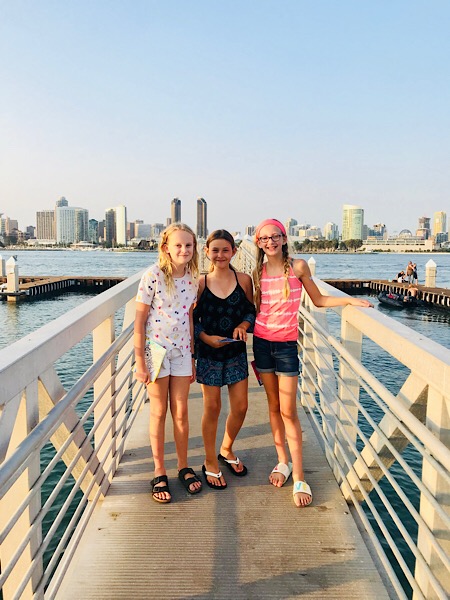 And that's it, folks! My favorite "locals" stops at the Coronado Ferry Landing. I hope you enjoyed!