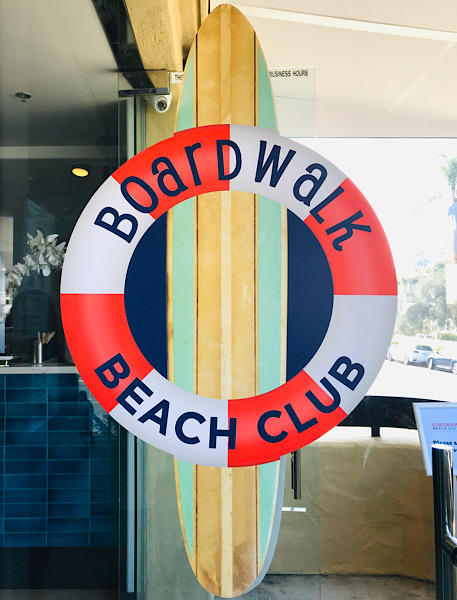 It's Saturday afternoon at the newly-opened Boardwalk Beach Club and everyone is there: yacht clubbers, best friends, city council members, the school principal, lacrosse Dads and ladies who lunch. Seems like the locals already have it figured out…the Boardwalk is the place to be!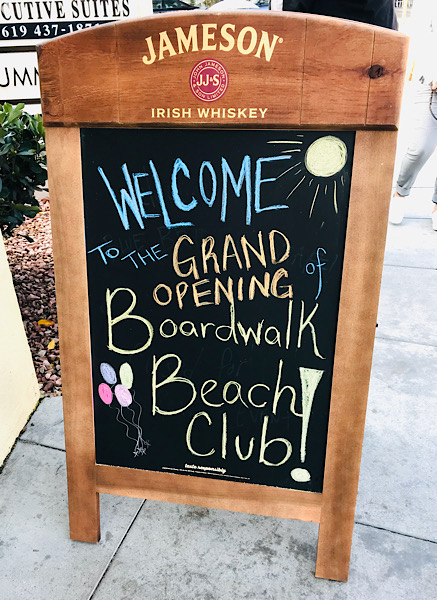 I'm not going to lie. I was a bit dubious when I heard the concept. A casual beach eatery with a game room? Really? I imagined sunburned tourists, primary colors, dinging arcade games, blaring televisions, and my two daughters fighting each other to dig through my purse for quarters.
I'm happy to report it's nothing of the sort!
When you walk in, you're greeted with an upscale bar area reminiscent of Maretalia, but somehow quietly transformed into a place you would feel comfortable ordering everything from an umbrella-topped beach cocktail to a beer. Or get a glass of Veuve, if you're feeling fancy!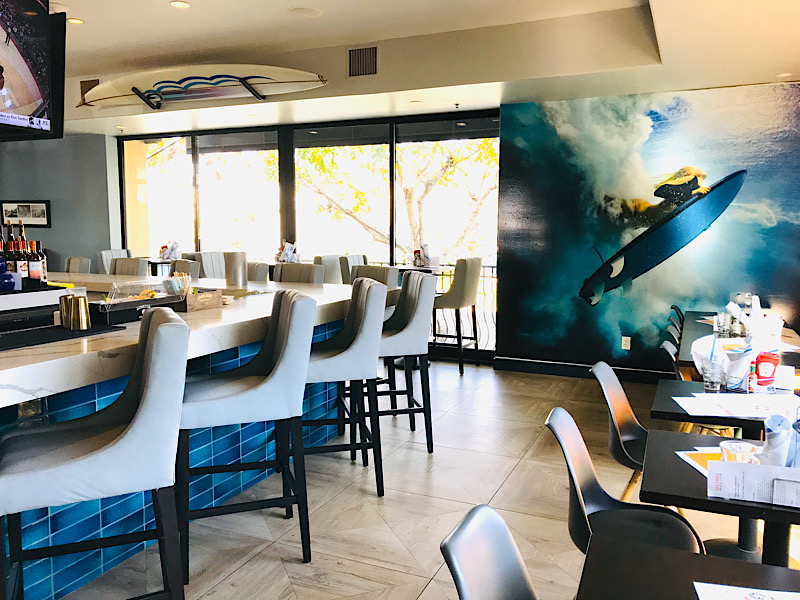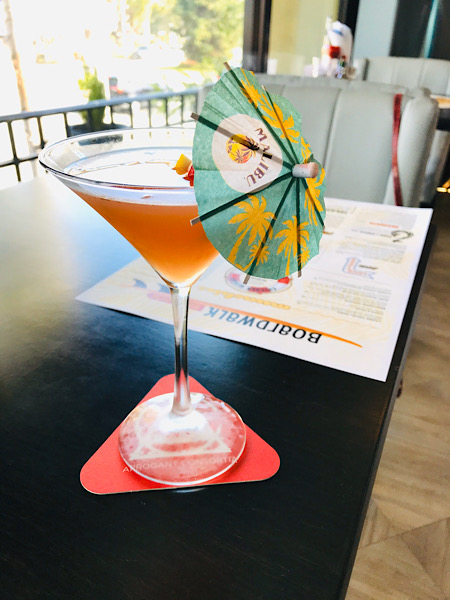 You'll enjoy the cool-toned beach accents and the stylish surf art. The bar still feels posh and disarmingly adult, and that's perfect. (There are indeed flat screens for game-watching, but the set-up does not drip of "sports bar.")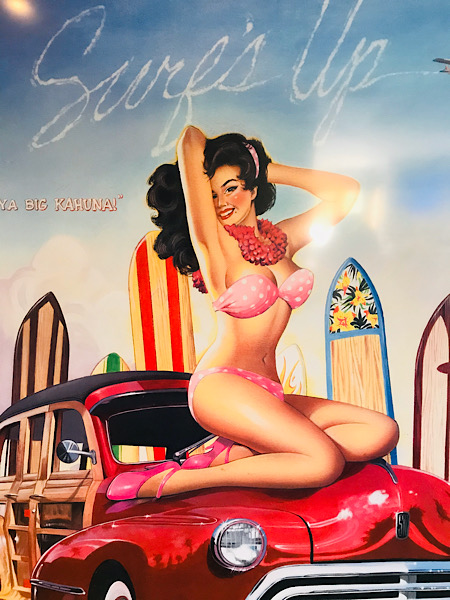 Wandering out of the bar, you'll find smiling spaces with fun 1970s and 1980s references. (Check out the Fast Times at Ridgemont High quotes and Jeff Spicoli mural.) You kind of get the feeling everyone was laughing when they were putting this together, and that's cool.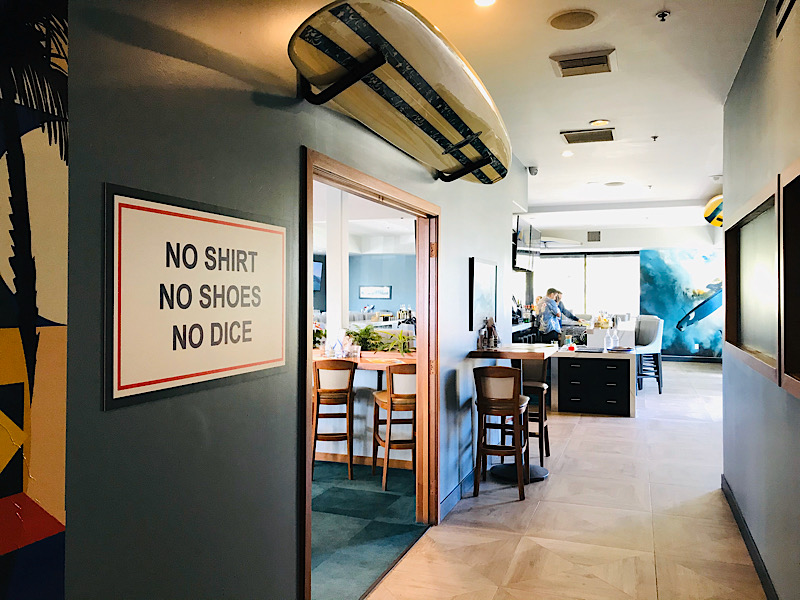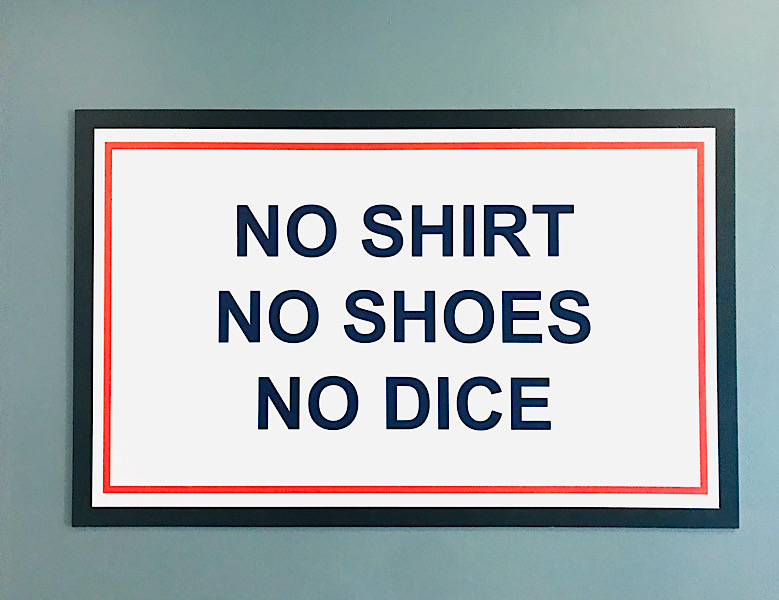 Around the corner you will find a casual dining space with more than peek-a-boo sunset views (they took down that imposing wall, hooray!). You'll also find a playful mermaid mural with…wait for it…fishbowl boobs!  (Complete with Beta fish.)  My first thought was: my kids are going to run up and touch the beta fish boobs. And for some reason, that doesn't seem weird at all. There's also a nice pool table set up in this area. (Turns out the mermaid is a reference to the bar set up in Animal House. Remember?)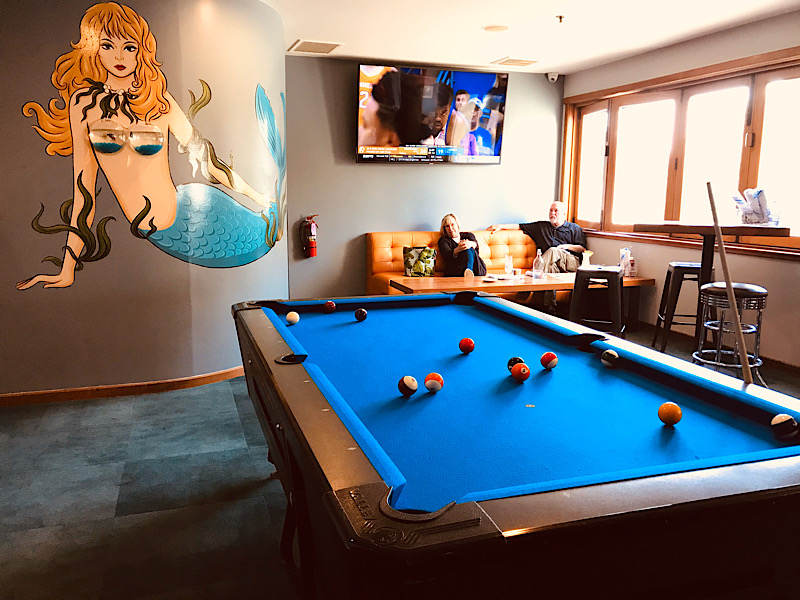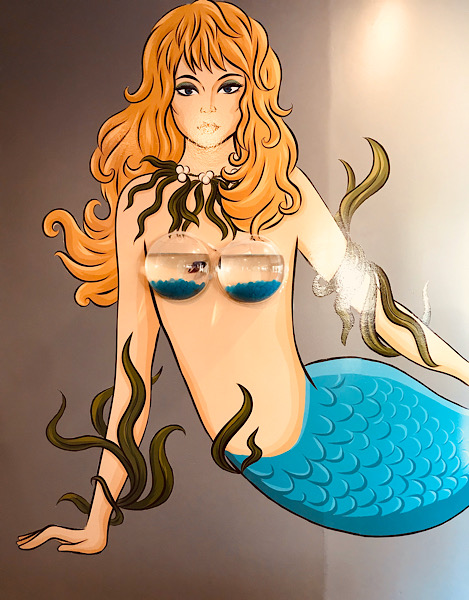 The outside dining area attached to the bar is still inviting and serene, affording palm-lined views of Orange Avenue and a glimpse into the game room.
Yes, the game room. Guess what? You almost forgot it was there.
"You can't even tell the game room is back here when you first walk in," explained Gus, the manager. "I have to remind people to go check it out!"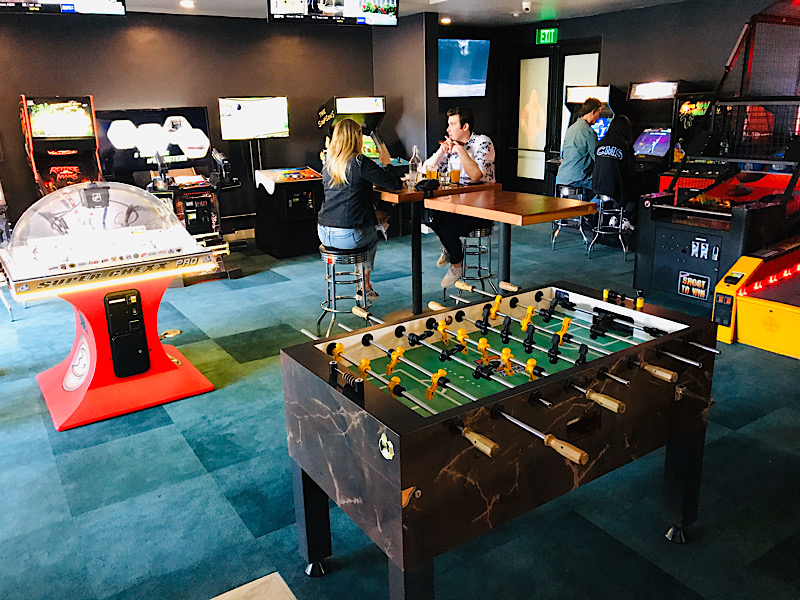 But it's a legit game room! There's a good selection of fun vintage games GenXers will love. You'll find Mortal Combat, The Simpsons Game, Ski Ball, Pac Man, and more.
There's also a foosball table, and even a claw machine! (Don't despair, moms…check it out: on one side of the claw machine, you can play 'til you win!)
Now, onto the adult stuff…the drinks! The cocktail selection is robust and features everything from magaritas like the Island Girl Skinny (ahem…I'll have to try that one) and festive boat drinks like mojitos, Shipwrecked Punch, Sex on Central Beach, and a Bahama Mama. Or indulge in a tiki cocktail like a Rum Runner, an In Orbit, the Jackass or the Singapore Sling. Don't forget the frozen drinks like the Lava Flow, and if you're really going to get crazy, order a punch bowl which serves 2-3 people.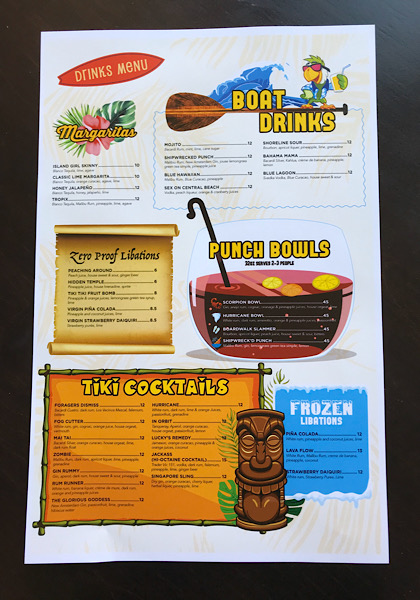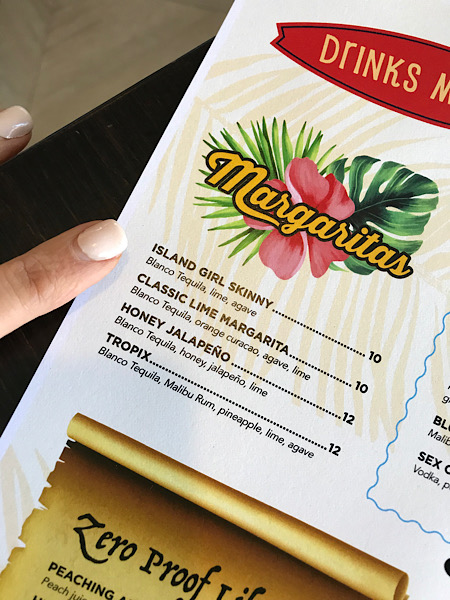 I'm doing Dry January so I ordered the Peaching Around, a "zero proof libation," and loved it.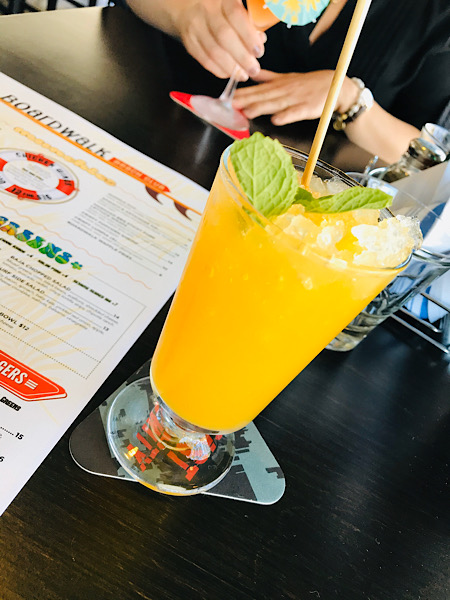 My alcohol-consuming lunch date loved her "In Orbit" with Tanquaray, Aperol, orange curacao and passionfruit, and also the Shipwrecked Punch with Malibu Rum, New Amsterdam Gin, jouse lemongrass green tea simple and pineapple juice. Some other friends ordered the Honey Jalapeno Margarita and really liked it.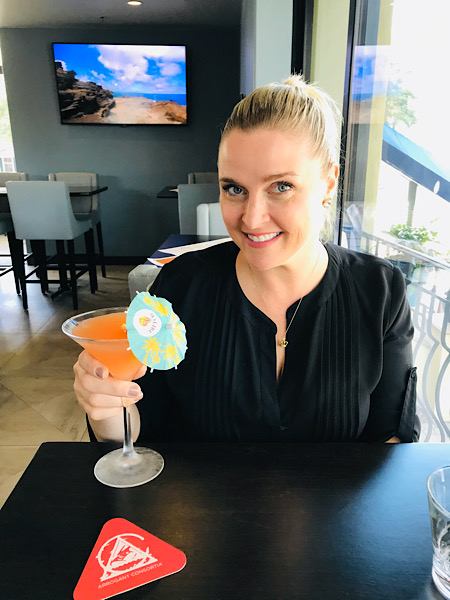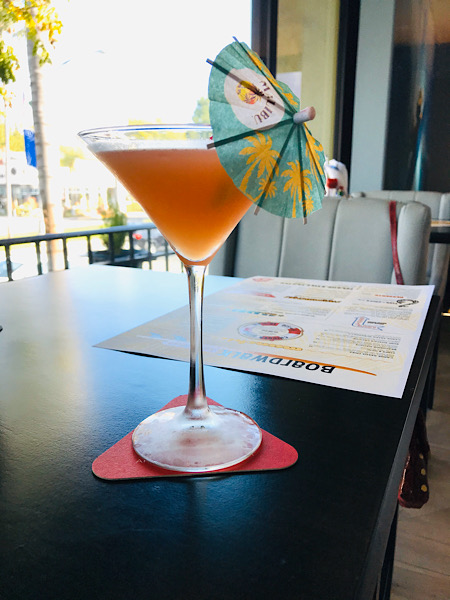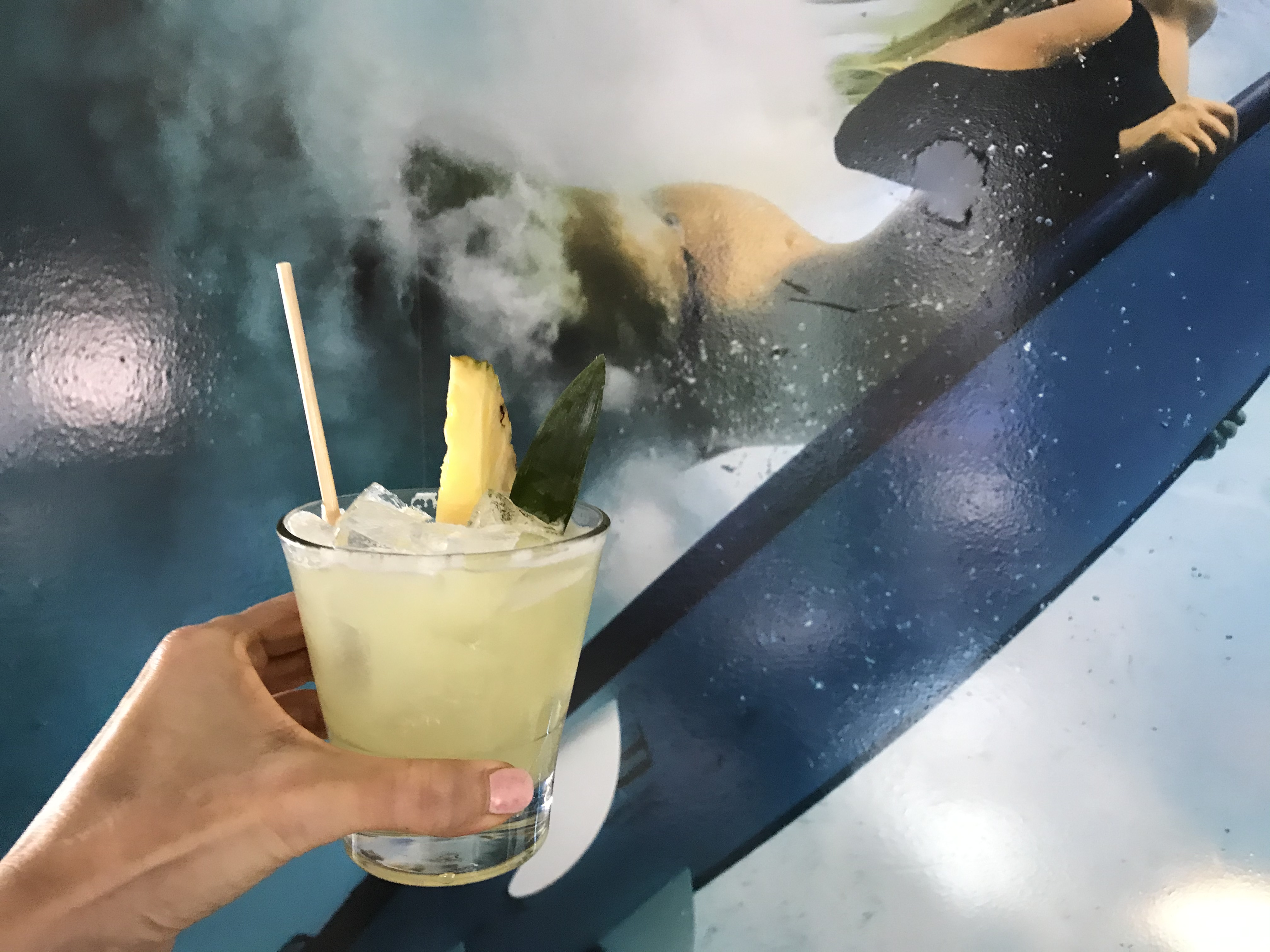 The appetizers all looked enticing, but we settled on the Crispy Popcorn Shrimp with chili aioli and banana pepper, and the Hawaiian BBQ Sticky Pork Lettuce Wraps. Both were amazing!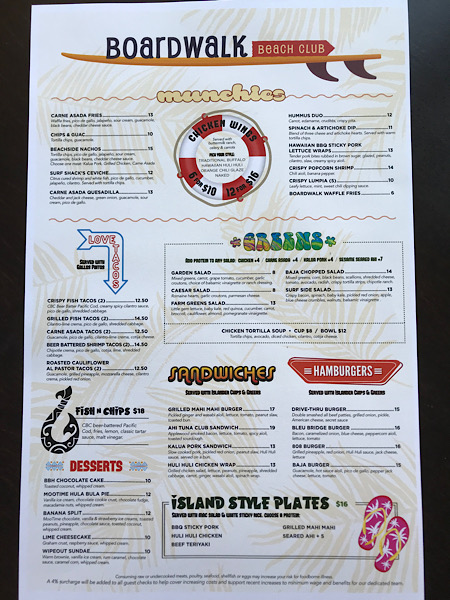 For entrees, we ordered the Roasted Cauliflower Al Pastor Tacos with guac, mozerlla, grilled pineapple and pickled red onion. I loved these! Sweet and savory. We also got the Drive Thru Burger and hello…I'm not really a burger person, but I would definitely get this again. It's perfect. Just order it. (It also came with a refreshing side salad and homemade chips.)
Finally we got the Island-Style Plate with grilled mahi mahi. It came with mac salad and white sticky rice. The fish was perfectly cooked and the plate was delicious.
As we relaxed and enjoyed our meal, things started to get busier. Turns out there is a (wait for it) DAILY HAPPY HOUR from 3-6pm (all night Mondays with a military I.D.) The above mentioned Drive-Thru Burger and Pork Lettuce wraps and the popcorn shrimp are ALL ON THE HAPPY HOUR MENU.
The verdict? I loved the Boardwalk Beach Club and I'll definitely bring my family in for happy hour. I imagine we'll bring some quarters, sit outside and send the kids packing to the game room. The food is top notch and the vibe is upscale and playful. Assuming the food and the service continue to be this awesome, the Boardwalk will be on heavy rotation. See you there!
Cheers, until next time!