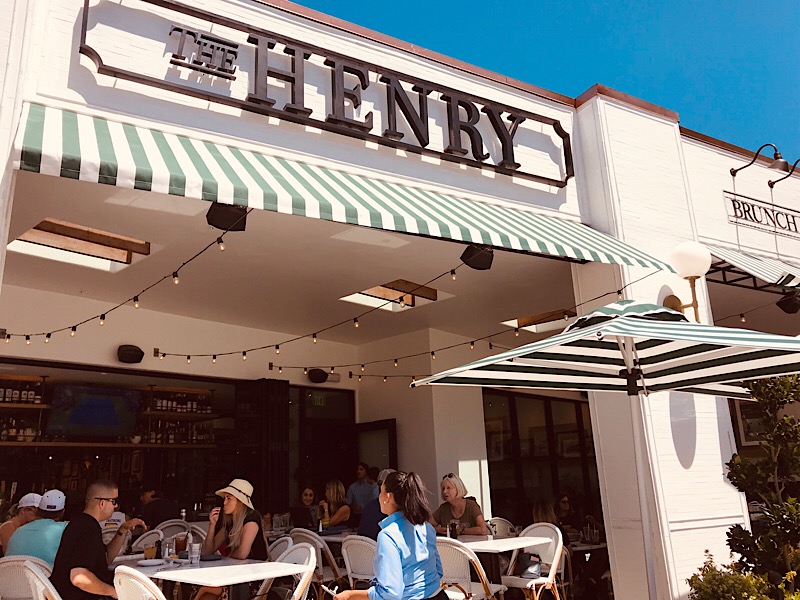 When the much-buzzed about Henry Restaurant officially opened for lunch on Tuesday, I made sure I had a reservation. After all, my social media feeds were BLOWING UP with pictures and rave reviews from diners who attended the soft opening over the weekend.
I had to find out for myself…is the Henry worth the hype?
After all, this is the fourth of three wildly-successful Henry restaurants run by Sam Fox—the others are in Phoenix, West Hollywood and Dallas. An eleven-time James Beard Award nominee for Outstanding Restaurateur, Fox is the founder of True Food Kitchen, and has launched several other eateries in the San Diego area including North Italia, Blanco  Tacos + Tequila, and one of my favs…Flower Child in Del Mar.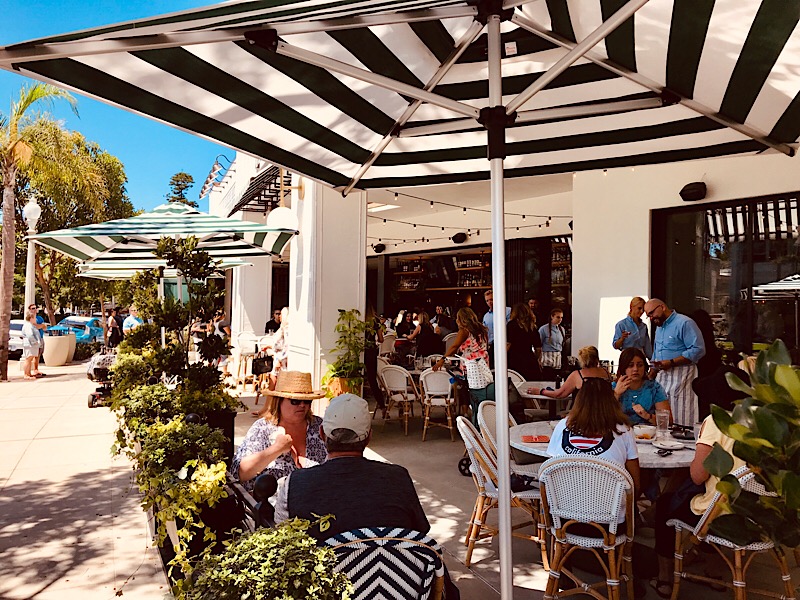 Besides, people have been FREAKING OUT over this place. I mean, has there ever been so much controversy over a new restaurant in town?
First, everyone's mad at the developer for kicking out Costa Azul. Then people are upset that Fox is from Arizona. (To be fair, he reportedly owns a home on the island.) Next, we find out that Fox Restaurant Concepts has been bought out by the Cheesecake Factory, and we worry we will have to carry around buzzers, downgrade our wardrobes and pack on pounds from deep-fried avocado rolls. Now, we're worried about Luis and Jason at the coffee cart next door (a legit concern, as the sign touting the Henry's coffee offerings is right next to Cafe Madrid.)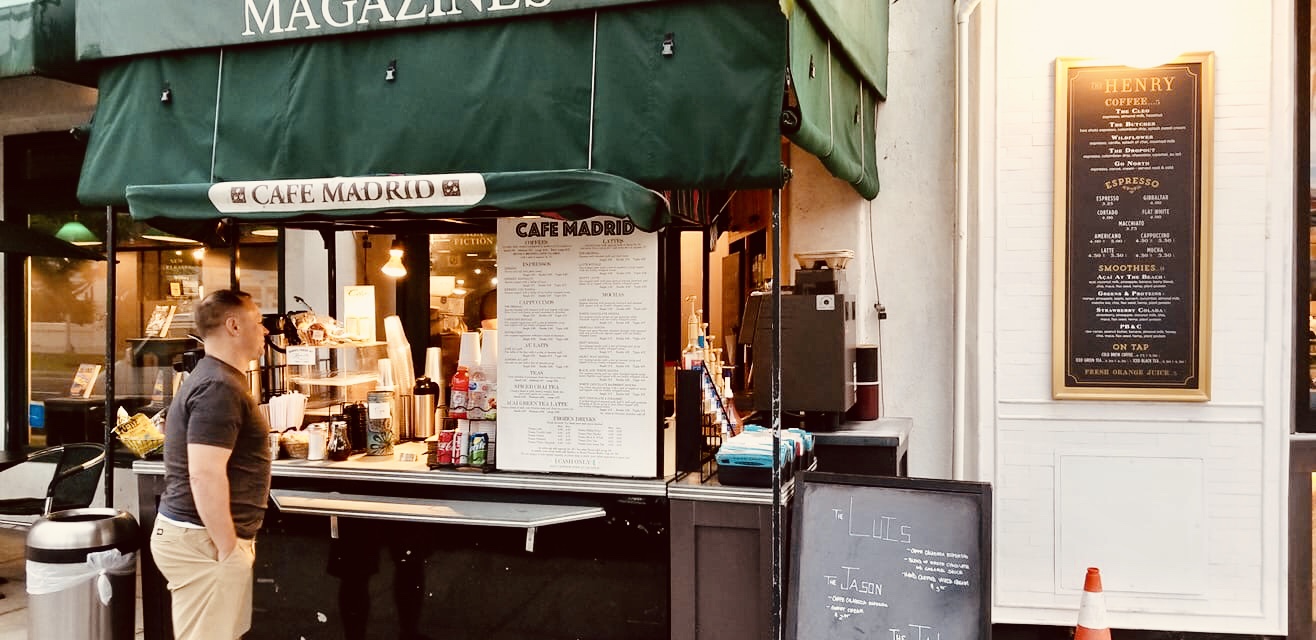 "Corporate capitalism at its worst!" "Coronado will never be the same." "What happened to our quaint little town?"
Don't you know? We live in Coronado. We like things to stay the same. We fear change.
We don't do chains. We don't do upside-down Christmas trees. And we don't like it when an outside developer comes in and kicks out our mom and pop shops. (Whether or not we actually shopped them.)
Then a bunch of locals attend the soft opening, and the tide turns faster than you can say, "avocado toast."
"Exquisite!" "Sam Fox does it again!" "Can't wait to go back!"
Guess what? Everyone loves the Henry. And you know what? So do I. (How fickle we are!)
First of all, there's nothing like it in Coronado. You don't even feel like you're in Coronado. (And this, my friends, is not a bad thing.)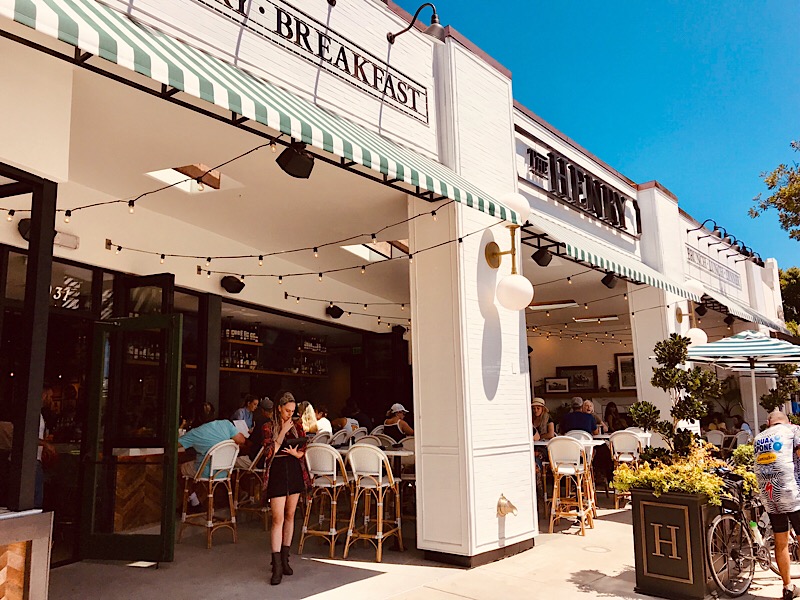 We were greeted with a smile by a friendly, pretty hostess in trendy dreadlocks, who assured us our table would be ready at our designated time. (It was.)
The place was absolutely packed. Everyone was there. Ladies who lunch, hospitality execs, lawyers on lunch break, PTO moms, working dads, grandmas, Cross Fit moms, even my mom (she was my date.)
I saw no less than 20 people that I knew. And everyone was smiling!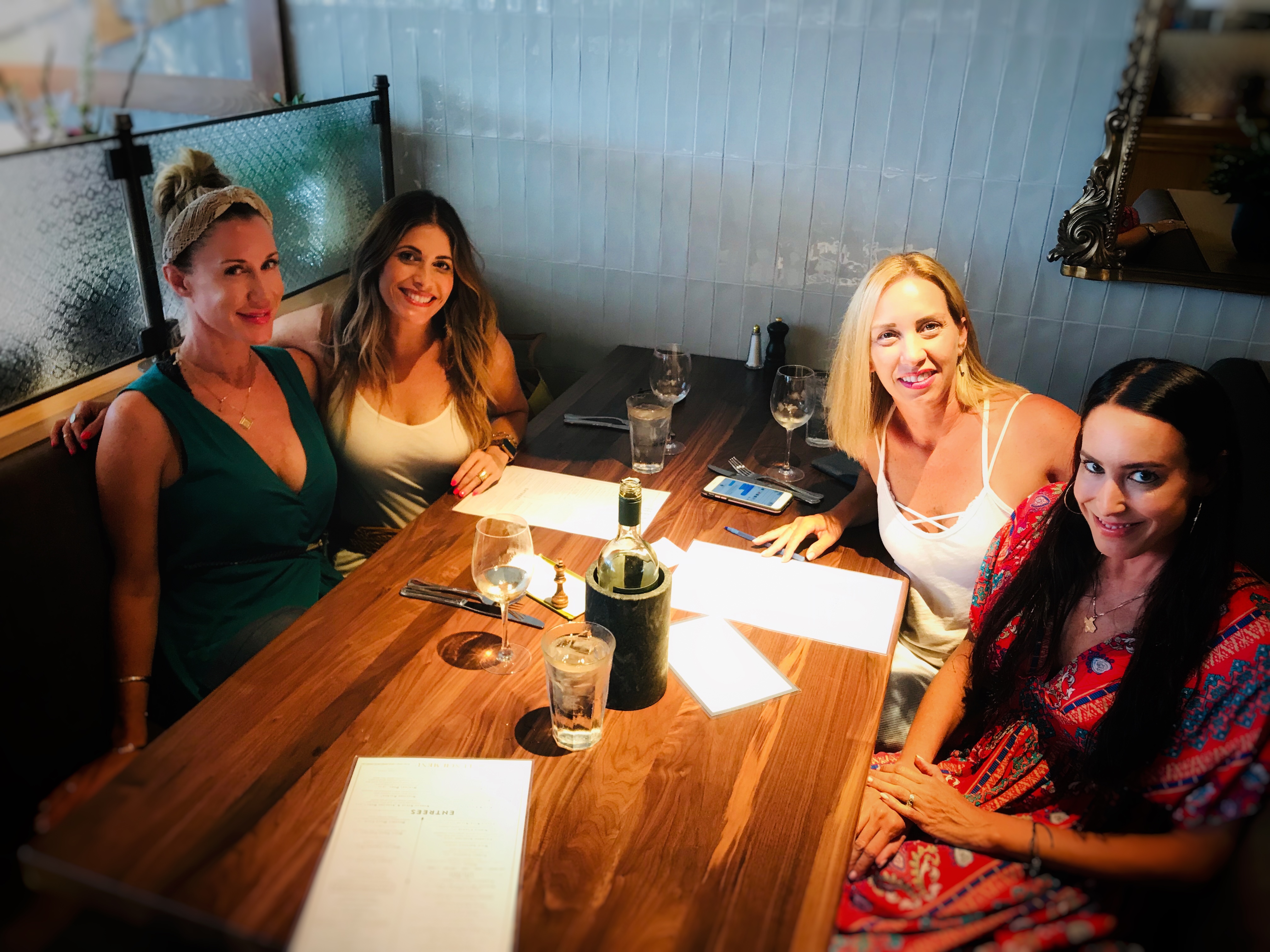 "Smell my sangria, it's delicious!" "Get the tuna rice dish." "This place is amazing!"
The space feels sophisticated, spry, energetic and urban, more like something you'd see in La Jolla or downtown. The decor has been described as everything from "Gatsby-era elegance" to "stylish and inviting." Fox has said, "We are striving for an elevated design with attention to every detail."
Although the space was probably close to capacity, it didn't seem crowded, thanks to the genius layout. There are just so many places to wine and dine! There's the tranquil outdoor seating area with a fireplace, the inviting indoor/outdoor bar with barstools, some cool high tops, and some really spacious (yet somehow cozy-feeling) booths. There's also a big private room with a fireplace in the back.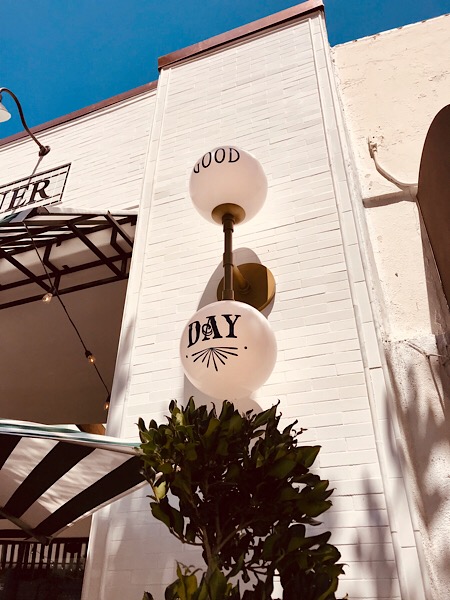 A stylish surfer-mural is splashed against the back, while another wall is adorned with (charmingly) mis-matched framed artwork. A huge exhibition window lines the entire rear of the restaurant, giving guests a big view of the bustling kitchen. (Lots of hustle in there.)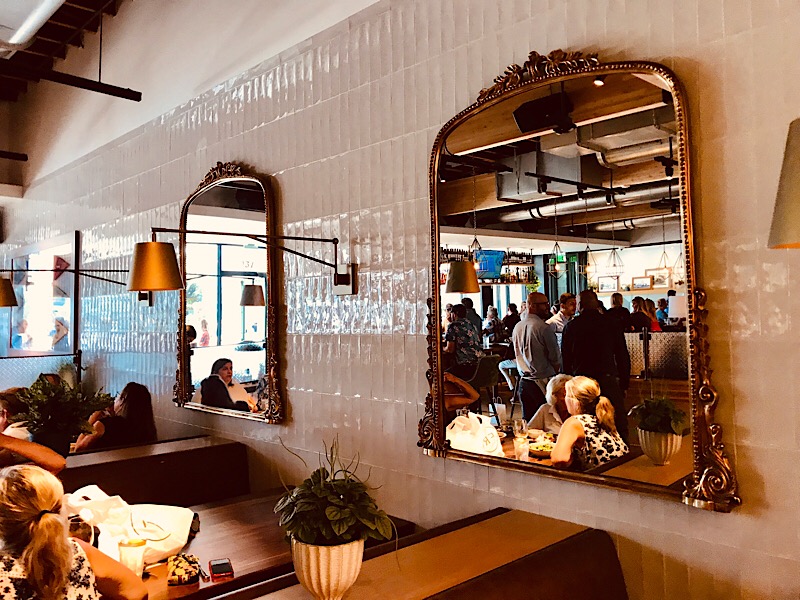 First off, our waitress. She was amazing! Professional, kind, and plucky.  In fact every human we encountered was in top form. (I later read that Fox prides his restaurants on "great hospitality, every time.")
And then there's the cocktail menu. Hello! Everyone was a-buzz about the pink sangria on tap.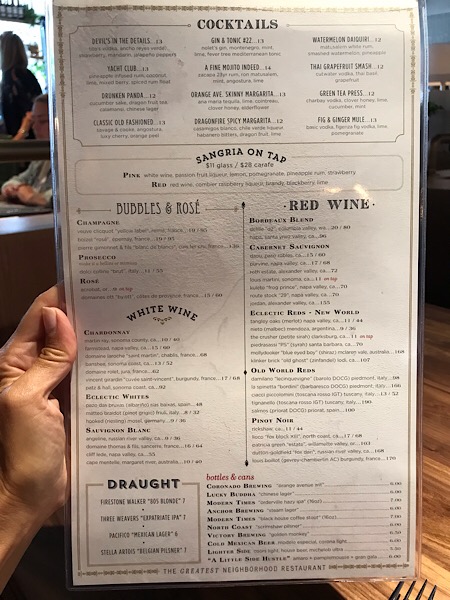 Sadly, I'm trying not drink alcohol during the week (lame, I know)  so I settled for a house-made soda…the one with English cucumber, mint and lime.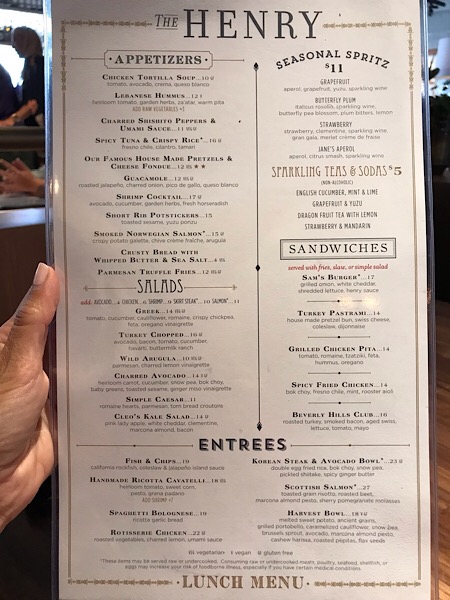 I wasn't sad at all! It was refreshing and delicious! I didn't even care that I wasn't drinking wine. Look at me, all healthy!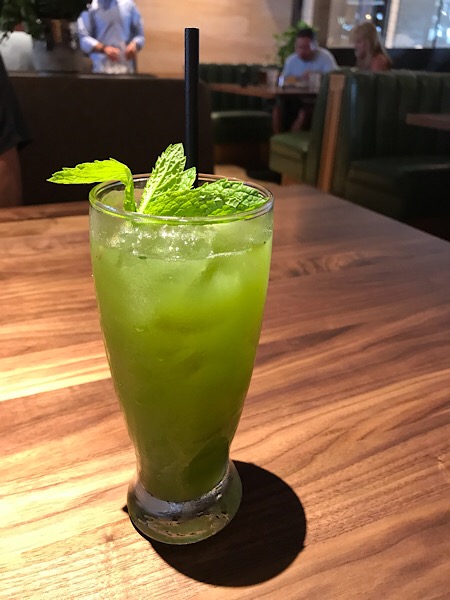 To start, my mom and I opted for the much-touted spicy tuna with crispy rice. Yes, please! My mom doesn't even like raw fish and she loved it.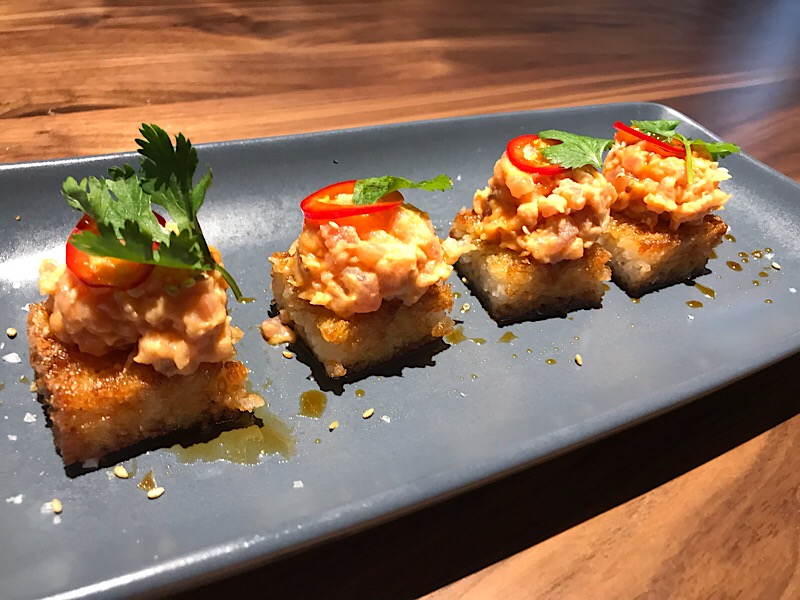 For our entrees, I ordered the Harvest Bowl with melted sweet potato, ancient grains, grilled portobello, caramelized cauliflower, avocado and other assorted goodness. My mom got the Korean Steak and Avocado Bowl, with double egg fried rice, bok choy, snow peas, pickled shiitake, and spicy ginger butter.
Yes and yes! Seriously though, what's not to love? The menu has something for everyone. We're talking handmade ricotta cavatelli, house made pretzels in cheese fondue, short rib potstickers, and a spicy fried chicken sandwich. And lots of healthy options too, as well as gluten-free and vegan. The Henry serves up breakfast, lunch, and dinner, as well as a pretty awesome happy hour ($6 for a glass of Petite Syrah? Yes, please.)
We were too stuffed for dessert, but I noted the menu, and yes–the warm croissant bread pudding is in my future.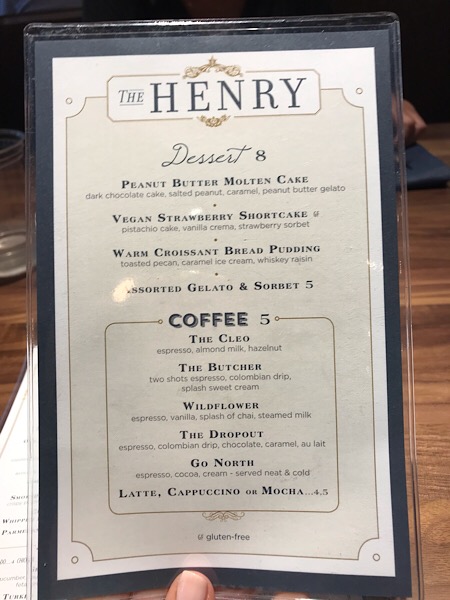 I opted instead for another house-made soda (so good!) This time I ordered the strawberry & mandarin, in a to-go cup, in case I didn't finish it. (I did…yum!)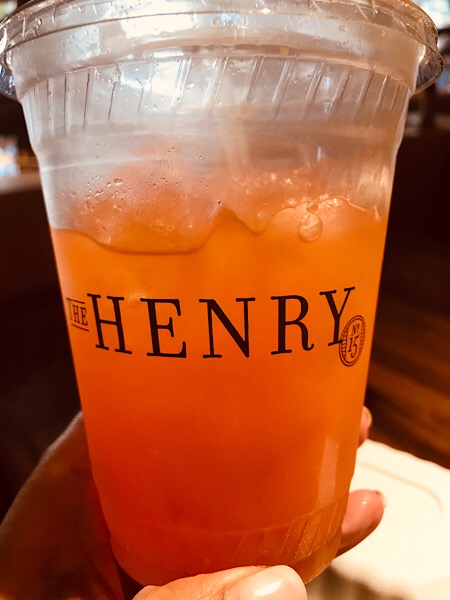 So is the Henry everything it's cracked up to be? Absolutely. I loved it so much, I made reservations for my family this weekend. My girlfriends came for lunch and stayed for seven solid hours!
I know some people are worried.
Is the Henry just the beginning of a widespread transformation that will turn Coronado into a bourgeois cosmopolitan spectacle like Del Mar or La Jolla? I hope not. Maybe.
But if it is, and change is inevitable, then the Henry is a major silver lining.
Besides. What makes our little island so special is the people. Not the businesses or the buildings that go up (or down) around us.
We will always be a small town at heart. We love each other. (Sure, sometimes we hate each other.) But we always bring over soup when you're sick, and we will pick up your kid from school if you're running late.
We'll loan you a watermelon scooper, a paddle board, or a sequin dress. We'll find your lost kid at concert in the park, or your lost tortoise when he escapes yet again. (Seriously? How many tortoises can this town lose in a week?)
So why not be nice to each other over an Acai bowl at the Henry?
Will I ever buy coffee at the walk-up window at the Henry? I doubt it. I'm sure I'll keep going to Luis and Jason at Cafe Madrid. They're always fun to talk to, and they make my nonfat chai just the way I like it.
But I am excited to see many of my small-town friends at the Henry, next time with my fork in a bread pudding, a smile on my face, and a glass of wine on in my hand.
Cheers, and thanks for reading!
For more info, visit the Henry Coronado at https://www.thehenryrestaurant.com/locations/the-henry-coronado/.